When you shop through retailer links on our site, we may earn affiliate commissions. 100% of the fees we collect are used to support our nonprofit mission.
Learn more.
The National Oceanic and Atmospheric Administration is predicting a near normal hurricane season but that's not exactly reassuring. A near normal hurricane season, which extends from June 1 to the end of November, includes 10 to 16 named storms (winds of at least 39 miles an hour); 4 to 8 of which may grow to hurricane strength; and 1 to 4 of that bunch developing into a major hurricane of 111 mph winds or higher. Need any more reason to consider a generator?

Plan ahead. Keep in mind that buying a generator isn't like buying a lawn mower or snow blower—you shouldn't just go and get something that looks good, even in a pinch. Your best bet is a stationary generator, which is pro-installed and switches on when needed. But they can take weeks to install given local zoning laws that regulate permits, setbacks, and inspections after you've selected the model itself.
Safety first. And even if you buy a portable generator and plan to run extension cords for your lights and refrigerator, for safety's sake we recommend having an electrician install a transfer switch for a less messy hookup. An electrician can also help you decide how capable a generator you need for the wattage of what you need to power.
Here are some generators from our generator tests that are worth your consideration:
Portable Generators
Portable generators need to be taken outdoors once the power goes out (and whenever else you run it) and started up. They typically run on gasoline, which means you'll need to keep some on hand. A 7,000-watt portable will use 12 to 20 gallons of gas per day if run continuously. Be sure to add stabilizer, and fire the machine up about every month to be sure it'll be ready when you need it.
As an inverter generator, the Honda EU7000is delivers cleaner power and is quieter, lighter, and more energy efficient than many other models. It's pricey at $4,000, but for usability, this one comes out on top. It's rated for 5,500 watts with 1,500 more for surge. Another plus is a fuel-injected engine, a carburetor-free design that should avoid some of the problems a gasoline-powered generator can encounter if the unit is left idle for long periods with fuel in the tank. One caveat is that there's no fuel shutoff, which prevents leaks and keeps fuel from getting trapped in the fuel system and spoiling during storage.
One of Kohler's first portable generators, the 6,300-watt Kohler PRO7.5E, $1,400, delivered ample clean power and many helpful features such as electric start, fuel shutoff, and low-oil shutoff, which protects the engine from overheating if the oil level dips too low.
The 7,000-watt Generac RS7000E, $900, supplied more than enough wattage to power our test appliances and handled surges very well. That power was also fairly clean. Helpful features include electric start, fuel shutoff, and low-oil shutoff.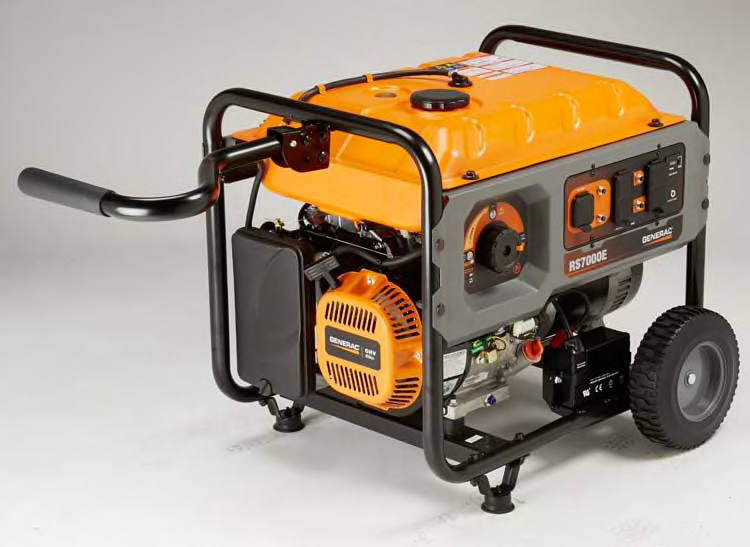 Stationary (Standby) Generators
For the least fuss—at least once it's installed—a stationary generator comes on when the power goes off, runs on propane or natural gas, and also starts itself periodically to run diagnostic checks. With most, you need to check the generator's display for error codes that might require service from your local dealer. A few models have optional modules that will text or email you and/or a dealer should attention be required.
The Generac 6237, $2,250, offers capable performance. It's claimed to offer 7,000 watts using natural gas and another 1,000 if you use propane. It also comes with a transfer switch, needed for safe operation. Among helpful features is low-oil shutoff with a warning indicator. An add-on option, $280 plus a regular fee, lets you monitor your generator's status from anywhere using a computer, tablet, or smartphone.
The Kohler 14RESAL, $3,700, was top-notch at delivering ample, especially smooth power, and it's claimed to offer 12,000 watts using natural gas and another 2,000 if you use propane. It was among the quietest of the models we tested and includes a low-oil shutoff with a warning indicator. It also comes with a transfer switch. An add-on module, $475, lets you monitor your generator's status from anywhere using a Windows PC.
The Briggs & Stratton 040401, $4,300, supplied plenty of power we found clean with consistent voltage. It's claimed to deliver 12,800 to 14,400 watts using natural gas—and 16,000 using propane. We found it very easy to start. Helpful features include fuel shutoff and low-oil shutoff. There's also a low-oil light to tell you why the unit shut down. The price includes a transfer switch.
Before You Start Shopping