Portable vs. Standby Generator: Which Is Right for Your Home?
Both can handle the essentials, so your decision comes down to power and price
When you shop through retailer links on our site, we may earn affiliate commissions. 100% of the fees we collect are used to support our nonprofit mission. Learn more.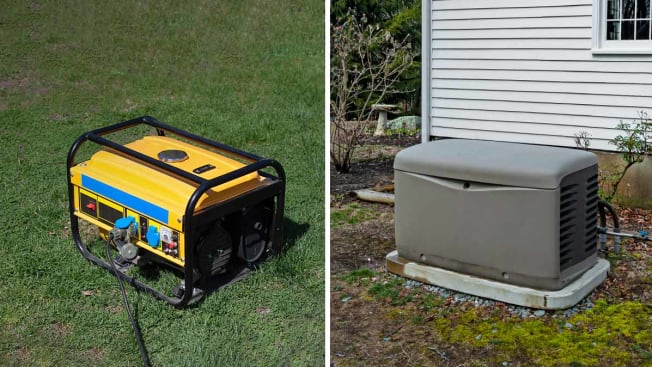 Portable generators and home standby generators do the same basic tasks. But the two types couldn't be further apart when it comes to cost and convenience.
All the portable models in our generator ratings run on gasoline. They burn through 12 to 20 gallons per day, depending on the output of the generator and the load it's powering.
Manufacturers also make portable generators that can run on liquid propane, natural gas, or diesel fuel, but Consumer Reports generally doesn't test these models because they represent only a small percentage of the market. One model in our ratings, from DuroMax, can run on gasoline or liquid propane. And it's worth noting that in the aftermath of a storm, it may be more difficult to find portable cylinders of liquid propane, natural gas, or diesel fuel. 
Power output: 8,000 to 20,000 watts
Price range: $2,000 to $5,000
Fuel needs: 13 to 48 gallons of liquid propane or natural gas per day
Pros: Home standby generators are largely worry-free. They're typically sized to power an entire house in the event of an outage, and they come on automatically. They can run for days or weeks without refueling, they tend to be very quiet, and you don't need to fuss with weather covers. 
Cons: Home standby generators are pricier to buy, and installation costs can range from a few thousand dollars to $10,000 or more. 
Power output: 3,000 to 8,500 watts
Price range: $400 to $1,500
Fuel needs: 12 to 20 gallons of gasoline per day
Pros: Portable generators are cheaper to buy and install than home standby models. When connected to your home's circuit-breaker panel with a transfer switch, they can power almost as much as a home standby generator. They have built-in outlets for directly connecting suitable extension cords if you haven't installed a transfer switch. 
Cons: You'll need to wheel your generator out of storage, connect it to your transfer switch, and fire it up each time you experience an outage. Portable models also require you to store large quantities of gasoline, mixed with fuel stabilizer, to get through a prolonged outage. They tend to be noisier and have lower output than home standby models. 
Safety Features on Portable Generators
To reduce the risk of carbon monoxide poisoning, some new generators feature a built-in sensor that triggers an automatic shutoff if CO builds up to dangerous levels in an enclosed space. Some also have engines that emit less CO in the first place. Recent test data from CR shows that these safety features will probably save lives.
Consumer Reports recommends portable generators only if they pass our CO safety technology test.
But our findings also reveal potentially life-threatening gaps that the automatic shutoff fails to address, which reinforces why it's critical for consumers to follow safety guidelines. Never operate a generator indoors. And position a portable generator at least 20 feet from your house with the exhaust directed away from it, as well as away from any windows, doors, AC units, or other structures.
How to Run a Generator Safely
3 Top Portable Generators From CR's Tests
3 Top Home Standby Generators From CR's Tests