We Sent Gift Baskets to 25 CR Staffers. Here's What They Really Thought About Them.
Our volunteers scored their experiences shopping for and receiving gift baskets from Gourmet Gift Baskets, Harry & David, Knack, Mouth, and Olive & Cocoa For 25 Consumer Reports staffers, the holidays started a little early this year.
We gave them each $100 to spend on a food gift basket for one of their colleagues, and each person who sent a basket received one in return. Their mission: to evaluate the ordering experience and gift selection for five prominent vendors—Gourmet Gift Baskets, Harry & David, Knack, Mouth, and Olive & Cocoa—and to assess their satisfaction with the basket they got.
Staffers also received photos of the baskets they sent to see whether they lived up to what was shown on the website and were worth the money.
Food baskets and boxes once had a reputation as being a generic and uninspired present. But "gift baskets can be positioned to be thoughtful gifts if there's a focus on the recipient's interest," says Marisa Ortega, a U.S. retail and e-commerce analyst at market research firm Mintel.
True, some may still contain waxy apples and water crackers or other packaged products that people can easily pick up on a supermarket run. But many of the gifts our study participants sent reflect the wide range of choices consumers now have—breakfast goodies, jam and tea samplers, and Italian snacks, to name a few—and how easy it is for people to pick something that fits in with their recipient's taste.
"Speciality food plays a strong role in this kind of gifting, too," says Melanie Bartelme, a Mintel global food analyst. "Products like premium sauces, gourmet cookies, handcrafted chocolates, and artisan pasta feel that much more intentional and, well, special."
A Note About Holiday Shipping Deadlines
Most of the gift basket companies in our study told us that they're taking steps to ease the supply chain issue, but they still encouraged consumers to order earlier than usual. Here are some specifics from individual vendors. 
• For arrival before Christmas, Gourmet Gift Baskets recommends ordering no later than Dec. 15 for standard shipping to the West Coast and no later than Dec. 17 for standard shipping to the East Coast. For express delivery, the company says it currently plans to take orders until Dec. 23 at 5:30 p.m. ET but noted that may change as the holiday season progresses if the company's shipping carriers say they are unable to make those deliveries.
• Harry & David says its standard shipping deadlines are Nov. 17 for Hanukkah and Dec. 18 for Christmas. For three-day express, deadlines are 1 p.m. ET on Nov. 22 for Hanukkah and Dec. 21 for Christmas. For two-day express, it's 1 p.m. on Nov. 23 for Hanukkah and Dec. 22 for Christmas. Overnight express is 1 p.m. on Nov. 24 for Hanukkah and Dec. 23 for Christmas.
• Knack said to plan for orders that would normally take 7 days for delivery to take 14. 
• Mouth says it doesn't expect any unusual disruptions but suggested ordering by the second week in December for Christmas.
• Olive & Cocoa did not immediately respond to our queries.
How We Studied Gift Basket Vendors
Our study wasn't designed to identify the best gift baskets per se. Instead, the purpose was to evaluate the overall experience of ordering and receiving a gift. We asked the participants to score the companies on these criteria:
• Ordering: The senders browsed the company's website, selected a gift, and placed an order. The senders judged the companies' array of gifts (reflected in the Gift Options score, below), their experience using the website, and the ease of placing an order (reflected in the Ordering score, below).
• Receiving: Recipients opened the package, evaluated the condition of the gift and its presentation/packaging, and reported their level of satisfaction.
• Sender satisfaction: Senders examined photos of what was delivered and assessed whether they were satisfied with it compared with what they saw on the website and what was spent on it in total—the cost of the gift plus shipping and taxes. 
Twenty-five CR staff volunteers were asked to choose a food gift for one of their colleagues that cost around $100. (CR reimbursed them for the cost of the gift, plus taxes, shipping, and handling, which were extra.) The gift could include some nonfood items, such as a mug, if they wanted, but they were asked to keep the contents primarily food and not to pick a gift that contained wine. They were also instructed not to sign up for online promotions or discounts when ordering a gift, because these can vary according to the time of year. The study took place over two weeks in September, and the participants were asked to pick the most cost-effective shipping method.
Each participant was told to shop from a particular company, and each company was evaluated by 10 individuals—five senders and five receivers. Staffers who sent a gift from one company received a gift from a different company.
What Users Liked About Gift Basket Companies
Overall, participants had good experiences and were satisfied with all five companies. They felt the ordering process was smooth, and were pleased with the gifts they sent and the ones they received. In particular, they liked:
The variety: Many senders commented on the wide selection at all five vendors as well as the filters to narrow the choices (such as by price, occasion, and dietary restrictions). In particular, several participants noted that Olive & Cocoa offered a good variety of items within a gift.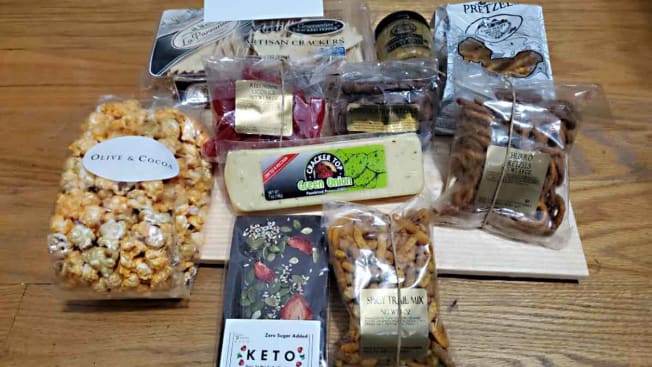 The personal touch: There were no complaints about what companies put in the food baskets they created. But those who used Mouth and Knack appreciated the ability to make their own custom baskets, and most used that option. "I liked being able to build a basket on my own according to [the recipient's] preferences," said one Mouth sender.
Gourmet Gift Baskets, Harry & David, Knack, and Mouth provided suggestions to add additional items to some selected gifts. In addition, Knack offered the opportunity to shop by "ethos," such as BIPOC or women-owned businesses and sustainably produced products. And all of the gifts at Gourmet Gift Baskets are from women-owned family businesses. Those characteristics impressed many senders and gift recipients. "The note that came with the box mentioned that all the items come from women-owned businesses, which I love," said one Knack receiver.
Pretty packaging: With the exception of gifts from Mouth, all of the gifts were packaged in some kind of decorative way—in a crate, on a platter, or in a gift box, for example. Most senders and receivers thought the presentations made the gifts feel like, well, gifts, although some noted that they felt like the packaging was overkill or didn't know what to do with it afterward. "It occurred to me when throwing out the giant wooden box mine came in that I wish it was a little more environmentally friendly (sadly, you can't recycle a giant wooden box, and it was not nice enough to keep/reuse)," said one Olive & Cocoa recipient. The premium gift box from Knack was a hit, although some senders objected that it wasn't optional and cost $10.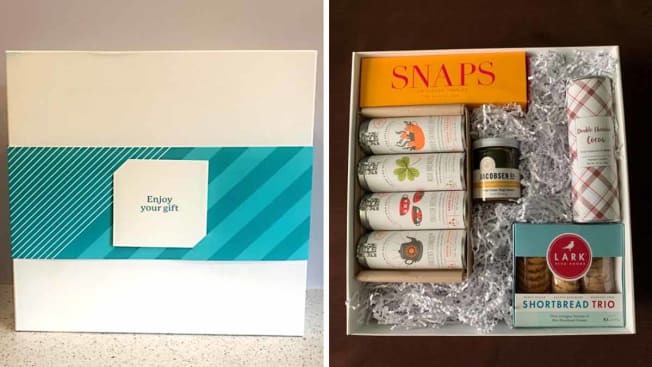 The gift messaging varied among the services. Gifts from Gourmet Gift Baskets, Knack, and Olive & Cocoa came with an actual card. The card from Gourmet Gift Baskets was under the shipping label, and most participants said they would have preferred it to be inside the box. At Harry & David, the gift notification came on a card in some cases but on the packing slip in others, and participants who received the latter said they missed or nearly missed the message telling them who sent their gift. The message on the Mouth gifts were simply printed on a piece of paper; our participants were not impressed.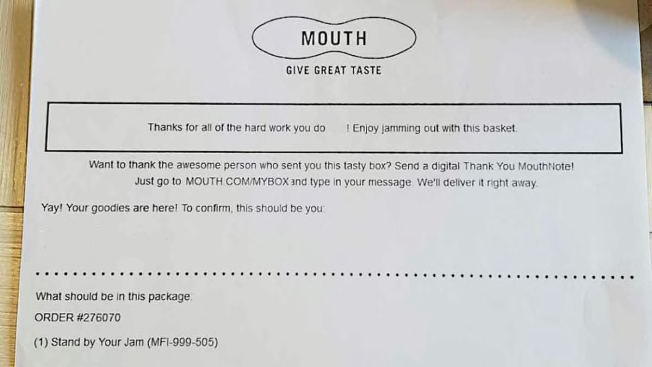 Truth in advertising: None of the gifts arrived looking exactly like the highly styled images on the website. But nearly all the senders thought that the gifts received were a close match to what was shown and said there were very few substitutions.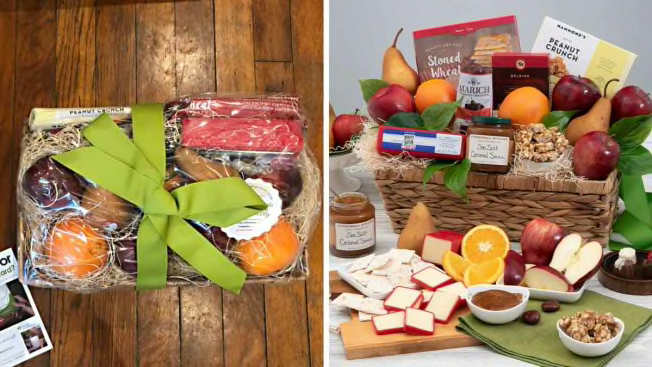 What Users Didn't Like About Gift Basket Companies
No company was perfect, and there were at least some issues with all of them. The most common complaints overall were:
Price: "Overpriced" sums up many of the senders' opinion on the gifts, though a few senders thought the gift was worth the money they spent on it, and some acknowledged that you're paying for the convenience. The steep shipping cost on many of the gifts compounded the dissatisfaction. Standard shipping varied greatly among the different companies—from a low of $0 for some Gourmet Gift Baskets items to $30 at Olive & Cocoa, which included what the company describes as a "hand-crafted wooden crate." In one case, a Gourmet Gift Baskets sender who ordered three items that added up to $100 was charged separate shipping for each item, at a total cost of almost $40. Some users said that they didn't know what the shipping costs were until the end of their order.
Damaged goods: For the most part, the gifts reached their destination in good shape. But some of the cracker and peanut crunch packages in gift baskets from Gourmet Gift Baskets arrived slightly crushed (though the contents were fine), and one person who received a gift with fresh fruit said it looked a little waxy but otherwise fresh enough. The biggest disappointment was that in three of the four gifts from Harry & David that contained the pears the company is known for, the fruit was bruised or damaged. However, when the people who had that experience called the company's customer service line, their complaints were promptly attended to. Two of the people opted for replacement pears, and those arrived in better condition. The other one chose to get chocolate instead, and it arrived the next day.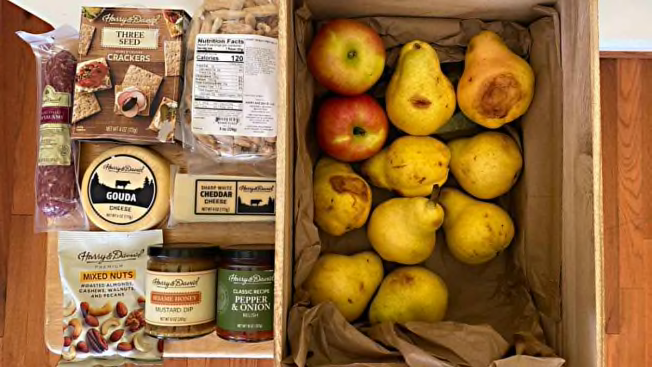 Handling perishables: It wasn't always easy to figure out what items the different companies considered nonperishable and which ones should have arrived with ice/gel packs. For instance, gifts that contained cheese or salami from Mouth were sent with ice/gel packs, but that wasn't the case at Harry & David or Olive & Cocoa. At Harry & David, customer service said that fresh fruit is not shipped refrigerated, salami is shelf-stable, and cheese should be refrigerated upon arrival. An Olive & Cocoa rep said that cheese and salami are shelf-stable for six months. "It was confusing for our study participants," says CR's Greene. "If you receive a gift basket and aren't sure whether something was packed correctly or if the items need refrigeration, contact customer service."
Below are the scores for each company in our study, presented in rank order based on our study participants' experience.


*For site-curated gift baskets or boxes that contain primarily food and don't include wine. Does not include shipping.
Mouth was the top-scoring company in our study. It was the only one where all of the senders were satisfied with the gift they selected and most felt they got good value for the money. "Everything looks to be exactly what I picked out," said one. "I think it looked worth it," another said. 
Senders appreciated the ability to create your own gift and the overall variety of options. "I thought the Mouth website had a lot of offerings, and great descriptions and suggested food pairings of the products (and descriptions of the people who made them)," said one. "It was fun looking for items I thought my gift recipient would like." A bonus: The site lists the ingredients for food products, which could be helpful if you're choosing a gift for someone with dietary restrictions. 
Most senders found the site easy to navigate and that it was easy to filter by interest. "You can sort by bestsellers, by price, and by types of items you want (e.g., sweet, savory). You can also search by diet type (e.g., vegan, gluten-free), by theme (college, tailgating, etc.), even by items made in a certain state," one sender said.  
All of the recipients were pleased with their gifts. "I'm very happy with the gift I received, which arrived fast, and in good condition, and the food has been excellent," said one. But there were complaints from some on the lack of "giftiness" of the presentation. The gift items were packed with shredded brown paper within the shipping box, not packaged in some way as they were with the other companies in our study. And as a group, people who received a gift from Mouth were disappointed in the gift message. "It would be nice to have the gift message on a separate card of its own rather than regular printer paper and black ink, alongside a list of contents. It's not something I'd be interested in safekeeping like I might other gift notes," said one.
Shop: Mouth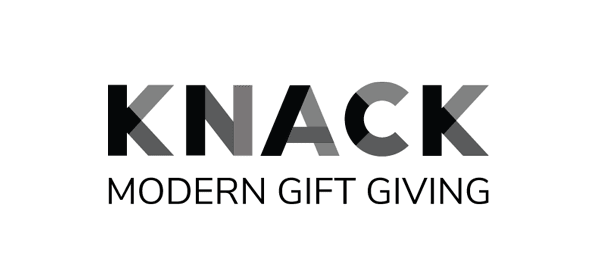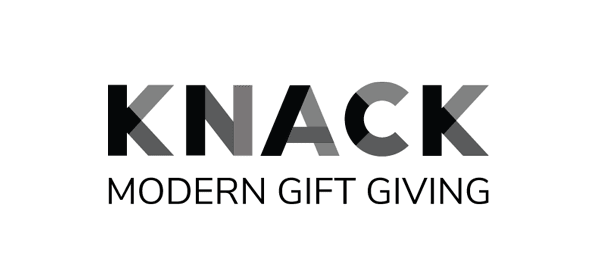 *For site-curated gift baskets or boxes that contain primarily food and don't include wine. Does not include shipping.
Like Mouth, Knack offers senders the option of creating their own gift assortment in addition to choosing from predesigned gifts. You can also shop according to your values, which impressed some senders. "It has a shop by 'ethos' section, like using BIPOC-owned businesses for items, or generating donations from your purchases," one said. "Now that seemed unique."
The food gift options were described as "nicely curated selection" and "high-quality offerings for a very wide range of tastes, with a decent range of prices." Senders also liked the site design. "I could easily browse offerings via multiple categories," one said.
Though the senders and recipients were generally satisfied with the ordered gift, the recipients appeared to be slightly more satisfied.
"All the items seem very artisanal, and mention where they're made and where they sourced some of the ingredients from, which makes it feel even more special and thoughtful," one giftee said.
Senders comments included: "box looked somewhat sparse for what was spent," "severely overpriced," and "I could probably do a bit better in some of the specialty grocers in terms of the size and total number of items. But you pay for convenience."
The presentation was viewed especially positively. "The gift is in a very classy and aesthetically pleasing box," said one giftee, while another said, "The gift box itself had a colorful sleeve around it, and the gift message was tucked into the sleeve such that it was the first thing I saw when I opened the outer packaging. I also like that the message is on very sturdy card stock as that adds to the feeling that this was a very-high-quality gift basket." Some senders grumbled about the non-optional $10 cost of the box, stating they didn't have a choice but to order that packaging.
Shop: Knack


*For site-curated gift baskets or boxes that contain primarily food and don't include wine. Does not include shipping.
While the gift senders and recipients were generally satisfied with the ordered gift, the gift recipients appeared to be slightly more satisfied, noting the variety of items included in the gift. One recipient summed it up by saying, "I love it. The packaging is elegant and sophisticated. The products inside were well-organized with great variety. I would order this for someone or myself." Several giftees commented that they liked the wooden gift box the products were packaged in, though some commented that they weren't sure what to do with it afterward.
Senders were mixed about the ease of ordering on the site and the navigation. One said, "The descriptions of the baskets made it easy to understand what would be included for a given basket and size." But another noted that the price filter didn't seem to show all the options at a particular price. 
When the senders evaluated photos of the gifts they had chosen, several made comments such as "I don't think the gift was worth the total price, to be honest," and "My feeling is that more is spent on the wooden box and the convenience factor and doesn't reflect the value of the actual food items quite as well." The $26 to $30 shipping cost seemed to influence many senders' perception of the gifts' value.
Shop: Olive & Cocoa
*For site-curated gift baskets or boxes that contain primarily food and don't include wine. Does not include shipping.
The experience with this site was mostly positive, but again recipients seemed to be happier than the senders. Some senders were very satisfied with the variety of gifts available; others were not. The comments were as varied as "limited choices when excluding alcohol" and "the same baskets kept showing up under lots of different names, so it's a bit of an illusion that they seem to have all these choices" to "I had trouble narrowing it down because there were so many great options" and "jam-packed with unique/thoughtful gift options."
Some senders noted that the site was well-organized and easy to navigate. And one said that it was a "nice touch" that the company reached out to say thank you for the order and whether they could be of further assistance. One sender said she liked that the products in the gift she chose were made by a woman-owned business. 
Recipients made comments such as "What a lovely gift! Packaged nicely, and the basket includes offerings I will enjoy for breakfast." But a few also compared what they received from this company with what they sent from another company. For example, one said, "I was very pleased with the Mouth gift I sent, but less so with the [Gourmet Gift Baskets] gift I received, which seemed lower quality." However, another said that the gift she sent from Gourmet Gift Baskets seemed to be a better value than the one she got from Olive & Cocoa.
Shop: Gourmet Gift Baskets
*For site-curated gift baskets or boxes that contain primarily food and don't include wine. Does not include shipping.
Although the scores were mostly positive, Harry & David ranked lowest in our study. "That's likely because of the three instances of damaged pears, which bothered both the senders and the recipients," CR's Greene says. 
Though the company offered plenty of choices, navigating the site and placing the order got mixed reviews. 
"It is well laid out. The filter options on the left rail for food types, who the gift is for, and gift occasion are all easy to navigate. They show both what the items are in the gift basket and the type of packaging that will be received," one sender said.
However, another said that "the filtering could've made the experience much more user-friendly, which would've led to a better, easier shopping experience."
One sender also noted and appreciated that the company offers a "SmartGift" option, which notifies the recipient they're getting a gift, allows the person to virtually unwrap it, and lets recipients swap it for something else if they'd like to. With this feature, they can also pick a delivery date that works for them. (Because it was not part of our study, none of our senders chose this option.)
Not all senders felt the gift they chose was worth the money—"It was just over $100, which feels a little high for seven pears, two apples, cheese and crackers, relish, and nuts," said one—and a few commented that what was received didn't match the image on the website. 
The damaged fruit put a damper on satisfaction for those who received it. But others were pleased with their gifts. "All items were packaged in a sturdy aluminum crate with a bow and looked beautiful . . . and arrived in perfect condition and looked fresh," one said. Another said: "My family loves everything we got from Harry & David."
Shop: Harry & David
Correction: This article, originally published on November 15, 2021, has been updated to correct the recipient satisfaction score for Olive & Cocoa.
When you shop through retailer links on our site, we may earn affiliate commissions. 100% of the fees we collect are used to support our nonprofit mission. Learn more.