Here's a secret: See all of those small SUVs, sitting parked in America's driveways? They're really station wagons in disguise. Sure, they look butch with their added ground clearance and all-wheel drive, but they're actually today's equivalent of the classic Ford Country Squire and Oldsmobile Vista Cruiser. To that end, the Mercedes-Benz GLC300 is essentially a C-Class wagon, just with a growth spurt.
While the GLC's predecessor, the GLK, was also based on C-Class underpinnings, it had a rather different vibe. From its straight-edged German truck looks and stiff ride, to the so-so interior finish in early versions, the GLK didn't feel very Mercedes-like. By contrast, the GLC is polished and cultured, willing to please and pamper.
That starts on the interior, where the GLC stands out, even among the other hoity-toity German luxury SUVs. Most surfaces are padded and soft to the touch. Quiet calm reigns inside the cabin. Highly adjustable front seats prove supportive yet supple over the long haul. Big windows and relatively thin pillars supply a good view out, something that competitors like the Lexus NX can't manage. The ability to flip fold the split rear seat from either inside or through the cargo area is a nice touch.
The luxury feel extends to how the GLC drives. The C-Class is one of the best riding small luxury sedans, and that trait carries through to the GLC. Compliant yet composed, the ride shames some competitors like the BMW X3 and the NX. Steering responds promptly to commands from the helm, although not quite with the reflexes of the C-Class sedan, but even drivers of its direct competitor X3 will be impressed.
For now, there's just one engine to choose from, a 2.0-liter, 241-hp turbocharged four-cylinder. That doesn't sound like much when you read it off the specifications page, but it motivates the GLC with ease. You'll hear some diesel-like commotion at idle, but that's not unusual for a modern four-cylinder with direct-fuel injection. Total towing capacity is over 5,000 pounds—quite good for this segment.
It seems like there is a whole bouquet of gears to help keep the engine performing in its sweet spot, with nine forward speeds at your service. We've experienced nine-speed automatics in other vehicles, ranging from a Jeep Cherokee to a Land Rover Discovery Sport, and the Mercedes gearbox is the first one that doesn't drive us crazy. Most of the time, it manages to shift smoothly and doesn't get flummoxed picking from its wide variety of gear choices when it comes time to downshift.
Overall, we don't have many complaints about the GLC. Rear-seat space is modest, as is typical for the class, and the wide center console consumes some of the driver's right leg room. Mastering the infotainment system takes a lot of practice; many features take more steps than is needed, forcing you to spin the controller knob and swipe the console-mounted touchpad more than is really desirable. Given the unintuitive shift lever, the car should engage Park automatically once you shut off the ignition and before you open a door, but alas, it goes to Neutral, risking rolling away.
As usual, you do pay handsomely for the privilege of owning a Mercedes. Our modestly optioned GLC, including a panoramic moonroof, navigation, and blind-spot monitoring, stickered for $49,105. That's on par with the Audi Q5 and BMW X3, but rival Acura RDX and Lexus NX typically cost much less. We're happy that Mercedes made forward-collision warning with automatic braking a standard feature; BMW should follow Mercedes' lead here. Plenty of options remain, including additional advanced safety systems, real leather (Mercedes' convincing-looking MB-Tex leatherette is standard), bigger wheels, and air suspension.
Beyond that, buying this baby Benz can be a hassle. Want a heated steering wheel? You can only get that with the black interior. Want cross-traffic alert with the blind-spot monitoring system, a combination platter on most other vehicles? You need to get the Mercedes enhanced blind-spot system, part of an expensive safety equipment package. Want brown leatherette? You'll need the 19-inch wheels and a styling package. The tow package prohibits you from getting the surround-view camera system. All of this can be bewildering. Given the GLC's price tag, you should be able to have it your way.
All in all, Mercedes' second-generation compact SUV seems more than ready to compete in this rapidly-growing market segment. It's accomplished dynamically and delightful to ride inside.
Check back with us soon as we finish testing it and see how it ranks among the competition.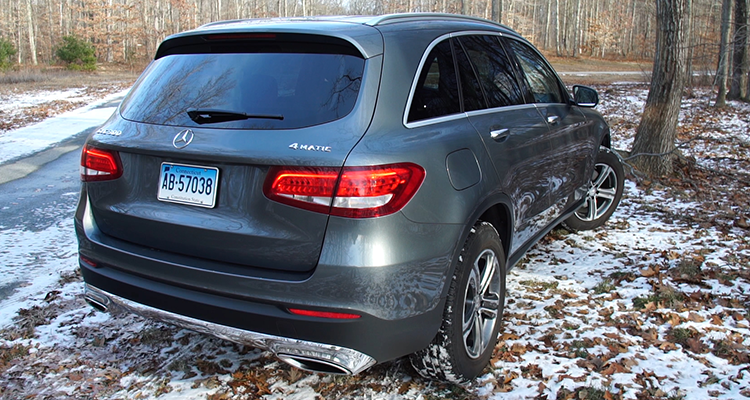 Consumer Reports is an independent, non-profit organization dedicated to helping consumers. We make it easy to buy the right product from a variety of retailers. Clicking a retailer link will take you to that retailer's website to shop. When you shop through retailer links on our site, we may earn an affiliate commission – 100% of the fees we collect are used to support our mission.
Learn more.
Our service is unbiased: retailers can't influence placement. All prices are subject to change.