When you shop through retailer links on our site, we may earn affiliate commissions. 100% of the fees we collect are used to support our nonprofit mission.
Learn more.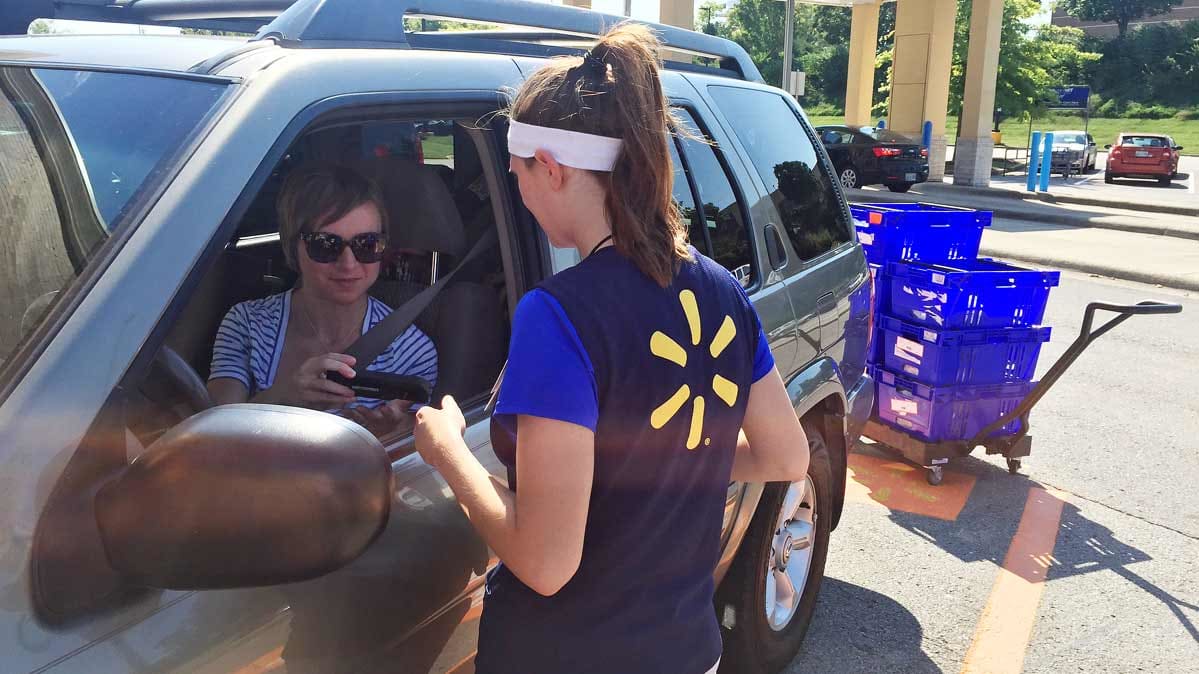 In a comparison of Instacart Pickup and Walmart curbside grocery services, Consumer Reports found that Walmart provided better value, but Instacart offered more convenience and broader choice.
Should you use one or the other? The answer depends on your needs. (See our comparison chart below)
Instacart partners with numerous supermarkets and specialty groceries, while Walmart's pickup service is only available at Walmart stores. In our analysis, we found Walmart offers better pricing and one-stop shopping, but with Instacart Pickup you get a bit more convenience—pickup in as little as an hour—and a wider breadth of selection from numerous retailer partners.
Consumer Reports decided to examine the services because grocery delivery giant Instacart recently announced that it was establishing curbside pickup at affiliated grocers in 25 U.S. markets. The move poses potential competition for Walmart, which has had grocery curbside pickup at many of its stores since 2014.
Curbside pickup is not for everyone: As with delivered food, you don't get to squeeze the melons or smell the peaches before you buy. And you could miss out on inexpensive generic brands that might not be available in the grocery apps.
"The markdowns and manager specials they offer when they have overstock or when items are close to expiring probably won't be available to you," says Steve Economides, a shopping expert who with his wife, Annette, runs the website MoneySmartFamily.com.
But there's a definite convenience factor to consider.
Someone who cares for young children might find curbside grocery pickup worthwhile because it helps them avoid the hassle of bringing possibly impatient youngsters into the store. "It saves on babysitting costs," Economides says.
An older person—or the caregiver of an older person—could save time and stress by arranging for curbside pickup. Someone with a very busy career could benefit, too.
"You save time and dodge potential impulse purchases that can cause your total bill to soar," notes Andrea Woroch, a blogger who focuses on money-saving tips for consumers.
Instacart Versus Walmart
The new Instacart Pickup service is available at nearly 200 stores in markets near Atlanta, Boston, Charlotte, Minneapolis, Nashville, San Francisco, and Washington, D.C. Customers can pick up bags of groceries selected and packed by Instacart shoppers at a variety of grocers, including ALDI, Food Lion, Price Chopper, Publix, Sprouts, Tops Friendly Markets, and Wegmans.
Walmart has its curbside pickup at 2,100 of its more-than 5,000 locations and plans to add another 1,000 next year, a spokesperson told us.
Curbside Pickup: Walmart vs. Instacart
| | | |
| --- | --- | --- |
| Grocer | Walmart Grocery Pickup | Instacart Pickup |
| Where You'll Find It | In 2,100 Walmart locations around the country. | Nearly 200 stores in 25 major markets near Atlanta, Boston, Buffalo, Charlotte, Minneapolis, Nashville, San Francisco, Tampa and Tallahassee, Fla; and Washington D.C.; also some smaller markets. Participating stores include ALDI, Cub Foods, Food Lion, Price Chopper, Publix, Schnucks, Smart & Final, Sprouts, Tops Friendly Markets and Wegmans. |
| Cost | Free for a minimum order of $30. | Pickup is included in the Instacart Express membership, which is $149 per year, including 2 weeks free for new members. Non-Instacart members pay a curbside pickup fee that varies per retailer from free to $4.99. Minimum order is $35 for members and nonmembers. |
| What You Can Buy | Fresh and packaged food; staples such as paper products, cleaning products, personal care, pet care, diapers, etc.; seasonal items such as Thanksgiving tableware; cooking items; frequently-purchased items (like socks). | Fresh and packaged food, household staples and other in-store items. "Anything you can find in the grocery store you should be able to buy via the Instacart marketplace," Instacart says. |
| Are Prices for Pickup Items the Same as In-Store? | Yes | Prices determined by each retailer. Instacart says 70 percent of its retail partners charge the same price in-store as they charge via Instacart's curbside pickup and delivery services. |
| Pickup Details | Pickup at most stores from 8 am to 8 pm. You can pick up as soon as four hours after you order. Pickup window is one hour. | Times when pickup is available varies by store. You can pick up as soon as one hour after you order. |
They Can Work Together
Instacart's and Walmart's services don't necessarily overlap, so there's no reason you can't use both. In fact, they may complement each other.
Walmart's service is a bargain: You don't pay anything for pickup, as long as you order at least $30 worth of groceries. The prices for curbside-delivered groceries is the same as in-store. Walmart ranked highly for low prices in Consumer Reports' grocery store ratings from 2016, though it lagged in other categories.
Instacart Express annual membership, at $149 a year, may be a stretch for some shoppers. The membership also includes free home grocery delivery for orders of $35 for higher (though you'll pay an added $5 service fee per delivery in most places). Depending on the retailer, you may pay more for items than you would in-store.
Indeed, Instacart Pickup's value may be in the variety and quality of stores it partners with, including Wegman's, an East Coast grocer that rated tops in Consumer Reports ratings. You also can pick up your groceries as soon as one hour after you order, versus four hours for Walmart.
A spokesperson for Walmart would not comment on our comparison. "We offer a free service that saves customers precious time," she says. "They are loving the service and we're working hard to bring it to more and more people across the country."
In response to our questions, Instacart issued a statement that did not address the comparison, either. "Instacart partners with more than 300 retailers across North America to offer customers the groceries they want from the national, regional, and local retailers they love."