When you shop through retailer links on our site, we may earn affiliate commissions. 100% of the fees we collect are used to support our nonprofit mission.
Learn more.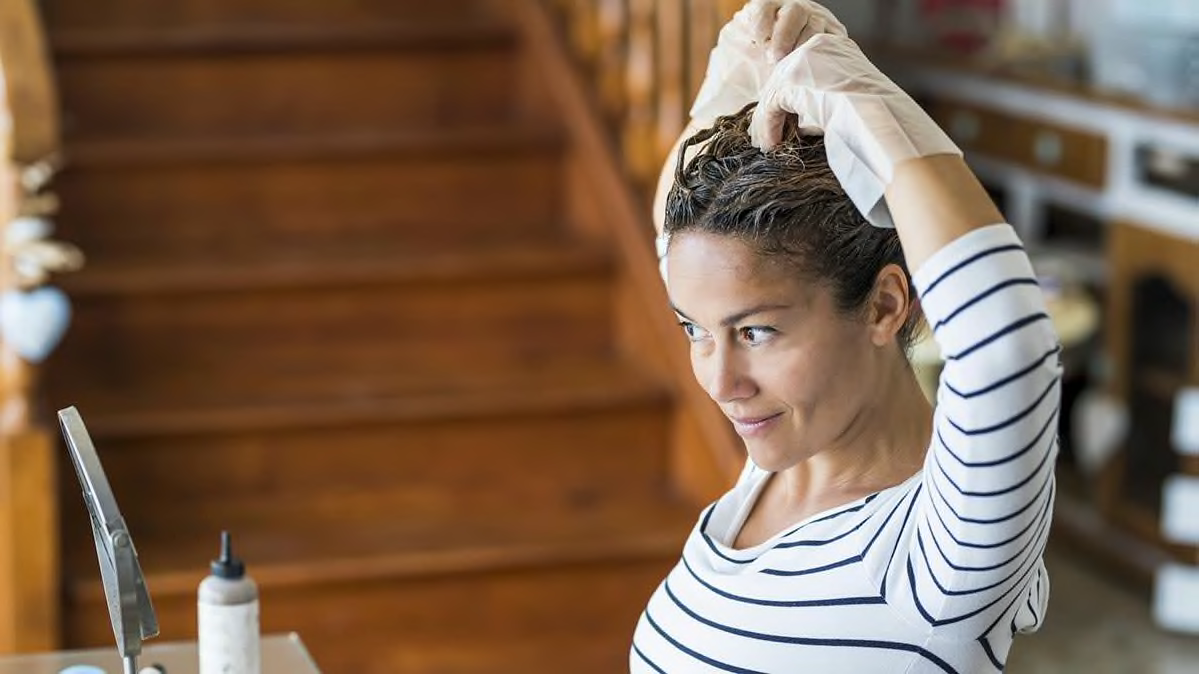 Although stay-at-home restrictions are beginning to lift in many states, a lot of us are not venturing out for more than grocery and pharmacy runs. And salons that are reopening may be allowing fewer people at a time and dealing with a backlog of anxious clients.
So it may still be a while before you're able to get an appointment with your hair colorist.
In the meantime, roots are probably showing their true colors and unruly gray strands may be proving difficult to hide during your daily video chats and meetings.
Not surprisingly, at-home hair color sales have spiked—up 23 percent for the first three months of 2020 over the same time last year, according to the marketing research firm Nielsen—as many of us are taking matters into our own hands (or recruiting a family member to help out).
Hair color company Madison Reed, which sells personalized home hair color kits online, has reported a surge in orders, including a 15-fold increase in first-time customers between February and April.
Should you try to DIY? Note that some colorists are mixing up their clients' custom formulas and delivering coloring kits to them at home, so it's worth checking in with your regular color pro. (He or she may even walk you through the process during a video call.)
And some online brands offer a semipersonalized experience. ESalon, for instance, says each customer receives a fully customized color, and colorists at the Color&Co website will do a video consult.
And boxed hair color has come a long way, too, since the days when it had the reputation for unnatural—and sometimes hair-damaging—results. Newer formulas are safer and easier to use, some experts say, as long as you follow manufacturer directions. "Even during nonpandemic times, people can't always get to the salon for color every single time," says James Corbett, a colorist and owner of James Corbett Studio in New York City. "At-home color can be a good option."
We spoke to several experts about how to get the best possible color at home, and when to leave those locks alone for the time being.
Consider Your Roots
If all that's really bothering you is visible roots, you might be able to get away with simply concealing them until you can get to the salon for your color. For a very short-term solution, there are powders (like Color Wow) and sprays (like L'Oréal Magic Root Cover Up Spray) that are made for use just on the roots area, work well on all hair colors, and last only until the next time you shampoo. Experts recommend sticking to those powders and sprays with a powdery finish, rather than waxy crayon-like concealers. They look more natural and don't clump up in the hair.
Otherwise, if covering roots is your main concern, you can opt for a hair dye that's marketed just for touching up roots or one that's for all-over color. (The main difference between them may simply be the amount of product you get in your kit.)
Semi, Demi, or Permanent?
Before you focus on a shade, consider which type of formula best suits your hair and coloring goals. You'll want to consider texture, amount of gray, and whether your hair has been colored before.
For instance, fine hair absorbs color more easily, so be sure not to opt for too dark a shade. And keep in mind that you may be able to achieve the results you want by leaving product in for a bit less time than the manufacturer recommends.
On the flip side, coarse hair, like some curls and gray strands, and natural or relaxed African American hair, has a thicker cuticle. (That's the outer layer of the hair shaft). A thick cuticle makes it harder for product to penetrate and deposit color.
When you're choosing a product, you may also see lots of marketing language (such as "100% gray coverage" or "makes hair shiny"), but the words you really want to look for are "semi-permanent," "demipermanent," and "permanent." We asked our experts to explain exactly what these terms mean and what they do to help you choose well.
Semipermanent: This is a temporary stain or gloss of color that sits just on top of the cuticle, the outer layer of your hair shaft. "The dye molecules attach to the outside of the hair and gradually wash away," says Michelle Wong, Ph.D., science educator at Lab Muffin Beauty Science. It's a great choice if you want to add a short-term hit of a bright, fun hue, or if you have no visible roots and just want to add a bit of warmth and shine to your current color. Expect it to wash out gradually over about three to six shampoos.
Demipermanent: This type of product typically comes with two bottles—one is color and the other is a developer that contains low levels of peroxide. You'll mix them together to activate the dye before you apply it. "The dye fragments don't penetrate all the way into the cortex [center] of the hair, so it can't completely change your shade," Wong says.
This is probably the best bet for anyone who's hoping to be back in the salon in the not-too-distant future (and who's less than about 25 percent gray). "It'll help cover grays and lasts about four to six weeks," says Michael Canalé, owner of a string of salons and creator of the Canalé line of hair care products. Another advantage of demipermanent products is that, unlike permanent hair color, they contain no ammonia, which can dry out and damage hair (especially the ends).
Permanent: Don't let the name frighten you, because this is the best choice for those with more than 25 percent gray or who want to swap their natural color for a lighter shade. This contains ammonia, which allows the dye and hydrogen peroxide to penetrate the cortex, and also breaks down some of your natural color, Wong says.
Those actions allow a permanent product to color gray hair and more dramatically alter your natural shade. But "don't be fooled by marketing language that calls a permanent product 'ammonia-free,'" Corbett says. Permanent hair color "has to have either ammonia or an ammonia derivative to create that chemical change," he says.
Pick the Best Shade
In general, "If you can't decide between two shades, choose the lighter one," Corbett says. "Most times hair isn't as dark as you think—it's just that the contrast between the old growth and new growth that makes it look darker."
Plus, it's much easier to fix a shade that's lighter than ideal than one that's too dark. "If you go too light with a demipermanent color, it's gentle enough on your hair that it's safe to go over it again with a darker shade," Corbett says.
One exception is African American hair, where experts recommend focusing mostly on covering any gray you'd like to camouflage or going a bit darker, using semi- or demipermanent hair color. "The best part of using semi- or demipermanent color is that it is conditioning and adds shine," says Monaé Everett, a New York City hairstylist who specializes in handling different hair textures.
Lightening African American hair is best done by a professional, Everett adds: "That's where hair color gets very complicated and you risk damaging your hair."
The same goes for anyone with highlights, or even light blonde hair. "You don't want to ruin your hair by trying to bleach it—and hopefully you'll be back at the hairdresser again soon," Canalé says. And using a single-process home product to go a lot lighter may give you a brassy look, Corbett says.
For now, Canalé advises blondes and those with highlights to "rock their roots. Having some regrowth is in style now."
Need help in deciding on a color? Customized online products (such as those from Color&Co, eSalon, and Madison Reed) use detailed questionnaires about your natural color and previous coloring experiences to walk you through the selection process. And some let you consult a colorist online.
Even many drugstore brands' websites now feature questionnaires and tips to help you narrow down color choices, along with how-to tutorials on topics like adding blue or pink strands to your coif. Companies like L'Oréal Paris and Garnier have virtual try-on tools, so you can preview a few shades on your computer.
Get the Best Results
Whether you're using a hair color from a drugstore or one that's customized, everything you need should come with your kit (including disposable gloves).
Many drugstore products are designed to be applied directly from the bottle, while a customized color kit (including one made by your regular colorist) might come with a bowl and an application brush.
Experts agree that applying color to slightly dirty hair is often best. "The natural oils act as a buffer to keep your scalp from getting irritated," Corbett says.
But if you've been relying on root concealing sprays or powders, you do need to wash those out first or your color won't be able to penetrate as well. Wash, then skip the use of these short-term fixes for a day or two before applying at-home color.
Before you start, put on clothing—like a wrapped bathrobe or button-up shirt—that you can easily remove without having to pull it over your head.
To avoid staining your skin, professional colorists recommend slathering a layer of petroleum jelly along your hairline. (To help further protect your face more from any stains, "You can also use an old but clean mascara wand to more precisely apply the color around your hairline and help keep it off your skin," Corbett says.)
Start by dividing the crown of your head into four sections, clipping three out of your way, unless your hair is very short. Then don the gloves to protect your hands from any dye stains and focus on the unclipped section first, followed in turn by the others.
The experts we spoke with recommend applying color mostly to roots, since that's where new growth, grays, and faded color are most obvious. "Concentrate product on the crown of your head—especially along your part and temples," Corbett says.
After you've done your roots, add a bit of color to the rest of your hair. "Take what's left (of the coloring product), dilute it with a little water and a few drops of shampoo and work into the rest of your hair, including the ends," Canalé says. "Leave it on just for the last 5 minutes and it'll refresh your color without leaving the ends too dark."
What About Relaxed Hair?
If your normally salon-relaxed hair is growing out, you may notice some breakage and damage where the natural hair that's coming in meets the straightened strands.
Think twice before coloring it at home, our experts say, and avoid permanent color. "Adding permanent color to relaxed hair is not recommended as two chemicals on the hair usually causes extreme breakage and damage," says Ursula Stephen, who specializes in African American hair and owns Ursula Stephen The Salon in Brooklyn.
For those tempted to use an at-home relaxer, the experts we interviewed advise against it. They say kits that contain lye can lead to damage and hair loss, but even lye-free at-home products should be used with caution. "A trained professional understands how and when to stop the relaxer to keep it from overprocessing and causing scalp irritation," Everett says.
Instead, consider a protective hairstyle, says Miko Branch, founder of Miss Jessie's, a line of products for curly, kinky, and wavy hair. "Hairstyles like braids, cornrows, and flat twists help protect your ends and are perfect for transitioning between two different hair textures," she says.
In fact, giving your hair some extra pampering is warranted right now, to reduce the likelihood of additional breakage. "Many times the problem stems from hair being dry," Everett says. "I recommend a deep-conditioning mask to add moisture and make strands more cooperative."
And if you're overdue for getting sewn-in extensions attended to—"I recommend having extensions removed after a maximum of eight weeks," Everett says—you can remove them yourself. And "take this time to let your hair and scalp breathe without the extensions," she says.
Hate What You've Done?
If your color came out lighter than you wanted, it's an easy fix. Whether you used demipermanent or permanent color on your first try, you can safely do another round using a demipermanent formula.
For results that are too dark, however, there's no foolproof solution. "You can try to remove some of the pigment by applying a mask of lemon juice and baking soda to your hair," Corbett says. It may help pull some of the color out, but it will also be drying, so if you try this, follow up with a deep-conditioning treatment.