When you shop through retailer links on our site, we may earn affiliate commissions. 100% of the fees we collect are used to support our nonprofit mission.
Learn more.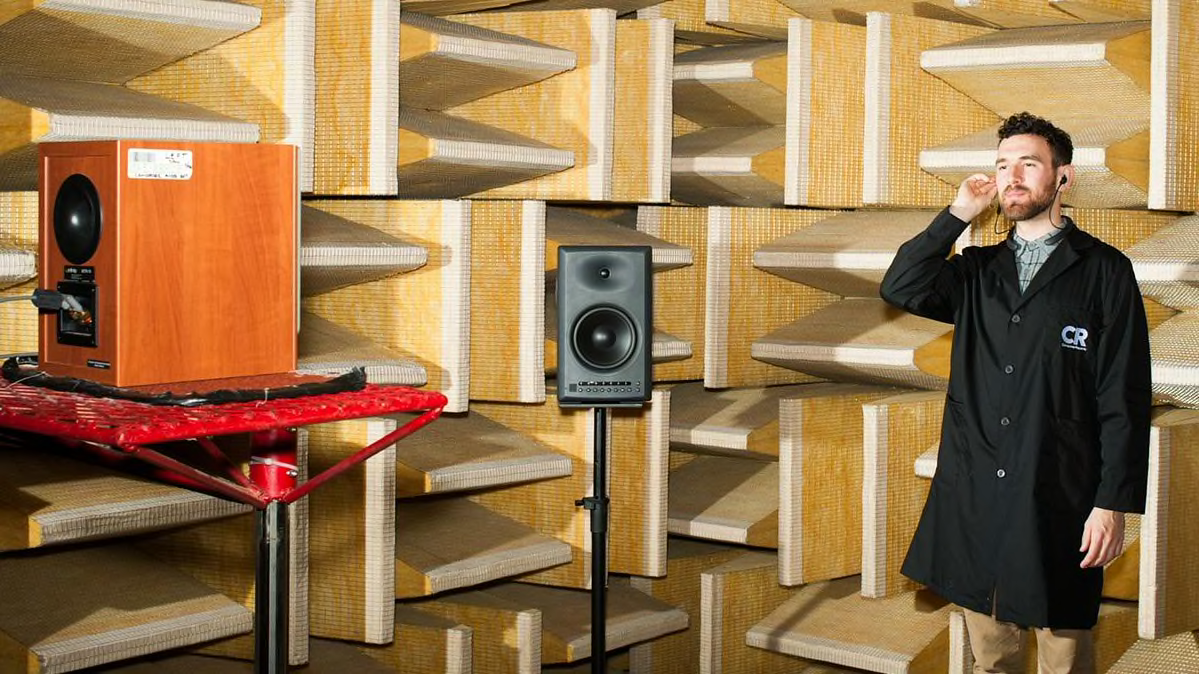 If you go shopping for headphones this spring, you'll discover—quicker than you can stream "Despacito"—that the world has gone wireless.
In recent months, Google, HTC, and Motorola have followed Apple's lead and eliminated the headphone jack from their latest smartphones. And according to the market research firm NPD, 69 percent of every dollar spent by U.S. consumers on headphones in 2017 went to models that link to mobile devices via a Bluetooth connection instead of a cord.
"Our customers are living life on the go," says Jakob Kristoffersen, design and concept manager for the headphone maker B&O Play. "Freedom is not just a choice but a prerequisite for their products."
Those moving-and-grooving shoppers are presented with a wide selection of wireless options: sports models that log your heartbeat as you exercise, noise-canceling models that electronically drown out the chatter at the local Starbucks, and true wireless models—such as Apple's AirPods—that pump Johnny Cash classics into your ears through two completely separate earbuds.
Focus on Sound Quality
Maria Rerecich, director of electronics testing at Consumer Reports, says Bluetooth headphones have not quite achieved the sound quality of the top wired models in our ratings, but many deliver Very Good sound—and a few Bose QuietComfort models even squeak into Excellent territory.
Val Kolton, founder and CEO of the headphone manufacturer V-Moda, attributes recent improvements in wireless sound to upgrades in audio codecs—the software that processes your Coldplay tracks before they reach your ears.
"The standards have been raised," says Matt Engstrom, senior category director of product management at headphone maker Shure, who says steady improvements to Bluetooth have made wireless connections more stable, too. They're also getting easier to set up: Apple's W1 chip, found in AirPods and select Beats headphones, lets you pair to your iPhone with the push of a button, and the wireless near field communication (NFC) tech found in headphones such as the Sony WH-1000XM2 does much the same for Android smartphones.
In the end, you don't have to pay big money for a Bluetooth connection and high-quality sound. The JVC HA-FX9BT Gumy Wireless, for example, sells for $30. It doesn't offer fitness tracking functions, noise cancellation, or voice-activated controls like some higher-priced models, but the audio quality met our Very Good standard.
Mastering Wireless Controls
Before you opt for all those high-tech features, though, you should look over the headphone's specs. You may find that the built-in controls that let you adjust the volume, pause the music, and answer a call without removing your smartphone from your pocket work only with either an Android phone or an iPhone.
And it's easy to get confused by the touch controls that perform these functions on certain true wireless models. "The tap patterns can be so complex, you almost need a secret decoder," Rerecich says. On other models, the controls may kick into action from an accidental touch, pausing your favorite song right when you're barreling into the grand finale.
One last tip: The Bluetooth signal does not travel well through water, and the human body is flush with water, Rerecich says. So at times some headphones might experience difficulty receiving signals from your smartphone. The easy solution? Move your phone to another pocket—one that's closer to the antenna in the headphone. "That often does the trick," she says.
How Good Are the Inexpensive Wireless Headphones Sold on Amazon?
Do you have to pay several hundred dollars for a pair of true wireless headphones? Clearly, plenty of people can't or won't. Which is why on Amazon, you'll find dozens of models that sell for less than $60.
Are they any good? We purchased three pairs that earned almost five stars from at least 100 online reviewers. Then we put the $50 Parihy PA-01, the $50 Iyesku YK-T02, and the $60 SoundMoov HV-358 to the test in our labs.
The Parihy delivered only Fair sound. And we ordered it twice and both times received a model that differed slightly from the one we had selected.
As for the Iyesku, which also rated Fair, our testers said, "The sonic shortcomings leave a lot to be desired when listening to music." That means the earbuds are better-suited for people who prefer listening to podcasts on a smartphone or movie dialogue on a laptop.
The casual music fan may appreciate the SoundMoov HV-358, which crept into the Good sound range. Many others, though, are likely to notice the boomy bass, a thin and rough midrange (voices, guitars, horns), and overbearing treble.
Editor's Note: This article also appeared in the May 2018 issue of Consumer Reports magazine.