When you shop through retailer links on our site, we may earn affiliate commissions. 100% of the fees we collect are used to support our nonprofit mission.
Learn more.
Senate leaders designed their Affordable Care Act replacement bill to seem like a friendlier version of an earlier House bill, by preserving coverage for those with pre-existing conditions.
Unlike the House version, the Senate's Better Care Reconciliation Act of 2017, which was unveiled Thursday, does not offer states the option to apply for waivers so insurance companies can opt out of covering those with pre-existing conditions.
Some cheered the Senate change, designed to win over moderate Republicans. But the revised legislation does something else that some health experts say could be just as problematic for those who are already sick.
It would allow states to apply for waivers so insurance companies could deny coverage for a list of Essential Health Benefits, including outpatient, mental health, maternity, and emergency room care, among others. Coverage of these benefits is guaranteed by the ACA. The House and Senate versions of the bills would change that.
Consumer advocates fear waivers that allow insurance companies to set which Essential Health Benefits they cover, if any, could be used as a pretense for denying expensive services for someone who has a pre-existing condition. They say both bills could hurt consumers, especially if you're already sick.
"Even though [under the Senate version] states can't use waivers to charge people with pre-existing conditions higher rates, they will still be allowed to make changes which could have the same effect," says Sara Collins, vice president of health care coverage and access at the Commonwealth Fund, a private non-partisan health care advocacy group. "Depending on how states structure the waivers, states could allow insurers to remove many of the benefits or services they are required to offer now."
The two healthcare bills seem to ensure that in some states coverage protections guaranteed by the ACA will be eroded, if not completely erased, over the next several years.
"Weakening EHB standards would create winners and losers among consumers," says Betsy Imholz, special projects director for Consumer Union, the policy and mobilization arm of Consumer Reports. "It would create a patchwork with consumers in some states having guaranteed access to much-needed care, while consumers in some states would be left to whatever benefits structure wins in their state's market."
Imholz adds that Essential Health Benefits were initially designed to protect consumers from junk insurance that didn't cover many common health conditions, a widespread problem before the ACA was implemented.
GOP leaders say repealing the ACA is necessary because premiums are skyrocketing on the health insurance exchanges and because states should have the flexibility to offer Americans more affordable healthcare options.
In a speech Thursday from the Senate floor, Majority Leader Mitch McConnell, R-Ky., characterized the ACA as a failure that "teeters, literally teeters, on the edge of total collapse."
He repeated a common GOP criticism that too few insurance companies are offering plans on some state exchanges and that premiums have increased sharply over the past several years.
"Next year, at least 44 counties are projected to have no choice at all, meaning, yet again, Americans could be thrown off their plans in states like Missouri and Ohio and Wisconsin," he said in his speech. "Does it sound like Obamacare is working?"
Prices Could Fall for Many
Under either bill, premiums for healthy Americans who don't need deep coverage would likely go down, and the individual mandate to buy insurance or pay a penalty also would go away.
But in some states, residents with pre-existing conditions or in need of emergency care, for example, could end up paying more than they do now under the ACA.
"There'll be a race to the bottom in terms of what's covered," says John Holahan, a fellow at the Urban Institute, a Washington D.C.-based public policy think tank. "Some people who are sicker will bear more of the costs themselves. People who are healthy will benefit from the lower premiums that go along with that."
In its analysis of the earlier House version of the bill, the nonpartisan Congressional Budget Office estimated that about 88 million people—or one in three younger than 65—live in states that are likely to waive the 10 mandated health benefits, allowing people to buy cheaper policies but with less coverage.
The ACA—President Obama's signature legislation and in full effect since 2014—requires insurance plans to cover 10 Essential Health Benefits: Outpatient services, emergency room care, hospitalization, maternity, mental health and substance abuse, prescription drugs, rehab services, lab tests, preventative care, and pediatric care.
The ACA also prohibits insurance companies from denying coverage for those with pre-existing conditions, or from charging them higher rates. And it requires almost everyone to buy insurance—either through employers, in the open marketplace or from one of the exchanges—or pay a penalty.
"This bill has a different set of concerns for people with pre-existing conditions," says Caroline Pearson, senior vice president for policy and strategy at Avalere Health, a healthcare consulting firm that has analyzed the GOP legislation. "Before the ACA, it used to be a worry that people with pre-existing conditions wouldn't be able to buy insurance. Now the concern isn't whether sick people can buy insurance but that they might not be able to get insurance that includes the services that they need at a cost they can afford."
Creating Winners and Losers
Consumer advocates warn that the state waivers are likely to have different impacts in different parts of the United States.
Proponents of the Senate bill contend that it would allow consumers to buy cheaper policies. Congressional Budget Office scoring of the earlier House version of the bill suggests that about one-third of Americans would see their premiums drop an average of 20 percent. But those reductions are tied to the Essential Health Benefit waivers and the reduced coverage they allow.
While a small reduction in premiums may benefit some healthy consumers, the reduced coverage could cause financial distress—or even disaster—if they get sick.
Under the ACA, consumers had an annual limit on out-of-pocket cost on in-network care of $7,000 for individuals, with a $14,300 limit on families. While that figure represents a significant outlay for most families, it doesn't approach the six-figure medical bills that can accompany the treatment of cancer and other diseases. These provisions in the ACA contributed to a 50-percent drop in personal bankruptcy during the period that the ACA was in place.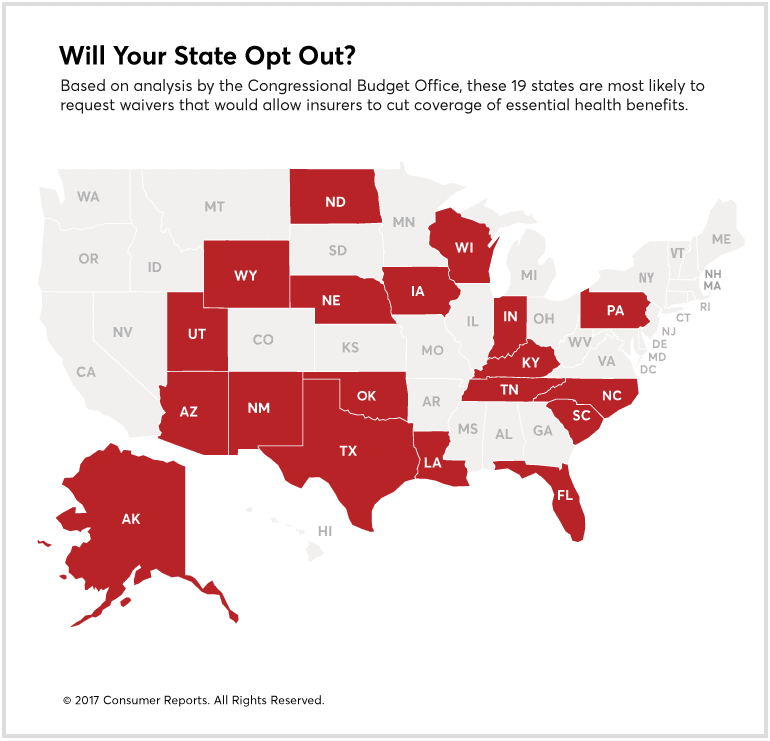 A State-by-State Solution
Which states are most likely to apply for waivers?
An analysis of the House version of the bill by the non-partisan Congressional Budget Office projected that as many as 88 million Americans under the age of 65 may live in states that might apply for EHB waivers.

The CBO report suggested that states which required fewer benefits before the ACA was passed—using maternity care and mental health benefits as examples—would more likely to apply for EHB waivers. These 19 states—which mandated neither maternity nor mental health coverage—seem most likely to apply for waivers: Alaska, Arizona, Florida, Indiana, Iowa, Kentucky, Louisiana, Nebraska, New Mexico, North Carolina, North Dakota, Oklahoma, Pennsylvania, South Carolina, Tennessee, Texas, Utah, Wisconsin, and Wyoming.
These tend to be rural states with larger numbers of sick people, areas where there's the most need. By contrast, larger states like California and Michigan, which already have robust insurance markets, seem less likely to pursue these waivers, according to the CBO.
A Race to the Bottom
What kind of coverage is most likely to be excluded in states requesting Essential Health Benefits waivers?
A 2013 Kaiser FF study that analyzed which conditions were most often excluded could provide a preview. Under that study, costs associated with maternity were covered by only 25 percent of policies, inpatient and outpatient substance abuse was covered by only 55 percent, and mental health services were covered by 62 percent of policies.
Even if you don't get your health insurance through the AHCA, the waivers for Essential Health Benefits are still likely to affect your employer-sponsored coverage. This reduction in coverage will likely lower premiums as well, and in the competitive marketplace, the race to the bottom in pricing is likely to reduce the scope of coverage for most policies.
One sector of the insurance market that's likely to remain unaffected is employees at large companies, many of whom self-insure.
In a competitive labor market with low unemployment, many employers are likely to continue to provide robust coverage as an incentive to retain existing employees and recruit new hires. Of course, employers aren't required to offer these generous plans, and an uptick in the unemployment rate or bad news for the economy as a whole could prompt large employers to reconsider their coverage decisions.
Additional reporting by Thomas Germain and Prachi Bhardwaj.