When you shop through retailer links on our site, we may earn affiliate commissions. 100% of the fees we collect are used to support our nonprofit mission.
Learn more.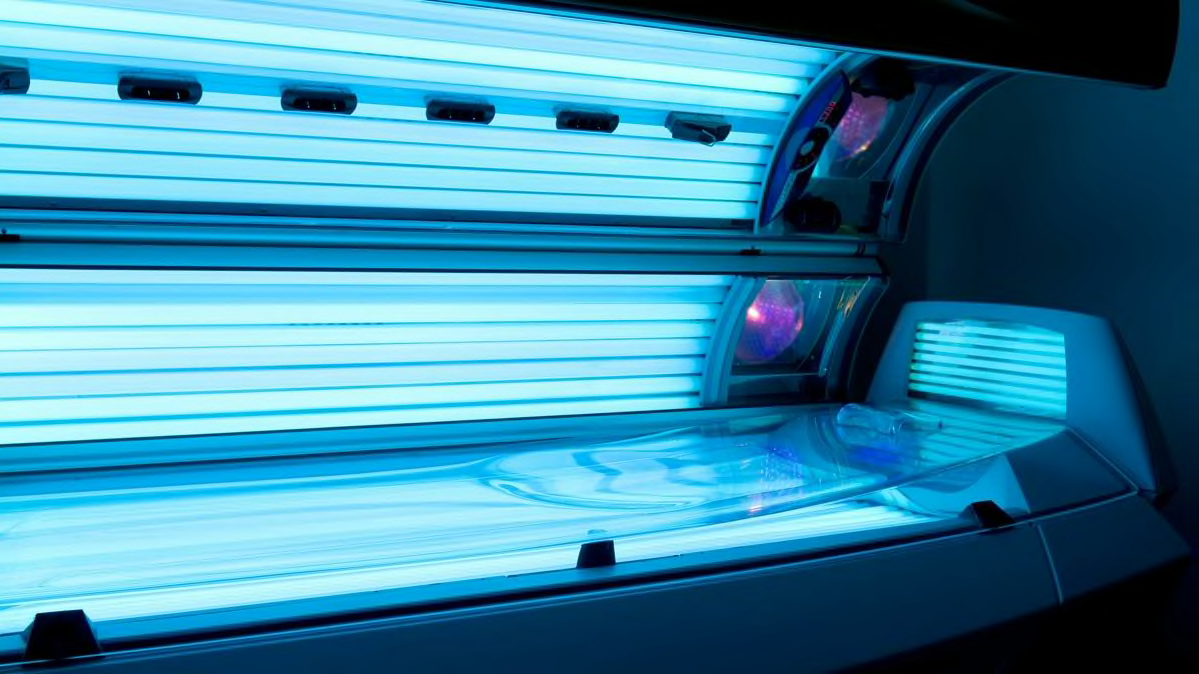 Exercising regularly—whether at a health club or elsewhere—is one of the most effective ways to improve your health. But plenty of gyms, according to a new study, now also have tanning beds—which many experts advise people to avoid.
Tanning sessions may be on the menu in about half of the health clubs across the U.S., according to new preliminary research published in the journal JAMA Dermatology.
"These facilities are offering their customers one very healthy behavior and one very unhealthy behavior under the same roof," says the lead author, Sherry Pagoto, Ph.D., a professor of allied health sciences at the University of Connecticut in Storrs.
And consumers appear to be using gym tanning facilities in significant numbers, according to the study. The researchers learned this by surveying 636 people who said they had tanned indoors at least once in their lives, asking them where they tanned and how often during the prior year.
About 25 percent of those surveyed said that they had done their indoor tanning at a gym. Those who'd tanned there reported doing so 67 percent more frequently than other indoor tanners.
Convenience may be the reason, researchers say. "Gyms are providing an easy tanning opportunity at a low cost by combining tanning packages with gym memberships," says Pagoto.
The Dangers of Tanning Beds
Gyms are offering tanning packages, but they may not be advertising the fact that using a tanning bed significantly increases skin cancer risks. According to the American Academy of Dermatology, indoor tanning may cause at least 400,000 cases of skin cancer in the U.S. each year.
And the first use of a tanning bed before age 35 is associated with a 59 percent increased risk of melanoma, the deadliest form of skin cancer. "Even a single indoor tanning session can increase your risk of melanoma by 20 percent," says Mona Gohara, M.D., an associate clinical professor of dermatology at the Yale School of Medicine.
In 2009 the World Health Organization's International Agency for Research on Cancer upgraded its warning on tanning beds. While they had previously been categorized as "probably carcinogenic to humans," the report moved them into the highest risk category, labeling them "carcinogenic to humans."
But by offering tanning along with a workout, gyms may be—consciously or not—giving the behavior something of a health halo. "Members might think it can't really be that bad for them if their gym is promoting it," says Gohara.
Workout Habits and Indoor Tanning
According to the new study, those who tanned primarily at a gym were also more physically active, working out an average of 3.85 days per week compared with 2.73 days per week for those who tanned elsewhere.
The possible connection: "People who work out a lot and people who tan a lot may have something in common," says Pagoto. "They both care about how they look and put a lot of energy into improving their appearance."
Pagoto also notes that bodybuilders and those who do other sorts of fitness competitions often use tans to accentuate muscle definition.
Gyms should strive to promote healthy behaviors instead of dangerous ones—like tanning, says Pagoto, whose team is now looking into exactly how many U.S. gyms have tanning beds. "No one would suggest putting a cigarette machine in the gym, and for the same reason, they shouldn't have tanning beds either," she says.