Many People Swear by Vicks VapoRub. Is the Love Justified?
The use of the salve among Hispanic families for respiratory illnesses and pain runs deep. Here's how this age-old product works.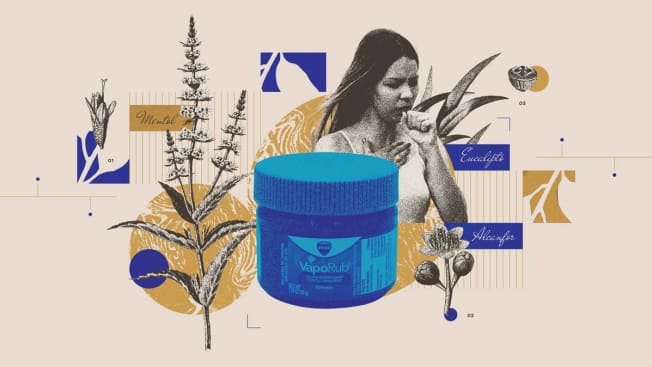 When Liliana Mendoza was a kid growing up in Mexico, Vicks VapoRub was a go-to treatment in her household for common colds and pain.
"My grandma used to use it on our chest, our back, and our nose. And my mom used to put it on the bottom of my feet when I used to complain about what I know now are called growing pains," says Mendoza, a mom of three who now lives in Austin, Texas.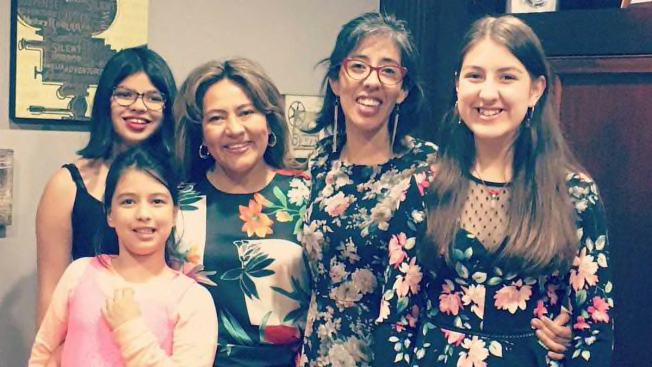 And the smell of VapoRub, like the smell and steam from chicken soup, may remind people of the attention and care they received when ill. That care itself can be healing, says Christopher Fagundes, PhD, an associate professor at Rice University in Houston who has a focus on psychoneuroimmunology, or the effect of the mind on the immune system.
Here's what you need to know about VapoRub, including why just the smell of it seems so healing to so many people.
According to Vicks manufacturer Procter & Gamble, VapoRub's active ingredients are menthol and camphor, both of which are cough suppressants and topical pain relievers, as well as eucalyptus oil, which is a cough suppressant.
The ingredients work in similar ways, says Neil Bhattacharyya, MD, a professor of otolaryngology at the Harvard Medical School and surgeon at Massachusetts Eye and Ear hospital in Boston.
"These are, in a sense, essential oils that provide a cooling effect that masks the feelings of congestion and pain," Bhattacharyya says.
Bhattacharyya compares that effect to rubbing your knee if you've accidentally hit it. "You kind of overwhelm the brain receptors for pain by giving the counterstimulation of rubbing the knee that you just bonked on the desk," he says.
The cooling effect from VapoRub explains how its active ingredients ease the feeling of congestion, Bhattacharyya says. They "can help by creating the sensation that more air is flowing into your body when you breathe," he says, adding that this is also how some cough drops such as Halls work.
"It gives you the sense of your throat being cooled off," Bhattacharyya says. "Just like in Bengay, by the way, or Tiger Balm, the counterstimulation substitutes for the soreness of a sore throat or the feeling of congestion, and it tricks your brain."
So while products such as VapoRub can serve as a distraction from congestion and cough, they won't change the course of the underlying illness on its own, he says.
Vicks VapoRub is for external use only, stresses Mollie Wheeler, a spokesperson for Procter & Gamble. As a cough suppressant for minor throat and bronchial irritation associated with the common cold, rub a thick layer of Vicks VapoRub on your chest and throat and cover it with a warm, dry cloth, she says. To let the vapors reach your nose and mouth, keep your clothing loose around those areas, she says. According to the label on the jar, VapoRub should never be ingested.
The menthol and camphor in VapoRub act as topical analgesics, which means they can relieve minor aches and pains of the musculoskeletal system through the skin.
They've been used that way for hundreds of years, and the benefits are backed by some medical research. For example, in a 2014 study involving 10 Danish slaughterhouse workers with carpal tunnel syndrome, researchers found that topical gel containing menthol applied to the hand and arm provided temporary relief of chronic pain.
An earlier Canadian study, in the International Journal of Sports Physical Therapy, found that menthol gel applied to the skin reduced perceived discomfort better than ice for muscle aches after a workout.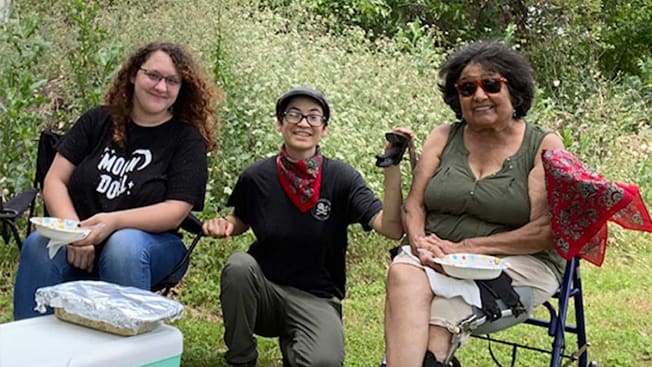 The smell of the ingredients in VapoRub and similar products may provide additional benefits, both directly on pain, and indirectly, by bringing back memories of being cared for.
Knee-replacement patients reported less pain (and reduced blood pressure) after inhaling eucalyptus vapors, according to a 2013 Korean study in the journal Evidence-Based Complementary and Alternative Medicine.
Some versions of VapoRub and Tiger Balm also contain lavender, which has a smell known for its calming effects. It works by triggering pleasure receptors in the brain. "It's a very calming, soothing scent," Bhattacharyya says. "That lavender actually gives you a little sense of pain relief, actually more so than airflow."
Many people—like Mendoza and Baker—say just the scent of regular VapoRub also evokes a feeling of being cared for.
That attention, combined with the memories the smell brings, may help people while they are recovering from illness, says Fagundes at Rice University. Research shows that "psychological factors have direct biological pathways," he says. "We're very confident that people who receive support in close relationships feel loved and cared for, that they have a more well-regulated immune system."
Mendoza, who uses VapoRub on her kids when they have a cold, says she still has strong memories of the product when she was a kid. "As a Mexican, everybody has a story about their grandma, their aunt, their somebody using VapoRub on them one way or another," she says. "I know my family in Mexico when I was growing up didn't have a lot of money, so maybe that's another reason why it's been such a staple of certain communities."
While Bhattacharyya says products like VapoRub are generally quite safe when used according to their label, he recommends against inhaling large amounts of VapoRub or any similar product because it can get deep into the sinus cavity and lungs, potentially causing inflammation and allergic reactions.
"You should not be taking a large volume of this and trying to really deeply inhale it outside of the standard recommendations," Bhattacharyya says. "That can be dangerous, especially if you do it repeatedly."
Wheeler, the Procter & Gamble spokesperson, says that VapoRub should not be used under or inside the nose or in the mouth, and that you should make sure it doesn't get into eyes. You should also avoid heating or microwaving Vicks VapoRub, and it shouldn't be added to hot water, she says.
Bhattacharyya agrees that it shouldn't be put in or near the eyes and doesn't recommend putting it in a bathtub or hot water, either. But he himself has put it under his nose, and that's generally okay, he says, adding that you might want to wipe it off before a meal.
He emphasizes that products such as VapoRub aren't intended to be a cure for any illnesses. So cue the chicken soup, neti pot, and plenty of rest. In addition to the topical treatment, let any respiratory illness run its course, and talk to a doctor if your symptoms are severe.