When you shop through retailer links on our site, we may earn affiliate commissions. 100% of the fees we collect are used to support our nonprofit mission.
Learn more.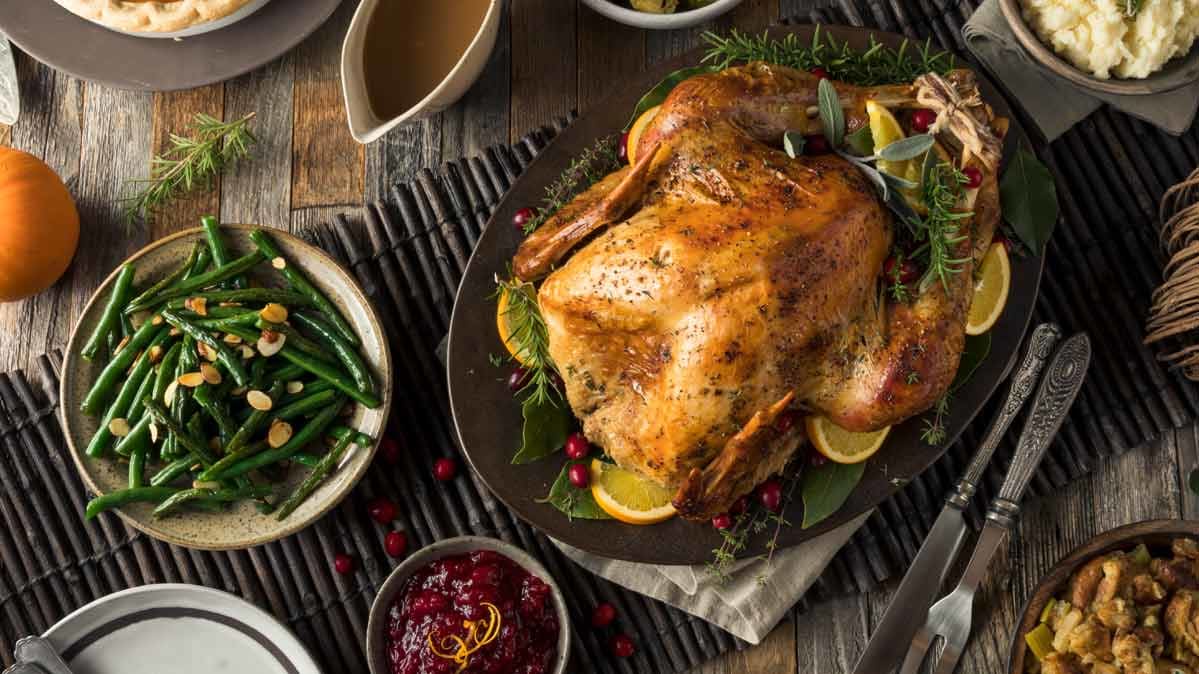 Many of us spend weeks—even months—getting ready for Thanksgiving dinner. From the menu planning to the shopping to the recipe upgrades that will dazzle all your guests (green bean casserole from scratch, for example), planning is the name of the game.
But do you have an eating strategy for the big day itself?
More on Healthy Holiday Eating
We're not here to shame you for grabbing that second slice of pie, or to suggest you should obsess over counting calories. "But Thanksgiving is just the beginning of a long holiday season full of parties and indulgent meals," says Amy Keating R.D., a Consumer Reports dietitian.
To help you strike the right balance, we've compiled a list of handy eating and drinking tips that might make you feel a little more in control this Thanksgiving. As satisfying as it can be to eat like there's no tomorrow, these easy tweaks can keep you from feeling bloated and out of sorts the day after and throughout the holiday season.
Eat Breakfast
And have lunch too, if your holiday meal will be served later in the day. You want to arrive at the Thanksgiving table hungry but not ravenous, which may lead to overeating.
Freeze the Goodies
Guest often arrive with gifts of sweets. Unless it was their job to bring the dessert, don't feel obligated to put everything out, says Keating. "The more food that's available, the more you'll eat." Cookies, brownies, and even fruit pies lend themselves well to freezing, so stash them to enjoy throughout the holiday season.
For Appetizers, Think Fresh
Boiled shrimp with lemon or cocktail sauce is a smarter pick than fried hors d'oeuvres. Other healthful starters include stuffed mushrooms, sliced low-fat cheese, and raw veggies with hummus.
Make a Spritzer
Mix half red or white wine and half seltzer in a wine glass, add a slice of lime, and you have a festive drink with half the calories and alcohol content.
Another option is to have a glass of seltzer in between each drink. It will serve as a palate cleanser that will help slow your intake.
Consider glass size, too. A study from the U.K. found that today's larger wine glass size may be a factor in that country's increased wine consumption. A "drink" is 5 ounces of wine, but that amount looks different in different sized glasses, and many people pour far more.
Rethink Buffet Eating
You wouldn't order one of everything from a menu, so scan the table and make your choices before you load up a plate. And if you do want to try everything, Keating suggests you simply cut down on portion size. "Often getting just a taste will be enough," she says.
Concentrate on Your Meal
Mindfulness can be the key to maximizing your mealtime pleasure, so pay attention to the flavor and texture of each bite. It will make you appreciate each dish more, but that's not all. Research shows that eating while distracted can lead you to consume more calories. (No, this isn't a good excuse to avoid chatting with relatives.)
Take a Walk Between Dinner and Dessert
For some families, this is an annual tradition. But it's more than just a way of bonding with relatives and staying active. "We know that your satiety can lag somewhat," says Keating. "If you go straight from the meal to dessert, you may not realize how full you actually are." Just think about it; you'll probably enjoy dessert more if you aren't completely stuffed.
Hydrate
This advice is useful on your average day, of course, but it's especially helpful on Thanksgiving. Studies have shown that some eaters confuse thirst with hunger, so drinking plenty of water throughout the day will keep you from gorging when you really just need a glass of water.
Put It Away
Don't put out a lot of items for mindless eating (bowls of candy, trays of cookies) once the meal is officially complete. Enjoy the meal and dessert, then clean up!
Eat Better on Friday
Plan what to eat the next day so you can feel better about what you're eating on the holiday. Thanksgiving is only one day per year; you have 364 more days to eat well!