When you shop through retailer links on our site, we may earn affiliate commissions. 100% of the fees we collect are used to support our nonprofit mission.
Learn more.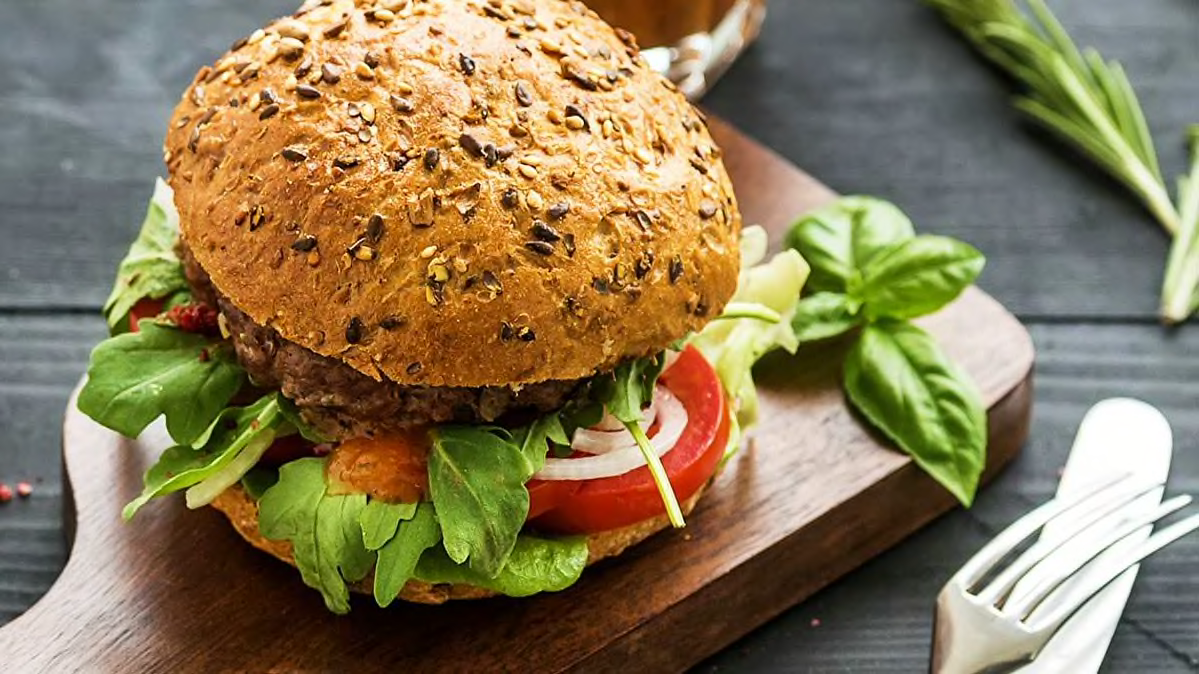 T hrowing a burger on the grill probably isn't the first idea that comes to mind when you want a healthy meal. But with a few smart tweaks, you can make it one. So fire up the grill and follow these tips.
1. Blend your beef. Lean beef has less fat, but it dries out easily. To add back some juiciness and lower the calories and fat, mix in a purée of sautéed or roasted mushrooms and onions to replace up to one-third of the meat, says Todd Seyfarth, M.S., R.D., director and chair of the nutrition and dietetics department at Johnson & Wales University in Providence, R.I. Another option: Replace 20 percent of the meat with cooked cracked bulgur wheat. It's like the texture of ground beef and doesn't ­impart any dramatic flavors, Seyfarth says. "Making the burgers ahead of time and refrigerating them overnight will make them a little easier to cook," he says.
2. Upgrade your bun. A 100 percent whole-grain bun adds filling ­fiber and other nutrients to your meal. But choices with more nutritious carbo­hydrates can still be oversized. A 3-ounce whole-wheatVirginia Roll from Great Harvest Bread, for instance, has 250 calories and 37 grams of carbs.
"Slice rolls crosswise into three pieces rather than two to make them carb- and calorie-friendlier, if that's a goal of yours," says Jackie Newgent, R.D.N., a healthy-cooking instructor at the Institute of Culinary Education in New York City. (Save the middle piece for toast.) Or skip the bun and wrap the burger in sturdy leafy greens, such as collards, Newgent says. "You can use them raw—just trim the thick stem and center ribs."
3. Grill safely. High-­temperature cooking methods, such as grilling, can cause the formation of heterocyclic amines and poly­cyclic aromatic hydrocarbons, compounds that might increase cancer risk, accord­ing to the National Cancer Institute. Keep the flame low, and flip burgers frequently to prevent these substances from forming. ­Another strategy: Fire up the flames on one side of the grill, but do most of the cooking on the other and finish the burger over high heat. Mixing thyme, black pepper, ginger, garlic, or rosemary extract into your patties may also inhibit the development of these compounds, some studies suggest.
4. Cook completely. Use a meat thermometer to make sure burgers reach 160° F, the minimum internal temperature to destroy harmful bacteria in ground meat. And be sure to use a fresh plate for cooked burgers. The tray you brought the raw patties out on could be contaminated.
5. Pile on the plants. Use the space between your burger and bun to add in a full serving of produce. Swap limp iceberg lettuce and pale tomatoes for micro­greens and a thick slice of heirloom tomato; the trade will add nutrients and culinary intrigue, Newgent says. For the more adventurous, a slice of grilled pineapple adds flavor; a heaping spoonful of kimchi or sauerkraut provides healthy probiotics and a burst of flavor. Instead of cheese, try avocado. "Its buttery mouthfeel is why it works so well," Newgent says.
6. Try a veggie burger. A good health move is to make some of your burgers meatless. It can be as simple as grilling a large portobello mushroom cap, which has a meaty taste. Or try this recipe: Heat 1 tsp. of olive oil in a nonstick skillet on medium. Sauté ¼ cup each of finely chopped onion and red pepper and 1 clove of minced garlic until soft, 4 to 5 minutes. Combine with 1¼ cups of cooked quinoa, ½ cup of panko, 1 egg, ½ cup of grated sharp cheddar, and a pinch of salt and black pepper. Add ½ cup of black beans, ½ cup of corn, ¼ cup of chopped cilantro, and ½ tsp. of chili powder. With wet hands, gently form six patties. Refrigerate, uncovered, 30 minutes to 4 hours. Heat 1 Tbsp. olive oil in nonstick skillet on medium. Cook burgers until browned on one side, about 5 minutes. Flip; cook about 5 minutes more. Top with salsa and avocado.
Healthy Dinner Hacks
Looking for healthier versions of your favorite comfort foods? These hacks will make dinner both delicious and nutritious.