Everything You Need to Know About Quinoa
Perhaps you've eaten this ancient grain, but you might not realize just how powerfully nutritious it really is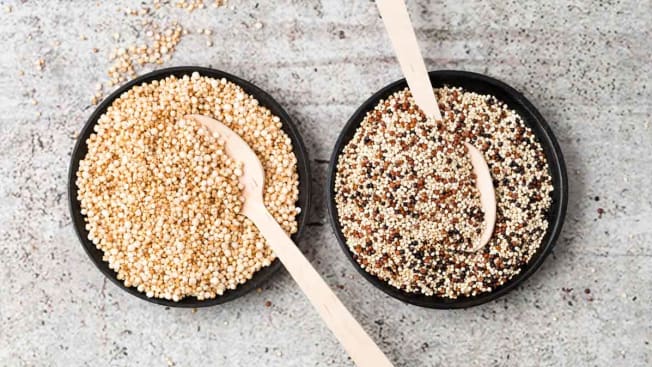 Chances are you've already tried quinoa (pronounced keen-waa), or maybe it's even a regular part of your diet. That would be a good move for your health because quinoa supplies a number of important nutrients. You'd also be supporting indigenous farmers in South America, who produce much of the world's quinoa high in the Andes Mountains.
The U.S. imports more quinoa than any other country, according to a market analysis from Reports and Data. And our taste for quinoa is growing. "It's very versatile, so you can use it a lot of different ways," says Robin Foroutan, MS, RDN, spokesperson for the Academy of Nutrition and Dietetics.
Quinoa is classified as an ancient grain, thanks to its long cultivation history, as well as its culinary uses and nutritional profile. But it's really a tiny seed that comes in a rainbow of colors, notably red, black, and white. (A member of the goosefoot family, it's also related to beets and chard—and to amaranth, another ancient grain.)
You can also find sprouted quinoa in health food stores, Foroutan says. Historically, the Quechua people, who live in the Andean region where the plant is native, called it kinua; "quinoa" is the Spanish spelling.
A Brief History of Quinoa
Quinoa has been found at an anthropological site of hunter-gatherers in central Chile that dates back more than 5,000 years and in the tombs of the Incas. Known as the "mother of all grains," quinoa was revered by the Incas as a sacred plant and used in religious festivals and ceremonial offerings to their deities. Traditionally, quinoa seeds have been roasted and ground to make flour, added to soups as a thickener, and eaten as a cereal.
"Quinoa is a great source of fiber, protein, and slow-burning carbohydrates," Foroutan says, "and it has a great antioxidant profile, including a specific phytonutrient called quercetin that reduces inflammation." It also has all nine essential amino acids, the building blocks of protein, which our bodies don't produce and need to get from our diet.
A cup of cooked quinoa has 222 calories, 39 grams of carbs, a hefty 8 grams of protein, and 5 grams of fiber. It's also a standout source of several minerals, supplying more than half of the daily value for manganese (1.2 mg), 28 percent for magnesium (118 mg), 22 percent for phosphorus (281 mg), 18 percent for zinc (2 mg), and 15 percent for iron (2.8 mg). Plus, you get 20 percent of your daily needs for the B vitamin folate.
Quinoa is gluten-free, which is a boon for those with gluten sensitivity or celiac disease. In a small study of women who had celiac disease, replacing gluten-free bread with quinoa reduced blood sugar, insulin, and triglyceride levels, suggesting that the seeds can be good for blood sugar control, Foroutan says.
Putting Quinoa on Your Plate
Quinoa can have a slightly sweet, nutty flavor or an earthy one. If you've never eaten quinoa, Foroutan suggests trying white quinoa first because it has the mildest taste. Or you might look for a blend of red, black, and white quinoa to get as many antioxidants as possible; levels of these beneficial ingredients vary according to the color of the seeds (red has the highest levels). Some cooks prefer red quinoa for dishes that will be served cold, such as salads, because it holds its shape better, according to the Whole Grains Council.
 "Quinoa is really easy to prepare, and it cooks up relatively fast," Foroutan says. Before cooking, you'll need to rinse off the bitter-tasting saponins, antioxidants that serve as a natural pest repellant for the plant. (Some quinoa may be labeled rinsed, but it's a good idea to rinse it again.) Rinse until the water is no longer sudsy.
To make 4 cups of cooked quinoa, bring 1 cup quinoa and 2 cups of liquid (water or low-sodium broth) to a boil, cover with a lid, reduce the heat to a simmer, and cook for 15 to 20 minutes. You can tell that it is done when quinoa's white "tail" appears. This is actually the nutritious germ that partly detaches from the seed as quinoa cooks. It's what gives quinoa a slightly crunchy texture.
You can use quinoa in place of brown rice, oatmeal, or other grains in recipes, Foroutan says. Try it as a side dish, seasoning with whatever fresh or dried herbs you have on hand, a little salt and pepper, and a drizzle of olive oil, she suggests. For a sweeter option, try combining it with dried fruit (apricots, cranberries, golden raisins), and nuts such as walnuts or pistachios. Warm or cold, these mixtures work well in a salad or grain bowl, too.
To make it a meal, Foroutan suggests combining quinoa with cooked meat or poultry and vegetables, like spinach, chopped carrots, celery, and red onion. Or use quinoa to make a veggie burger (see the recipe below).
Foroutan likes to make a quinoa squash boat for dinner: Cut an acorn or delicata squash in half and roast it. Scoop out some of the flesh and mix it with cooked quinoa, organic chicken sausage, and herbs. "It's really beautiful," Foroutan says
These burgers freeze beautifully—you could make a double batch so you have them at hand for a quick meal. Wrap the uncooked burgers individually and put them into the freezer. Once they're frozen, put them in a container or plastic zip bag. Don't thaw before cooking.
Ingredients
1 teaspoon plus 1 tablespoon olive oil
¼ cup finely chopped onion
¼ cup finely chopped red pepper
1 garlic clove, minced
1¼ cups cooked quinoa
½ cup panko bread crumbs
1 large egg
½ cup grated sharp cheddar or Monterey Jack cheese
⅛ teaspoon each salt and black pepper
1 cup grated carrot
1 tablespoon tahini
2 teaspoons fresh lemon juice
½ teaspoon cumin
¼ cup parsley
2 tablespoons plain yogurt (or tzatziki)
Makes 6 patties.
Directions
1. Heat 1 teaspoon olive oil in a skillet over medium heat. Add the onion, pepper, and garlic and sauté until soft, 4 to 5 minutes. 
2. Transfer to a large bowl and add the quinoa, grated carrot, panko, egg, tahini, lemon juice, cumin, and salt and black pepper.
3. With wet hands, gently form the patties. Refrigerate the patties uncovered until firm, at least 30 minutes or up to 4 hours.
4. Heat 1 tablespoon olive oil in a skillet over medium heat. Working in batches, cook patties until they're browned on one side, about 5 minutes. Flip and cook about 5 minutes more. Top with yogurt or tzatziki and serve.
Nutritional information per patty: 180 calories, 9 g fat, 3 g saturated fat, 17 g carbs, 2.5 g fiber, 2 g sugars (0 g added), 7 g protein, 150 mg sodium.