When you shop through retailer links on our site, we may earn affiliate commissions. 100% of the fees we collect are used to support our nonprofit mission.
Learn more.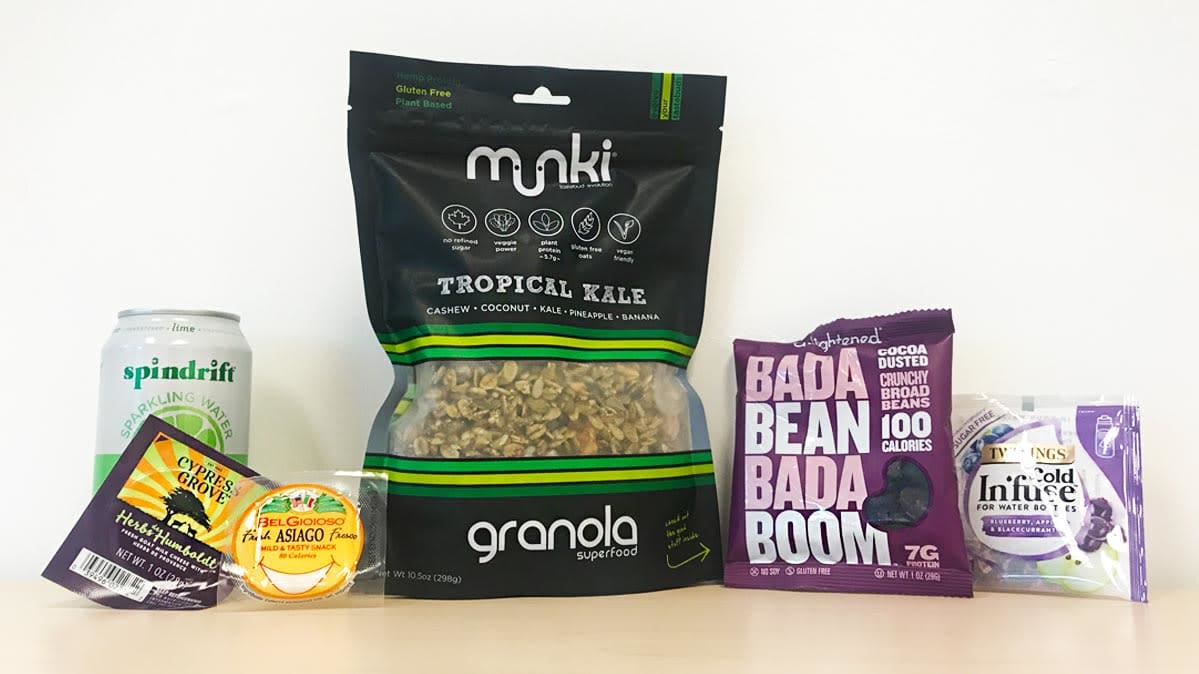 Cruising the aisles at the Fancy Food Show in New York City, you pass by a lot of cookies, chips, and chocolate, but you also can find plenty of healthier foods for snacks and meals. While we can't claim to have sampled all of the 200,000-plus products exhibiting at the show (though trust us, we made a valiant effort), here are eight better-for-you trends we saw. Note that these are our first impressions—we didn't formally test or evaluate the products mentioned.
Veggies in Unexpected Places
Cauliflower, especially cauliflower rice, has been king of the veggies for a while now, and there's no sign it's about to be overthrown. Caulipower had two interesting products: Viva Cauliflower Tortillas—cauliflower is the first ingredient, followed by corn mesa—and New Chick on the Block Chicken Tenders. Made with chicken raised without antibiotics, they get their crispy coating from dried cauliflower and brown rice flour and have 120 calories, 1.5 grams of fat, and 240 mg of sodium in two pieces (about 3½ ounces).

Tater-tot-loving kids (and grown-ups) might enjoy Nolita's Cauli-Bites, made from cauliflower, egg whites, and almond flour but no potato; a five-piece serving contains 90 calories, 5 grams of fat, 6 grams of carbs, and 240 mg of sodium.
We were also intrigued by Fullgreen's steamed cauliflower/veggie rices in shelf-stable pouches. It's not as mushy as some frozen versions, and the seasoned varieties, such as Caulirice Riced Cauliflower with tomatoes, garlic, and herbs, have no added salt.

But other veggies were featured in products, too. Munki Tropical Kale, 24 Carrot Cake, and Sweet Beets Superfood Granolas combine the vegetables with fruit, oats, and seeds, and have 4 or 5 grams of added sugars per ½ cup. Freak Flag Organics Beet Ketchup, sweet with a spicy kick, has 35 calories in 2 tablespoons but no added sugars and just 45 mg of sodium—far less than your standard supermarket ketchup.
Cheese in Snack Packs
Cheese is both protein- and calcium-packed, but it can be high in calories, sodium, and saturated fat—so portion control is important. Sure, you can toss string cheese in your bag, but why not try a more sophisticated option? BelGioioso offers fontina and fresh Asiago snack cheeses, Frico has Gouda Grab & Go Snacks, Beecher's Cheese has its Flagship cheese sticks, and Cypress Grove has 1-ounce goat cheese disks in flavors such as Purple Haze (lavender and fennel pollen) and Herbs de Humboldt (with herbes de Provence).

Looking for something to pair with your cheese? We liked Wasa Celebrating 100 Thin Rye Crispbread with poppy seeds. Issued for the company's 100th anniversary, it's made with 100 percent whole-grain rye flour. Two pieces (about an ounce) have 70 calories, 4 grams of fiber, and 80 mg of sodium. Or try Crunchmaster Grain-Free Lightly Salted crackers made with cassava (yuca) and coconut flours. There are 120 calories, 3 grams of fiber, and 115 mg of sodium in 17 crackers (about an ounce).
Healthier Chocolate
If you want to up chocolate's nutrition game, there were a few products at the show that can help you do that. We liked the simplicity of That's It Dark Chocolate Fruit Truffle Bites—figs, dates, and other fruits enrobed in 64 percent cacao chocolate with 110 to 160 calories and just 1 to 4 grams of added sugars in five pieces, depending on the flavor. Unreal Dark Chocolate Coconut Bars and Dark Chocolate Peanut Butter Cups come in single-serving packs and, with 3 and 5 grams of added sugars per piece, respectively, contain far less added sugars than Mounds or Reese's. Raaka makes an organic 100 percent cacao chocolate bar with no added sugars that's fruity, not bitter, and an oat milk 58 percent cacao bar with 5 grams of added sugars per ounce.
Alternatives to Yogurt
An extension of the massive plant milk trend, coconut yogurt was big at the show. We were happy to see that many flavors among the different brands contained very little added sugars. The coconut cream is naturally sweet; you don't get that tangy yogurt taste. (They do have added live cultures, though). Some standouts: Anita's Coconut Milk Yogurt Alternative, plain (0 added sugars); CoYo mixed berry (0 added sugars); and The Coconut Collaborative Mango & Passion Fruit (3 grams of added sugars). Note, though, that coconut yogurts have less protein and, depending on the brand, more calories and saturated fat than whole-milk dairy yogurts have, so check labels.

And although not a yogurt alternative, Sweet Nova Superfood Freeze was a creamy coconut milk-based "ice cream" with no added sugars and 150 to 170 calories per ½ cup. The flavors were unusual: Dragon Fruit Antioxidants, Matcha Green Energy, and Sunflower Cacao Protein (with the protein coming from sunflower butter).

Back over to the dairy aisle, you'll find ricotta cheese sold, like yogurt, in single-serve cups. Breakfast Ricotta from BelGioioso has 175 calories in 4 ounces and 40 percent of your daily dose of calcium. RifRaf offers ricotta made from grass-fed whole milk with mix-ins in split cups (the cheese on one side, the mix-ins on the other). The strawberry balsamic flavor was sweet and tangy, and has 210 calories, 14 grams of fat, and 6 grams of added sugars in 4.6 ounces.
Beans, Beans, Beans
Bean pasta, bean snacks, bean "rice": Such products spring from the huge and still growing interest in plant-based proteins.
Many of the products were made with chickpeas or chickpea flour. Explore Cuisine Chickpea Risoni made for a tasty risottolike dish, and the sauce for the lentil and chickpea pasta in Chickapea Vegan Mac is made with a package of powdered sweet potato and pumpkin in place of the typical powdered cheese. We also thought the frozen heat-and-eat Falafel balls (chickpea) from Afia and Fabalish made for a good healthy snack or even a party appetizer.
And while we saw plenty of roasted, seasoned chickpea snacks, the broad (fava) bean snacks from Bada Bean Bada Boom stood out for being different. They come in sweet and savory flavors and have about 100 calories, 5 grams of fiber, and 7 grams of protein per ounce.
Seeds Take Center Stage
A few years ago, products with nuts were all the rage. Now it's seeds' turn. They're nutritionally similar to nuts, with protein and healthy fats. A few healthy options were Undercover Quinoa Dark Chocolate and Seeds, SuperSeedz Dark Chocolate and Sea Salt Organic Pumpkin Seeds, and, perhaps the most unusual, the mild-tasting, slightly sweet Watermelon Seed Butter from 88 Acres.
Fizzy, Fruity Drinks With No Added Sugars
People can't get enough of sparkling water. Most products have no calories or sugars, but you have to read labels carefully; some have sugars or sugar substitutes. Here are a few twists on typical seltzer we saw:
• Sap Birch sap organic sparkling water in flavors like strawberry with habanero and cranberry with gogi berry, no added sugars, and 15 calories per can.
• Zero calorie, zero sugars Asarasi Water made with organic maple water and flavored with organic fruit extracts, such as cherry and lime.
• Sparkling water with a splash of fruit juice from Spindrift and Purity Organics are low in calories and sugars, and have no added sugars. The newest flavor from Spindrift, lime, has 4 calories per can and 0 sugars. Purity Organics Sparkling Madarian has 30 calories with 5 grams of sugars from the juice.
• Hella Bitters & Soda, made with gentian, an aromatic bitter, is a good pick for people who don't want fruity flavor. It has zero added sugars and 5 calories.
• If fizzy's not your thing, one option is Black Sails Spiced Coconut Water in flavors such as orange and cinnamon, or pineapple, lime, and cayenne. The 9 to 18 grams of sugars in an 11-ounce can (depending on the flavor) come from the coconut water. The calories range from 52 to 114.
Cool Teas
It was impossible to count all the flavors and types of tea at the show, both bottled and in tea bags. These three were some of the more unusual, with a healthy nutritional profile:
• Sparkling HopTea is made with hops and green, black, white, or herbal teas. Most have 0 calories, except for The Lemony One, which has a hit of cane sugar and 30 calories.
• Twinings' new line of Cold Infuse tea bags contain hibiscus, rose hips, and natural fruit flavorings. Designed to steep in water bottles, they have zero calories and zero sugars.
• The Avocado Leaf Tea company's avocado tea and avocado tea blends can be sipped hot or cold. Avocado leaves contain beneficial antioxidant compounds called flavonoids and polyphenols, the company claims.