When you shop through retailer links on our site, we may earn affiliate commissions. 100% of the fees we collect are used to support our nonprofit mission.
Learn more.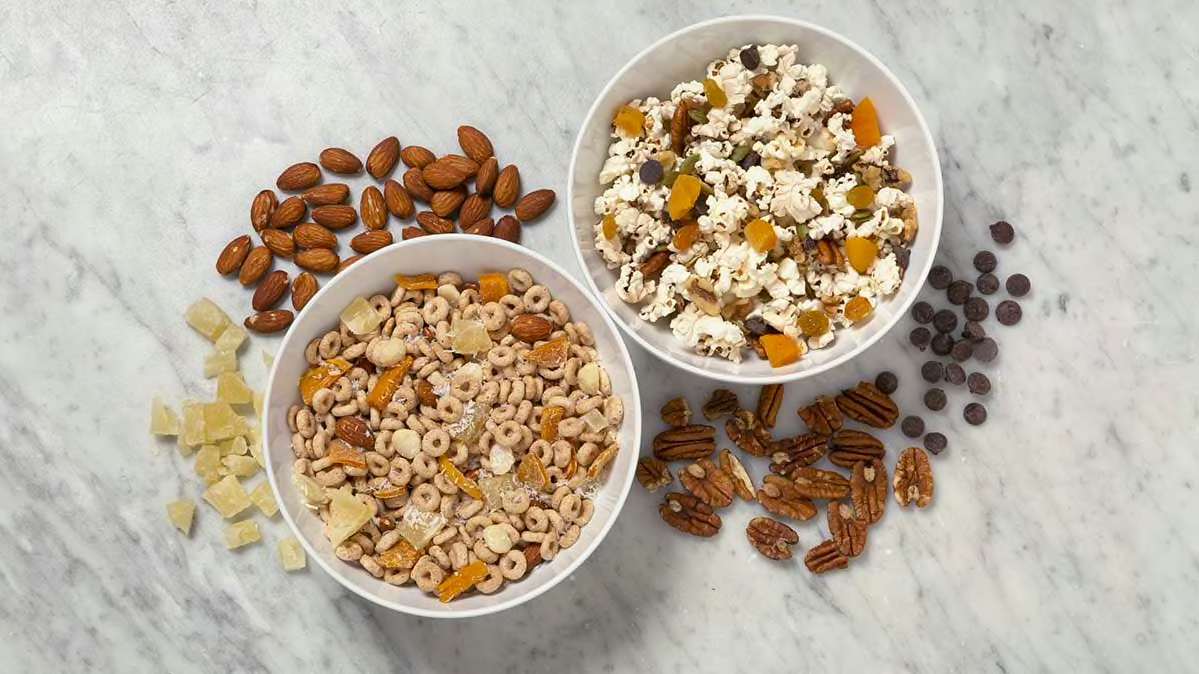 Whether you call it gorp, scroggin (as they do in Australia and New Zealand), or trail mix, you might have noticed that the nuts, seeds, dried fruit, and—sometimes—chocolate combos once reserved for activities in the great outdoors have crossed over into everyday snack territory.
"Consumers want a snack to contribute to their overall nutrition for the day," says Kara Nielsen, vice president of trends and marketing at CCD Innovation, which does strategy work for food and beverage companies. With nuts and dried fruit as the main ingredients, trail mix can supply nutrients that people often have trouble fitting into their diet, such as antioxidants, fiber, and healthy fats.
At the same time, though, consumers are also stressed, and in search of snacks that feel like a treat, Nielsen says. As companies have begun blending trail mix's traditional nutrient-dense ingredients with more add-ins and flavors, people may think they're getting a snack that's both healthy and indulgent. And they can be both if you choose carefully. Here's what to look for to make sure you're on the right track with your trail mix selection. (And check out the healthy trail mix recipes developed in CR's test kitchen; our mixes are shown above.)
Look For: Mostly Fruit and Nuts
The good nutrition in trail mix comes primarily from the nuts and dried fruit. While add-ins, from yogurt-coated raisins to wasabi peas, can be delicious, they displace the healthiest ingredients and don't add many valuable nutrients themselves.
Take yogurt-covered raisins. "Yogurt coating can have hydrogenated oils and added sugars—things you'll want to avoid," says Amy Keating, a registered dietitian at Consumer Reports. And while yogurt itself packs bone-building calcium and gut-healthy probiotics, the bit of powdered yogurt found in coated raisins is unlikely to contain much of either.
A newer breed of yogurt-coated trail mixes, such as Target's Archer Farms Probiotic Fruit & Yogurt and CVS' Gold Emblem Abound Sweet & Nutty Probiotic Trail Mix, try to make up for this by adding probiotics to their blends. But if your goal is to get more "good bacteria" in your diet, regular yogurt and kefir are better sources.
As for chocolate, modest quantities of dark and even milk chocolate may have some health benefits—so it's okay to choose a trail mix that contains a small amount. The calories in one serving of chocolate-containing trail mix may even be roughly the same as one without chocolate, because nuts and chocolate have about the same number of calories ounce for ounce. But the addition of chocolate will increase the added sugars in your snack, which the American Heart Association recommends keeping to a minimum in your diet (providing no more than 100 to 150 calories per day). Candy-coated chocolates add even more sugars and empty calories, so it's best to avoid them altogether, Keating says.
Look for: Smart Seasonings and Sweeteners
A serving of some trail mixes can up your sodium intake for the day, particularly the ones that are tossed with more savory flavors. Thrive Market Paleo Snack Mix Chipotle BBQ has 210 mg sodium per 1⁄3 cup serving. Adults should get less than 2,300 mg of sodium per day, so one serving of this provides about 9 percent. That may not sound like much, but a handful here and there can add up.
Sodium content can vary widely even among products made by the same brand. For example, Sahale Snacks' Raspberry Crumble Cashew Trail Mix has just 35 mg of sodium in a 1½ ounce single-serving bag. The same-sized serving of the company's Mango Tango Almond Mix packs 170 milligrams.
Added sugars in trail mix can also sneak up on you. Companies won't be required to list the amount of added sugars on food labels until the year 2020, and it can be difficult to tell the difference between sugars that come from dried fruit and sugars that have been added. There is a difference, nutrition-wise, however—naturally occurring sugars like those in fruit come packaged with vitamins, minerals, and fiber, while added sugars provide no nutritional value.
Some brands have already begun labeling added sugars, so you may be able to find the information you need to make an informed decision.
For example, both Amazon's Happy Belly Tropical Trail Mix and its Happy Belly Cranberry & Nuts Trail Mix have 13 grams of sugars per serving, so you might think they're the same. But because the brand lists added sugars, you can see that 11 grams of the sugars in the cranberry blend are added, compared with just 4 grams in the tropical mix.
For brands that don't yet include details about added sugars, reading ingredients lists can help. Added sugars go by many names—cane sugar, corn syrup, honey, agave syrup, and maple syrup are a few examples. Ideally, choose a trail mix that doesn't have any added sugars. For example, ShopRite's Wholesome Pantry Organic Trail Mix has 10 grams of sugars, but they all come from the dried fruit. Another clue: Certain fruits, such as cranberries and pineapple, are typically sweetened, which will be noted on the ingredients list. In addition, mixes that contain candy are going to have more added sugars.
Look For: Perfect Portions
Most trail mix serving sizes are around ¼ cup, the amount that fits in one cupped palm. Not so bad if you stop after one or two servings—but toss back a bunch of trail mix and calories from even the healthiest blends can add up. "Nuts and dried fruits are concentrated sources of calories, and trail mix is easy to eat by the handful," Keating says. Your solution: Buy single-serving bags or measure out servings and preportion them into small containers or bags.
If a ¼-cup serving of trail mix is simply too small to satisfy you, stretch out your trail mix by tossing it with a high-volume but low-calorie food, such as air-popped popcorn, or a high-fiber cereal, such as All Bran—as we did in our trail mix recipes. Sipping water while you munch can keep you from eating too quickly; it also helps the soluble fiber in the dried fruit expand, so you feel more satisfied.
Healthier Trail Mix Choices
We browsed our local stores and online grocers to find some better-for-you options.
Planters Nut-rition Omega-3 Mix
This blend contains cashews, walnuts, raisins, and (sweetened) cinnamon apple pieces.
Per ounce (3 Tbsp.): 160 calories, 11 g fat, 1.5 g saturated fat, 12 g carbohydrates, 1 g fiber, 6 g sugars, 4 g protein, 25 mg sodium.
Back to Nature Harvest Blend
No added sugar or salt, but plenty of flavor, thanks to raisins, almonds, pumpkin seeds, sunflower seeds, dried apricots, and pecans.
Per ounce (¼ cup): 140 calories, 10 g fat, 1 g saturated fat, 12 g carbohydrates, 2 g fiber, 7 g sugars, 4 g protein, 0 mg sodium.
Enjoy Life Seed & Fruit Mix Mountain Mambo
This nut-free blend of sunflower and pumpkin seeds, raisins, (sweetened) cranberries, chocolate chips, and dried apples is safe to bring to school.
Per ounce (¼ cup): 130 calories, 8 g fat, 1.5 g saturated fat, 13 g carbohydrates, 2 g fiber, 8 g sugars, 4 g protein, 25 mg sodium.
Trader Joe's Go Raw Trek Mix
This blend is a winner for its simple ingredients list (raisins, cashews, walnuts, almonds, filberts—no sugar or salt added); it's also available in 1.5-ounce preportioned packets.
Per ounce (¼ cup): 150 calories, 11 g fat, 1.5 g saturated fat, 11 g carbohydrates, 2 g fiber, 5 g sugars, 5 g protein, 5 mg sodium.
CR's Special DIY Trail Mix
It's easy—and typically cheaper—to mix up your own blend of trail mix. These two recipes from Consumer Reports' test kitchens boost nutrition and lower calories by including cereal or popcorn. Mix the ingredients in a bowl. Each recipe makes about 4 cups; store in a tightly covered container.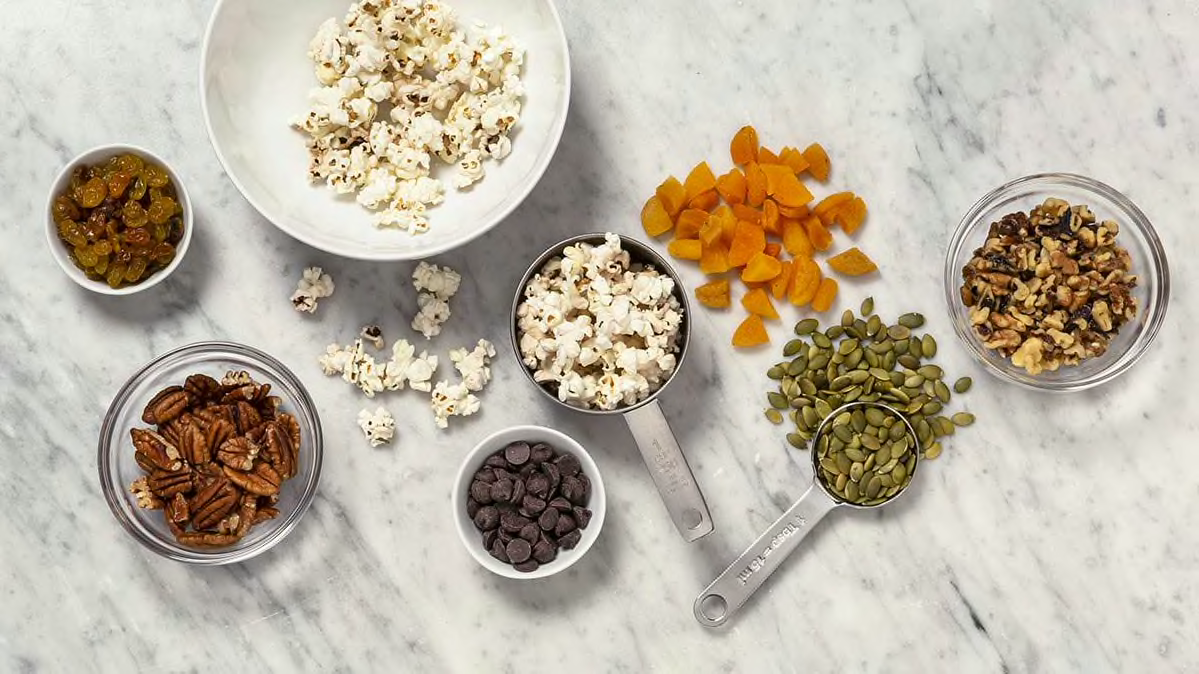 Nut and Fruit Trail Mix
½ cup unsalted roasted pecan halves
2 cups air-popped unsalted popcorn
½ cup unsalted roasted walnut pieces
1⁄3 cup golden raisins
1⁄3 cup chopped dried apricots
¼ cup good-quality dark chocolate chips
2 Tbsp. unsalted pumpkin seeds

Per 1⁄3 cup: 140 calories, 9 g fat, 2 g saturated fat, 13 g carbohydrates, 9 g sugars, 2 g fiber, 2 g protein, 0 mg sodium.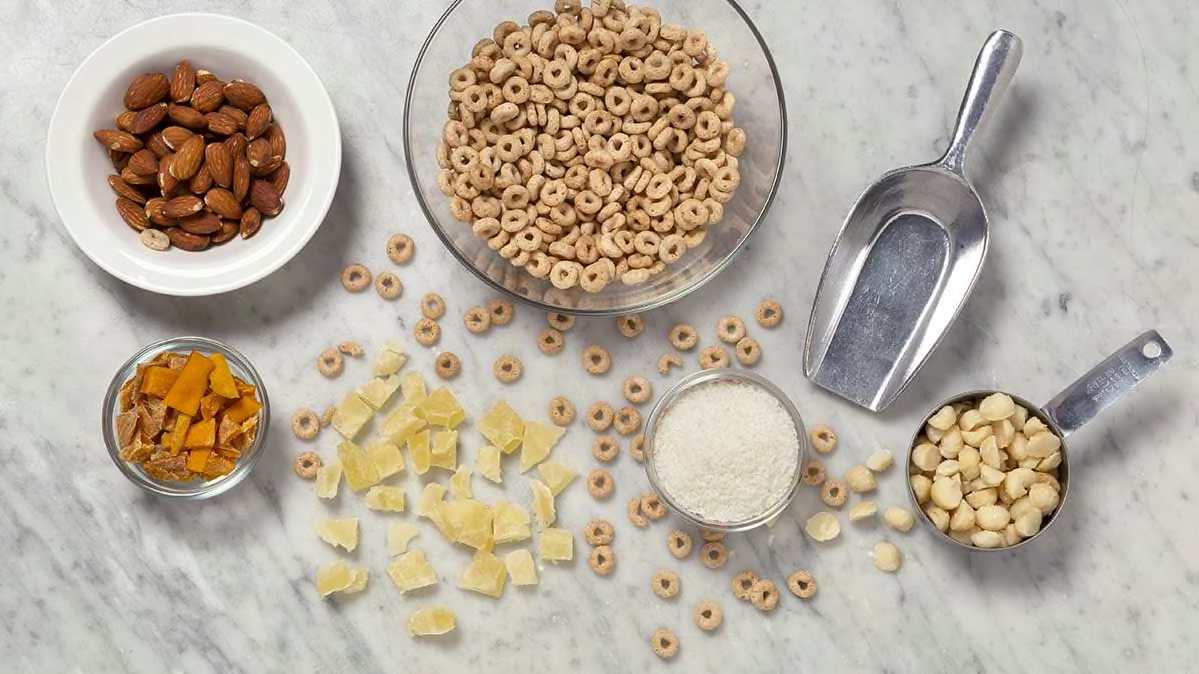 Tropical Trail Mix
½ cup unsalted dry-roasted whole almonds
2 cups low-sugar, whole-grain cereal (such as Cheerios)
½ cup unsalted macadamia nut halves
1⁄3 cup chopped dried pineapple
1⁄3 cup chopped dried mango
1⁄3 cup unsweetened shredded coconut

Per 1⁄3 cup: 150 calories, 9 g fat, 2 g saturated fat, 15 g carbohydrates, 9 g sugars, 2 g fiber, 3 g protein, 25 mg sodium.