The Best Artificial Christmas Trees
We evaluated a total of six trees to find a realistic, high-quality one that will last for years to come Shopping for an artificial Christmas tree may seem simple enough, but there's a lot more to it than meets the eye. The sheer number of available options can be overwhelming, and given all the shortages consumers are facing this year and possible shipping delays, there's no better time to buy one than right now.
Considering how expensive some of these trees can get—there are artificial Christmas trees that cost $9,000!—it's important to make sure your money is well-spent. Finding a quality tree that lasts is not only an economical choice but also a sustainable one, especially when factoring in the environmental impact of producing plastic.
The Overall Best Tree
The Home Depot Home Accents Holiday Jackson Noble Fir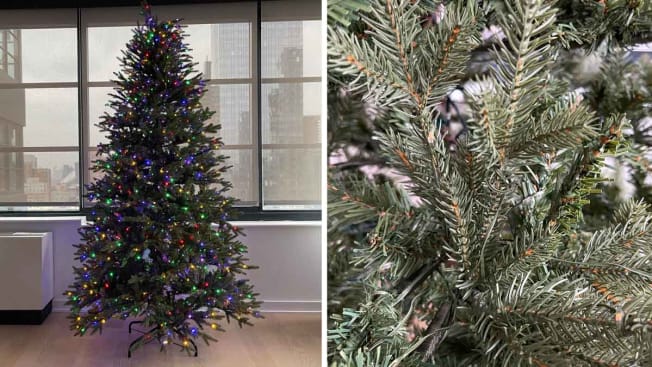 Price paid: $299
Where to buy: The Home Depot
Who assembled it: Anna
Assembly: This was the first artificial Christmas tree I'd ever assembled, and so I didn't know what to expect. Right off the bat, I was impressed by how neatly and thoughtfully the box was organized without excessive use of plastic packaging. Each of the tree's three sections featured hinged branches, which enabled them to easily fall into place once I had secured them in place. 
The bottom layer barely required any fluffing, save for a handful of inner branches that were made from polyvinyl chloride (PVC) needles. The outer polyethylene (PE) needles were molded enough that their shape was defined and ready to go. The middle section was a little more pliable, so I was able to fluff both the PVC and PE needles, and the top layer required the most fluffing because of the concentration of branch tips. All in all, the process took less than 25 minutes. It's also worth noting that since the tree was tall (7 ½ feet), I had to un-fluff the top layer on the ground before attaching it to the rest of the structure. 
Realism: Close up, there was a discernible difference between the two materials, particularly in color—the PE needles had a lighter sage green tint to them and the PVC needles were a brighter green. That said, it was hardly noticeable from afar, and in fact, it gave the tree a dynamic tonal look. I really appreciated the commitment to realism when it came to the branch tips—there were 4,072 of them, according to Home Depot—and the little brown bits that were meant to mimic the woody details of tree-like buds and bark. 
Lights: The microdot LED lights were another reason to love this model. Perfectly spaced throughout the entire tree, the mini lights certainly didn't hold back on impact. Each of the 1,200 bulbs beautifully illuminated the structure without an overpowering presence of chunky bulbs and thick wires that most other artificial trees tend to have. A foot pedal made it a cinch to turn the lights on and off, while a remote control was handy for toggling between the model's eight different light settings. With it, I could easily go from a color-changing display to a sequential one that faded from multicolor lights to a warm white. 
Takedown: Taking down the tree was essentially as easy as putting it up, and like the start, there was minimal shedding. I was able to easily fit all three pieces back into the box it came in, though if I were to keep it, a storage bag would have sufficed. Out of all the trees I had ordered, this was the only one that came with a handle on the box, which I really appreciated, especially when I had to lug the 46-pound package down to my building's mailroom. 
The lone qualm I had with this tree was that the "trunk" wasn't very realistic. It was comprised of a narrow pole covered in brown and green PVC needles. That said, the bottom section was thick enough that it hid the majority of the "trunk" and a simple tree skirt could easily conceal the base.
A Luxury That's Worth It
Balsam Hill BH Balsam Fir with Candlelight Clear LEDs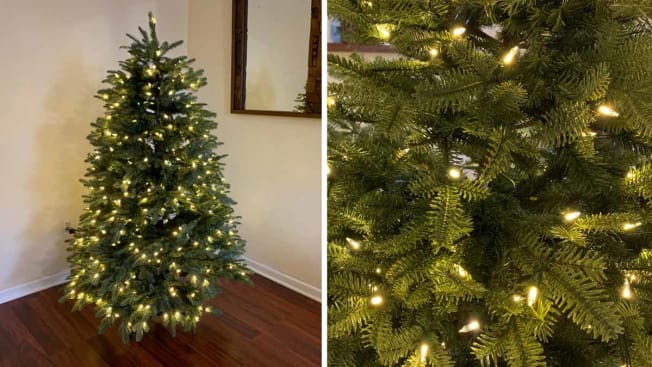 Price paid: $599
Where to buy: Balsam Hill
Who assembled it: Angela
Considering we paid $599 for the smallest option, the BH Balsam Fir was not the most affordable. But with its gorgeous polyethylene needles, easy setup, and accompanying bells and whistles, it's hard to argue against dropping a few hundred if you can on a tree that you'll use year after year. The BH Balsam Fir is rich and full, and the 5'5" option we evaluated is plenty large for anyone who doesn't need a towering Christmas tree. It has 3,373 tips—more than any other tree we looked at besides our No. 1, the Jackson Noble—to create an incredibly realistic, healthy look. 
Assembly: Setup was easier than any other tree I tried, taking about an hour to put together from the minute I pulled it from the box until I was satisfied that the branches were fully fluffed. It helped that each section was labeled with brief instructions, so I didn't have to dig around in the box to figure out which piece was which, nor did I have to constantly refer back to the thorough sheet of instructions when I was initially fitting the pieces together. 
Lights: The LED lights were evenly distributed and easy to deal with as I worked through setup, rarely getting tangled or in the way with the ease with which I was able to separate the individual branches. This tree also irritated my hands less than the Newberry Spruce from Wayfair and the Kurt Adler from Bed Bath & Beyond, both of which I tried. This is even without using the thoughtfully provided protective gloves that came with the tree; I wish I'd used them to set up the other two trees that tore up my hands. 
Takedown: This tree came apart as easily as it was put together. The bag was a major plus, although you could always buy one separately for the other trees (and we would advise this).
Extras: I greatly appreciated the two pairs of protective gloves, which came packed in a nylon bag with a clear plastic box of extra lights and fuses and a bulb removal tool. The only downside to this tree, besides the price, is that the lights for the Candlelight Clear LED model have only one setting: static.
The Most Realistic-Looking
Red Barrel Studio Newberry Spruce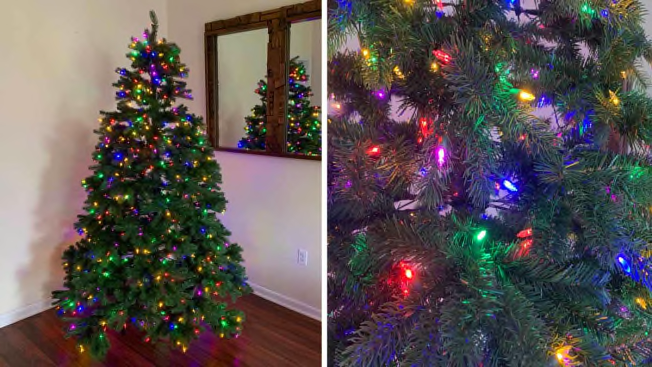 Price paid: $399
Where to buy: Wayfair
Who assembled it: Angela
Assembly: This tree, made by National Tree Company, falls solidly in the middle, quality-wise. Though it's not as full or easy to set up as the Balsam Fir or the Jackson Noble Fir, it's a beautiful option with some unique features. It took an hour from start to finish to put up and fluff.
However, this tree was pretty painful during setup, and I wish it had come with gloves—or at least an obvious warning that I should find my own—to prevent the irritation I and my partner experienced after putting the tree together. The tree also shed a few needles, and I struggled to properly fluff a top corner, so it appeared a bit uneven in one section. Overall, though, I was pleased with how this tree came together.
Lights: This tree came with delightful color-changing options, which made the tree fun to use (I can imagine a child going hog-wild with the light button controller; you may or may not appreciate this feature). Both the white and color lights glowed beautifully from between the tree's dark, glossy, strikingly realistic 2,057 tips.
Takedown: I needed another person's help to carefully take the pieces apart and put them back into the box, but it compressed up tightly enough so that it was able to fit somewhat neatly.
Other Trees We Evaluated
National Tree Company Princeton Fraser Fir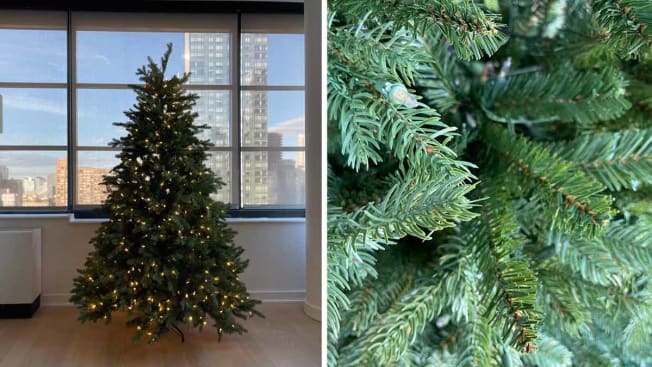 Price paid: $607.99
Where to buy: Bed Bath & Beyond
Who assembled it: Anna
When this box arrived, it had a sizable hole in the center, and I could hear a rustling that sounded as if little critters were moving throughout the cavity of the package. Erring on the side of caution, I sealed every imaginable crevice on the box and let it sit for 24 hours. When the time came to unpack the tree, I realized the sounds were not caused by bugs but by the rustling of loose needles as they settled in place. Let me tell you, that was a relief. 
Assembly: Setup took roughly 40 minutes, due to the large volume of branches. This 6 ½ foot tree had a sizable 3,319 tip count, the bulk of which were located on the bottom and middle layers. The top layer was a little less full in comparison but not by a lot. The fluffing process was by far the most involved here, especially since I had to maneuver each branch to ensure that the tree filled out nicely. Even after the entire tree was assembled, I still had to go through and zhuzh the branches to avoid pockets of empty space. 
All things considered, this one looked the most realistic out of the three trees I evaluated. I liked how perfectly imperfect the branches were and how realistic it all looked from just 5 feet away. 
Lights: Unfortunately, the lighting wasn't evenly dispersed. Once turned on, the bottom was the brightest, and it gradually faded in effect toward the top. The disparity was more apparent in the colored light setting vs. when the warm lights were on. Here is an instance where I would have preferred to add my own lighting. 
Takedown: Another downside was the shed. This tree lost the most amount of needles (albeit it wasn't a drastic amount), and it was one of the harder to clean ones. Similar to plastic peanuts used for packing, these minuscule needles were genuinely difficult to pick up. Even my vacuum, which can scoop up pet hair and dander like the best of them, was no match for these plastic pieces. I tried to tackle them with my Swiffer and after little luck corralling them to the center of the room, I had to revert to using a wet paper towel to pick up each individual needle. 
On the front of surprising discoveries, I found a ball of silvery-blonde hair-like fibers wrapped around one of the branches, which led me to wonder what was happening at the Bed Bath & Beyond fulfillment center. I digress.
So, would I purchase a $600 artificial tree? This particular one wasn't the best, but it had its merits—realism and a multitude of PE branch tips being top of that list. While it's not the worst investment, there are certainly better options available.
The Trees to Skip
Kurt Adler 7-Foot Green Pre-Lit Christmas Tree With White Lights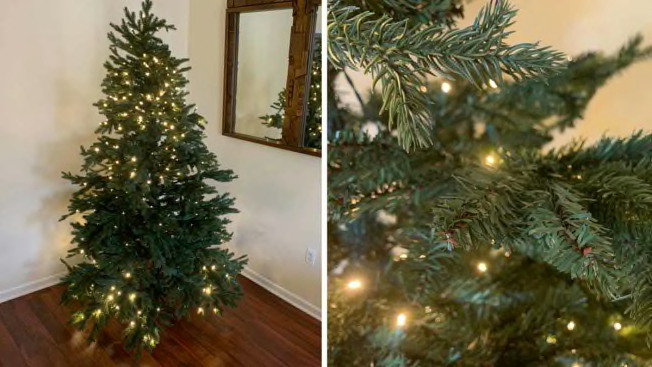 Price paid: $376
Where to buy: Bed Bath & Beyond
Who assembled it: Angela
When I first opened this tree, I thought someone who worked in fulfillment again got their long, silvery-blonde hair caught in the branches while packaging it. Thankfully, after I pulled enough of this clingy material from the tree as I unpacked it, it became clear that the material was not hair but was likely stray material from the packing facility. It was, nevertheless, a somewhat unsettling introduction to what would be a difficult setup and, eventually, a rather ugly tree. 
Assembly: It took 2 hours to put this tree together, though the tree appeared spindly and almost sickly even once it was fully fluffed. This unhealthy look was exacerbated by the strings of Christmas lights that came almost hopelessly entangled in the branches and tips, hindering the ease with which I was able to fluff out the tree. The light strings were also difficult to plug into one another, and the connectors were large, heavy, and obvious, making them difficult to hide. Perhaps, if I had spent a couple more hours working on the tree, I would have been able to figure out how to re-drape the light cables so that they integrated seamlessly among the branches. But even after 2 hours, the cord remained stubbornly snarled, creating the appearance of a Christmas tree that has only recently escaped a massive booby trap.
Takedown: Furthermore, it made even more of a mess. The box in which it came from Bed Bath & Beyond left sticky white skid marks on my laminate floors, and the tree shed tips more than the other trees I tried, a detail that doesn't bode well for the tree's longevity.
The Trees to Skip
Greyleigh Frasier Grande Green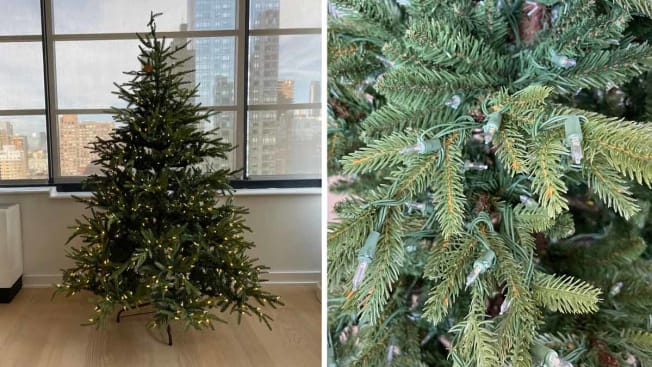 Price paid: $329.99 (sale), originally $769.99
Where to buy: Wayfair
Who assembled it: Anna
Would I have liked this tree more if it was the first one I evaluated? It's entirely possible. But the Jackson Noble tree from The Home Depot set the bar high. Standing at 6 feet tall, this model, manufactured by the National Tree Company, featured 2,019 branch tips, which were clearly not enough. There were numerous pockets of negative space throughout that I would be hard-pressed to conceal even with ornaments. 
Lights: The lights were chaotically strung about the tree, and unevenly at that. Each of the sections had its own set of plugs (which were relatively large and a bit of an eyesore) that were meant to attach to its neighboring section, although it wasn't always clear which plug went where. The tree's top layer barely had any lighting, and overall, it seemed incomplete. The tree came with a total of 800 LED bulbs that feature warm and colorful light settings. Unfortunately, they were relatively more clunky vs. the other trees I evaluated, plus they didn't appear to be of the highest quality. 
Assembly and takedown: It took me about 30 minutes to assemble this one, despite its smaller size—relative to the Jackson Noble Fir. I spent the majority of the time wrestling around with the lights and attempting to find the correct plugs for each section. The takedown process was easy and quick, thanks to the limited number of branches. 
Realism: From afar, this model had a definite element of realness to it. Once thoroughly fluffed, it could almost pass for a perfectly imperfect Christmas tree with its pointed branches that mimicked a true Fraser fir. While the exact ratio of PE to PVC needles was unspecified in the product listing, it was clear that there was a majority of PE branch tips, which certainly contributed to the tree's higher level of realism.
To gain a better understanding of what makes a good one, we spoke to a handful of experts for tips on how to shop for an artificial Christmas tree. In that, we learned that a tree made from polyethylene (PE) is preferable to one constructed of PVC (polyvinyl chloride) because the material produces more realistic tree needles. LED lights last longer than incandescent and can save up to 90 percent on energy usage. And that a sturdy metal stand is just as important as any other element. Not for nothing, but taking proper care of an artificial tree can prolong its life for years.
We also wanted to make sure that the trees we were evaluating would be available at popular retailers or that they could be shipped across the country. 
Our basic specifications included:
• Material: PE and PVC blend. We aimed to source trees where at least 45 percent of the material makeup was polyethylene, based on the advice of our experts. Because not all retailers divulged detailed information in their product listings, we looked for PE and PVC blend trees. 
• Lights: Pre-lit with LED lights. Pre-lit trees offer an element of convenience. Incandescent lights require a lot of maintenance and aren't as energy-efficient. For that reason, we considered only trees with LED lights. 
• Height: 5 feet to 8 feet. 
• Tip count: Minimum 2,000 tips for a highly realistic appearance. 
• Cost: Under $700.
According to Jami Warner, the executive director of the American Christmas Tree Association, consumers can expect to spend an average of $150 to $300 on a basic artificial Christmas tree, roughly 6 or 7 feet tall. Highly realistic trees and pre-lit trees will cost more. 
How We Evaluated These Trees
We purchased three trees each according to the advice Anna received from experts including Jami Warner, the executive director of the American Christmas Tree Association; Frank Skinner, director of marketing of Christmas Lights, Etc; and Noah Johnson, a buyer of trees and lights for Bronner's Christmas Wonderland. We then rolled up our sleeves, cleared a corner of our tiny New York City apartments, and set to work over several days setting up, looking at, photographing, and taking down each tree. 
Our criteria for evaluating these trees revolved around:
• Realism. How realistic does the tree look?
• Lights. How evenly distributed, attractive, and bright are the lights? Are any of them broken, or flicker out while turned on? Are they warm/cool?
• Assembly. How easy is the tree to set up? How long does it take?
• Takedown. How easy is it to take the tree down and pack it away?
Anna and Angela both grew up with real Christmas trees, so our expectations were high for how a proper Christmas tree should look. Realism was our number one concern, but usability and overall charm were our other top priorities as we engaged in our early October Christmases. Each of Angela and Anna's friend and family group chats have exploded over the past month: Are we Christmased out? Are we living in a three-month-long Christmas wonderland? For better or for worse, we are not; we packed up and sent away our trees to their new home at the Consumer Reports offices in Yonkers. But an artificial Christmas tree comes with one undeniable advantage: Unlike a mortal tree, whose days are numbered post-felling, a quality fake tree can deliver Christmas joy for years to come.
This product evaluation is part of Consumer Reports' "Outside the Labs" reviews program, which is separate from our laboratory testing and ratings. Our "Outside the Labs" reviews are performed at home and in other native settings by individuals, including our journalists, with deep subject matter experience or knowledge and are designed to offer another important perspective for consumers as they shop. While the products or services mentioned in this article may not currently be in CR's ratings, they might eventually be tested in our laboratories and rated according to an objective, scientific protocol.
Like all CR evaluations of products and services, our "Outside the Labs" reviews are independent and free from advertising. If you'd like to learn more about the criteria for our lab testing, please go to the Research & Testing page on our website.
When you shop through retailer links on our site, we may earn affiliate commissions. 100% of the fees we collect are used to support our nonprofit mission. Learn more.