We Tried 6 Pumpkin Carving Kits and Got Ghoulishly Good Results (From Most)
Some of the kits weren't worth the money Come Halloween, carving a pumpkin has become a seasonal tradition that's fun for all ages. And, while you can gut your gourd with tools you have at home such as a kitchen knife and spoon, pumpkin carving kits make the experience easier and safer. 
During the fall, you can find pumpkin carving kits at major retailers, craft stores, and often at your local pumpkin patch. Most contain blade-less, serrated tools, which makes them safer for kids. But there are a lot of options out there, so we decided to buy six of the most popular kits and try them out at our own pumpkin carving party.
After receiving the kits, I picked up eight pumpkins and invited seven friends with various levels of carving expertise over to my home. I asked Lauren, Rahul, Sophie, Ricky, Viv, Molly, and Jess to pick a kit and evaluate it based on ease of use, durability of the tools, and how safe they felt using them. I also asked them what they liked about the kit, what surprised them, what they thought their kit was missing, and what they didn't like. 
After carving the pumpkins, we learned a lot about what makes a great kit. Keep in mind that if you're carving with kids, they should be supervised at all times. And be sure to brush up on our pumpkin carving safety tips. Read on to find out what we thought and discover which kit is right for your pumpkin-carving event.
The Artist's Pick
Elmchee 13-Piece Professional Pumpkin Carving Kit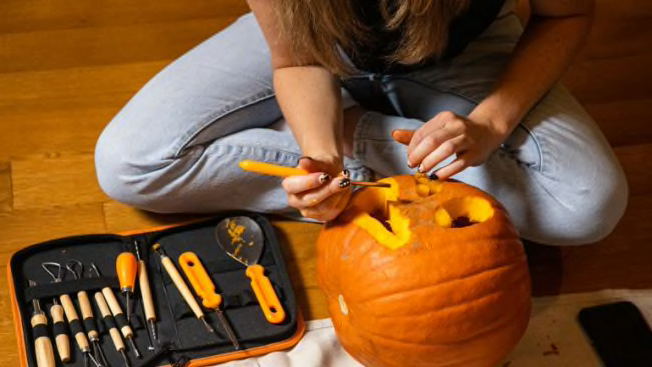 Price: $16.99
Where to buy: Amazon 
What you get: 6 double-sided stainless steel carving tools, 1 pumpkin scoop, 1 scraper, 2 tooth saws, 2 hole and circle punches, 1 engraving pen.
The moment I opened this kit I was impressed. The zippered case (shown above), though not leather as the Amazon description states, conveys the impression that this is a kit you hang on to rather than dispose of after one use. Somehow, the idea of using the same tools year after year turns pumpkin carving into a real tradition. 
Lauren, who works in the visual arts, snapped up this kit right away. She hadn't carved a pumpkin in over five years, but she did take a sculpting class the year prior and recognized some of the tools in this kit. She used it to carve an amazingly detailed jack-o'-lantern—and she did it all without the help of a stencil!
"I think part of the fun is trying to create something original," she said, "However it would have been nice to have a little inspiration link or booklet."
The other thing this kit lacks? A tool guide. 
"I generally knew how to use the tools," Lauren said, "but I didn't use about half of them because I didn't know what they would be most useful for."
Those things aside, however, Lauren found this kit easy to use, durable, and safe. 
"This is the kit for the artist or creative spirit. I had a tool for EVERYTHING. I felt like my kit elevated pumpkin carving to sculpting a masterpiece. All the tools were sharp and did exactly what they were supposed to. I loved my kit!"
The Perfect Pair
Hyde and Eek Boutique Pumpkin Carving Kit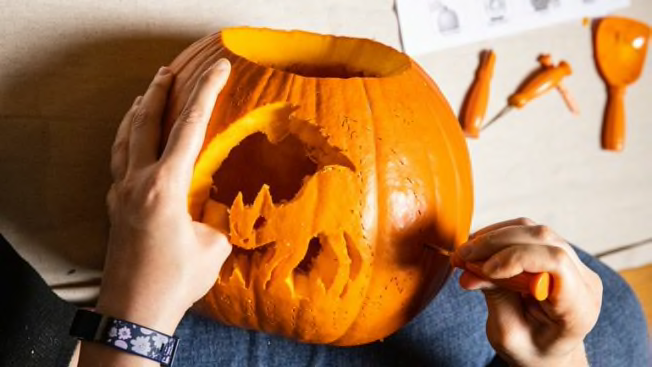 Price: $7
Where to buy: Target
What you get: 2 tracers, 2 pokers, 2 scoopers, 2 detailers, and 16 stencils.
Sophie scooped up this kit, which came with 16 stencils with different difficulty levels. This was her first time carving a pumpkin ever, but she's an ambitious woman, so she picked one of the harder designs. Despite being a novice, she succeeded in carving a cat on a fence at night time on the face of her pumpkin. It was stunning. 
As for the kit, she said, "Compared to some other kits, it had a limited range of tools, but I think the items included were fully sufficient for standard pumpkin carving and fulfilled my needs. I think someone who wants to do more nuanced shading or shaping might feel limited by this kit."
The kit also came with two sets of tools, making it good for carving along with a partner. Overall, Sophie felt that the kit was easy to use, durable, and safe. The only downside was the scoop. "It was too small and had a rounded edge that made it difficult to effectively scoop out all the seeds and pulp," Sophie commented.
The Classic Pick
Pumpkin Masters Pumpkin Carving Kit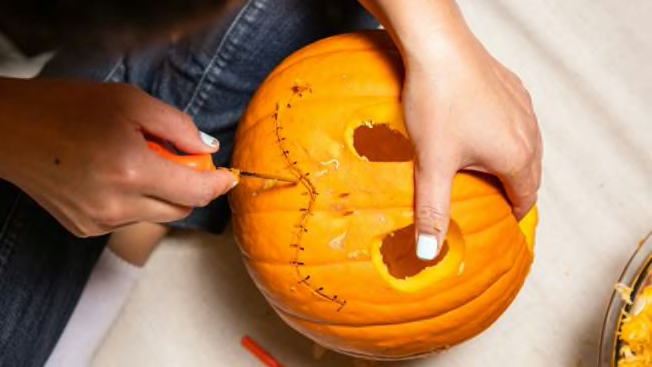 Price: $5.99
Where to buy: Michaels, Walmart
What you get: 1 starter saw, 1 detailed saw, 1 utility saw, 1 scraper scoop, 1 drill, and 14 carving patterns. 
Many of the carvers recognized this classic kit from Halloweens past. Viv, who chose this one, thinks it's been more than a decade since she last carved a pumpkin, but she completed her carving—a grinning jack-o'-lantern—faster than anyone else. In fact, she was so speedy, I asked her to carve a second pumpkin with the CR logo etched into its face. 
Viv said the kit was easy to use, durable, and safe. She didn't feel that it was missing anything, but the kit didn't come with any extras, either. 
When asked what she liked about the kit she said, "Everything! It was very easy to use and the tools worked very well, without being scary.  Even the initial cut to remove the pumpkin top didn't require a lot of force and the tool went in the pumpkin very easily. I was never worried I was going to hurt myself with the tools. The patterns/paper stencils that came in the kit were also very clear and easy to use, including directions on which edges to cut first and last so the shapes would stay intact while carving."
Best for Kids
Skinosm Pumpkin Carving Kit for Kids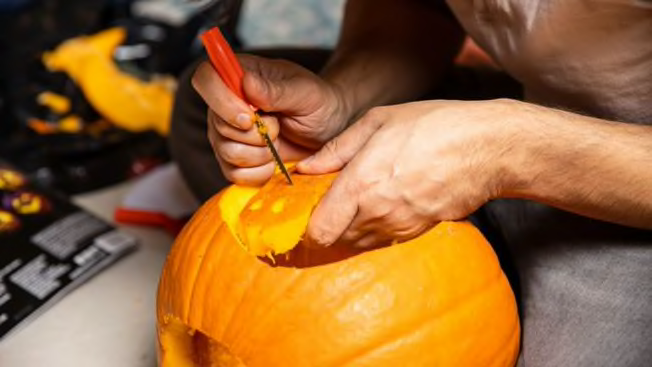 Price: $16.99
Where to buy: Amazon
What you get: 1 scooper, 1 large saw, 1 small saw, 1 scraper, 1 drill, 1 poker wheel, 6 LED candles, 10 stencils, and 20 cellophane candy bags
Rahul snagged the Skinosm Pumpkin Carving Kit for Kids. Because everything came in a box, rather than the see-through packaging many of the other kits came with, the contents of this kit were the most mysterious. Rahul was delighted to find not only pumpkin carving tools, but 6 LED candles, 10 stencils, and 20 cellophane candy bags. 
It had been a couple years since Rahul last carved a pumpkin, but he felt so confident he started carving without a stencil, and without a plan, really. He carved the silhouette of a ghost onto the face of the pumpkin. It wasn't the most successful design—in the pictures it looks kind of like a blob. Nevertheless, the kit was easy to use, with safe, blade-free tools, but the tools weren't very durable.
"The main cutting knife bent out of shape after one use," Rahul observed. He also would have liked a peeling tool for removing pumpkin skin and doing detail work. 
The Basic Pick
Colossal Pumpkin Carving Kit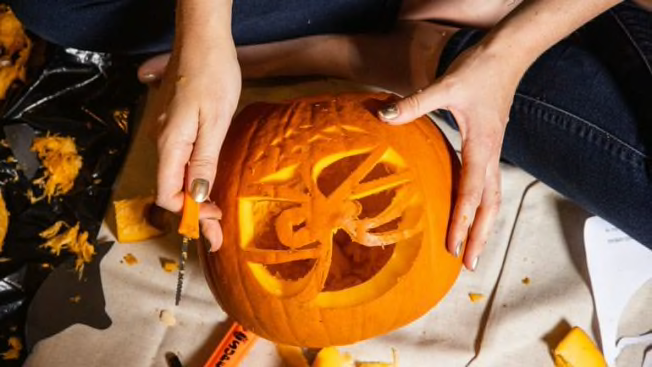 Price: $7
Where to buy: Party City, Amazon
What you get: 6 stencils, 1 detailer, 1 scoop, 1 saw, 1 marker, 1 pen
Molly snagged the Colossal Pumpkin Carving Kit, which prominently features a large orange scoop, like a spaghetti server, with a grinning jack-o'-lantern etched into the ladle. Unlike the other kits, this one included a pen, which is helpful for drawing your design on the face of the pumpkin before you make your first cut. 
An experienced pumpkin carver, Molly wished the kit had an additional small knife, a poker wheel, and some more advanced tools for detailing, but found that the tools it did contain were adequate. 
"It keeps it simple," Molly said of the kit, "And easy for kids." 
Overall, she found the kit easy to use, durable, and safe. She etched a spider into the face of her pumpkin, which looked exceptionally creepy when she added a candle to make the jack-o'-lantern glow.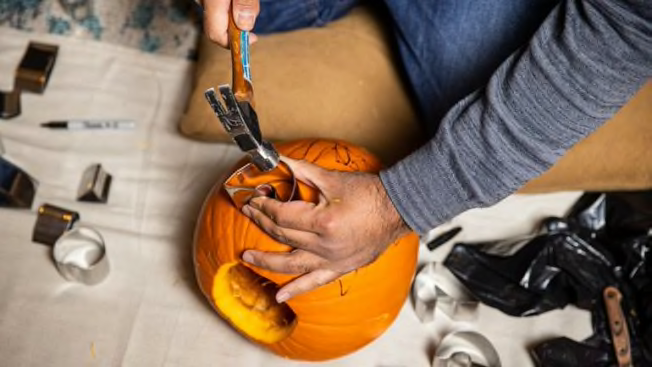 Price: $24.99
Where to buy: Amazon
What you get: 24 cookie-cutterlike pieces to create your jack-o'-lantern's face. 
Ricky had high hopes for the Pumpkin Punchers—the cookie-cutterlike pieces looked as though they could make carving a pumpkin a cinch. But as soon as he got down to carving, he realized the kit was missing a few key items. First, there was no carver to take off the pumpkin's top, so he had to use one of my kitchen knives. Then, he discovered that the kit didn't contain a scoop for the pumpkin guts, so he had to use a big spoon. 
When it came to using the punchers to create the jack-o'-lantern's face, it became clear that you can't just "punch" these shapes through the rind. Ricky was able to get one shape (the nose) through by dint of his own strength, but none of the adults in the room could do the others. Ideally, the kit should be used with a rubber mallet, but it didn't come with one. I don't have a rubber mallet at home, so I handed Ricky a hammer. Lots of noise ensued.
Of course, between the kitchen knife and the hammer, this kit, which touted itself as "kid-friendly" was most decidedly kid-unfriendly. And, if Ricky had missed the puncher when he swung the hammer, he could have bashed his pumpkin's whole face in. With all the correct supplies, this might have been a cool kit, but without them, it didn't shine when it came to ease of use, durability, and safety. It was also the most expensive kit we tried.
Still, we loved the jack-o'-lantern face Ricky achieved with this kit. It was precise and symmetrical, or, as Ricky said, "sophisticated and scary."
This product evaluation is part of Consumer Reports' "Outside the Labs" reviews program, which is separate from our laboratory testing and ratings. Our "Outside the Labs" reviews are performed at home and in other native settings by individuals, including our journalists, with specialized subject matter experience or familiarity, and are designed to offer another important perspective for consumers as they shop. While the products or services mentioned in this article may not currently be in CR's ratings, they might eventually be tested in our laboratories and rated according to an objective, scientific protocol.
Like all CR evaluations of products and services, our "Outside the Labs" reviews are independent and free from advertising. If you'd like to learn more about the criteria for our lab testing, please visit the Research and Testing page on our website.
When you shop through retailer links on our site, we may earn affiliate commissions. 100% of the fees we collect are used to support our nonprofit mission. Learn more.