What Makes a Good Beach Towel?
Experts explain the ins and outs of this outdoor essential When was the last time you bought a beach towel? Old towels can be a breeding ground for bacteria, and after a while, absorbency might not be as great as the day you bought them. Even if yours have withstood the test of time, it can be a good idea to restock this beach necessity.
If you search for a beach towel online, however, the number of options that pop up can be overwhelming. Besides sizes and colors, there's an array of fabrics to choose from. So to help you decide on the type that's right for you, it may help to understand how efficient different materials can be.
Consumer Reports turned to experts for their insight on what makes a good beach towel. Here's what they had to say.
Cotton can be an ideal choice because of its versatility and how well it can absorb water. The natural fiber can be used to produce a variety of towel types, which can be distinguished by how they're woven.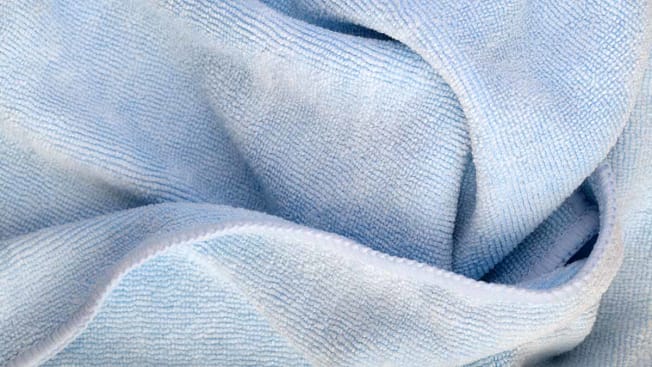 If you're looking for convenience, in particular, microfiber towels are often touted as being "sand-free" and tend to be thinner and less bulky than traditional terry cloth towels. Made from synthetics—typically a polyester-based blend—they're known for their quick-dry qualities. That said, they might not feel all that comforting and can produce a clingy static effect.
"Microfiber towels are primarily used for kitchen, outdoor and industrial use, and not recommended for longer contact with skin," says Kristy Staver, senior sourcing manager for home and accessories at Lands' End.
And there's a big difference between materials that can absorb moisture and ones that wick it away. With wicking fabric, there will be a lingering feeling of wetness. Similar to activewear, which is designed to wick away moisture, polyester towels don't actually absorb water.
Human skin tends to hold on to moisture unlike material surfaces such as flooring or glass, which repel it, says, Arya. So if the absorbent power of the towel material is not strong enough (which could be the case of polyesters and other synthetics) it becomes difficult to remove excess water from the skin.
Shop microfiber towels on Amazon, Bed Bath & Beyond, Target, Walmart.
How a towel is woven is just as important as the material a towel is made of. There's a zig-zag weave, where the one half of the twill weave goes in one direction and the other side is reversed. Then there's broken twill, which happens when twill is reversed and broken at every two threads to make fabric stronger, and a waffle weave, also known as honeycomb, which has a series of recessed and raised squares that form a gridlike pattern.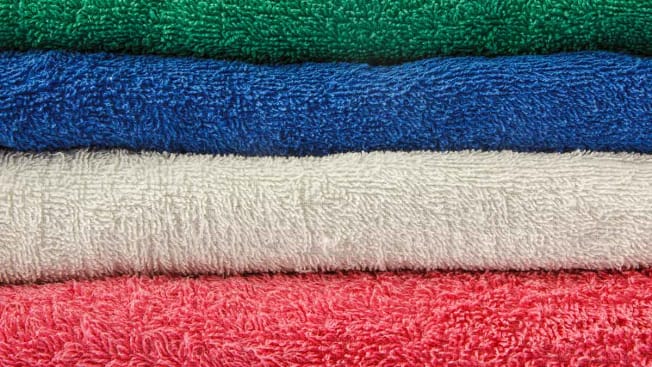 The term "terry" indicates a type of weave that consists of extra-long uncut loops of cotton. So technically, the type of fiber used with a terry towel can differ, Arya says. Terry loops give the towel a plush feel and can vary by pile height (which indicates how tall these strands are) and density (measured by how close together the loops are). The higher the pile and the denser the loops, the more absorbent and thick a towel will be. Beyond that, there are varying types of terry towels. For example, a French terry towel is two-sided, with one surface that's smooth and flat and the other side having a high pile.
Not all terry towels are made from cotton (some contain polyester) but the best beach towels are. That, in turn, makes them comfortable and lightweight options that are also very absorbent.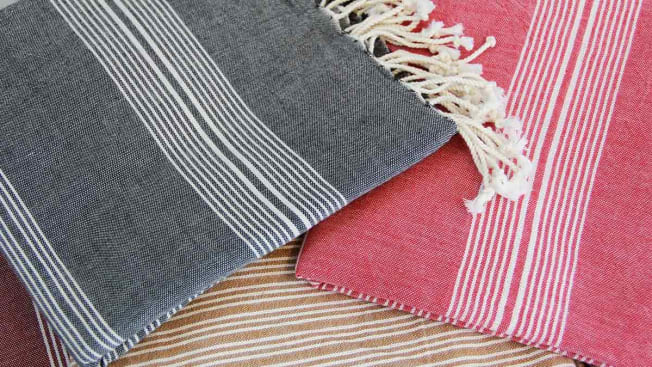 This trendy style is thin and lightweight yet surprisingly absorbent, making it a prime contender vs. cotton for a beach towel. Made from a flatweave of long cotton fibers for a thinner form, Turkish towels, also known as Fouta or peshtemal towels, are a great alternative to bulkier options that employ a bigger loop weave.
For example, Lands' End's Turkish towels are made from a single-ply yarn, which results in a lighter feel and a short pile for optimal performance. That said, these days it's common to find hybrid versions of the classic Turkish towel, with a terry cloth backing for a smooth touch and increased absorbency.
Shop Turkish towels on Amazon, Bed Bath & Beyond, Macy's.
How Important Is Thread Count?
Thread count tends to carry weight when it comes to bedsheets, but for towels, it really depends on what you're looking for in terms of style and durability. A towel's GSM, or grams per square meter, is a measure of its density and weight, which also tends to indicate how absorbent it will be.
If you want to ensure absorbency and thickness, 600 GSM is ideal, Elks says, while a 400 GSM towel will have a quicker drying time with a more delicate look. "As long as the materials are high quality, you really can't go wrong with either option in this range," she says. In short, the lower the GSM, the lighter the towel will be and vice versa.
What to Look for in a Beach Towel
Generally, you'll want something that's soft and absorbent, yet able to dry relatively quickly, Elks says. It should also be able to withstand all of the elements that come with a waterfront setting—sun and sand included. But how you use the towel should also factor into your decision.
A Turkish towel may be great for poolside use or drying off after a dip in the ocean whereas its lightweight build might not lend itself well as a barrier against a sandy surface. So if you're looking for a landing pad to lay out on at the beach, a thicker terry towel may be a better bet.
In that context, size is also important. Most beach towels will measure about 30" x 60", but if you require a larger surface area (whether it's for a post-swim wrap or simply lounging in the sand) larger format towels are available as well.
"Terry towels made from 100 percent cotton are the best," says Arya. The terry weave is what gives the loop and the bulk to the fabric, which makes it plush. "When that is there, the construction and the fiber are both contributing to the absorption of the moisture or water from your body."