First Look: Yale Assure Lock 2
The newest Yale smart lock promises wider connectivity than its predecessor but doesn't always deliver
When you shop through retailer links on our site, we may earn affiliate commissions. 100% of the fees we collect are used to support our nonprofit mission. Learn more. Yale announced the successor to its highly rated Assure Lock SL today, unsurprisingly named the Yale Assure Lock 2. The second-generation lock is sleeker, smaller, and "smarter" than its predecessor. But my initial experience with it left me questioning how reliably it connects to the phone or smart speaker you use to control it.
That's a problem with a lock whose primary advantage is its many connectivity options. Every Assure Lock 2 now features Bluetooth and Apple Home (formerly HomeKit) functionality built in. That's an improvement over first-generation Yale Assure models, which require you to purchase a Yale Smart Module to connect to your smartphone or a smart home system. The modules, which look like chunky memory cards, plug into the interior side of the lock above its battery compartment and add additional connectivity methods, such as Bluetooth or the specialized ZigBee wireless network used by many smart home hubs.
The Assure Lock 2 will be available with Yale's first-ever WiFi smart module, allowing the lock to connect to your WiFi network without the need for the plug-in Yale Connect WiFi Bridge, $79. And two more smart modules, for Z-Wave and Matter, are in the works. The former arrives later this year, while the latter will arrive shortly after the Matter standard launches sometime this fall.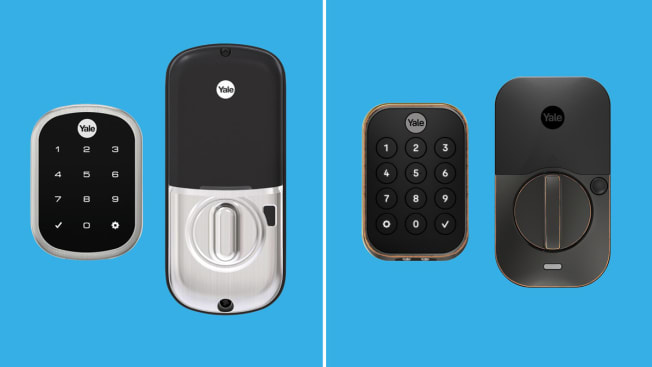 As soon as you unbox the lock, you're instructed to download the Yale Access app and use it to scan a QR code on the lock. Doing so launches you into the app's setup process, which does an excellent job of walking you through every step of installing the lock hardware and configuring its software, complete with videos and diagrams. Installing the lock involves removing your existing deadbolt and starting with an empty borehole in the door. You then install the new bolt, exterior keypad, mounting plate, and interior side with the thumb-turn, batteries, and smart module. The only minor hiccup I encountered was my struggle to screw the interior side of the lock into the lock's mounting plate. (It turns out the mounting plate has a spring-loaded clip that you need to press down in order to line up the screw holes.) I managed to figure it out in a few minutes, though, and the whole process was done in about half an hour.
With the lock installed, I put in the included AA batteries (a nice touch on Yale's part) and powered it up. The Yale Access app found the lock in a few seconds and walked me through pairing it with the Apple Home app and calibrating the lock to tell when it's locked and unlocked. Both steps were straightforward, but not without flaws. For example, the Apple Home code on the lock couldn't be scanned by the Apple Home app, so I had to manually type it in. And the calibration process had very precise directions that I initially misread, causing me to have to repeat it after I finished setting up the lock.
I opted initially to set up the lock without the WiFi module Yale provided, to see how well the lock works over Bluetooth and via Apple Home. With Bluetooth, you can control the lock only when your phone is nearby, usually in the same room. An Apple Home hub, such as a HomePod Mini, can also connect to the lock via Bluetooth, allowing you to control the lock remotely from the Apple Home app. After evaluating those features, I installed the WiFi module and connected the lock to my home WiFi network, an easy process that was finished in about 5 minutes.
In my hands-on evaluation, I found the lock's responsiveness to lock/unlock commands varied significantly depending on whether I controlled the lock via Bluetooth or WiFi, as well as whether I used the Yale Access app, Amazon Alexa, Apple Home/Siri, Google Home/Assistant, or Samsung SmartThings. Here's a breakdown of the lock's performance using each control method:
Bluetooth: The Yale Access app worked quite well when the phone was physically close by due to Bluetooth's limited wireless range. With just a tap, the lock locked and unlocked almost immediately.
WiFi: Once connected to WiFi, I encountered a lot of bugginess in the Yale Access app, with the lock having very slow response times or not responding at all. I reached out to Yale about these problems and was told to recalibrate the lock. Doing so greatly improved the lock's response time for "lock" commands, but "unlock" commands were still quite sluggish, taking upward of 10 seconds to complete. The Yale app switches over to Bluetooth when you're nearby so the lock responds faster, but if you're out of town and trying to let in a visitor, expect some slow response times.
Amazon Alexa: Alexa had no problem finding my new lock via WiFi thanks to my existing Assure Lock SL, but controlling it was another matter. At first, it was completely unresponsive to voice or app commands. The recalibration process got it working, but response times varied wildly, from a few seconds to more than 15. Locking and unlocking with Alexa voice commands seemed more reliable than Alexa app commands, with the app commands not always working.
Apple Home/Siri: The Yale Assure Lock 2 connects to Apple Home via Bluetooth, and as a result, the integration is rock solid. The lock responds to commands from both the Home app and Siri in a few seconds at most.
Google Home/Assistant: I found this WiFi-based integration very buggy and borderline unusable. And the recalibration process didn't really improve its performance. Lock and unlock commands in the Google Home app were completely unreliable. Voice commands with Google Assistant were more reliable but still didn't always work or had sluggish response times of almost 20 seconds.
Samsung SmartThings: Another WiFi-based integration that only showed the lock's status, but wouldn't let me actually lock and unlock it. When I recalibrated, the lock and unlock buttons appeared in the SmartThings app, but I still couldn't actually control the lock.
I reached out to Yale about these problems, and a spokesperson provided this statement from the company's product team: "We're aware of the issues you're experiencing, and it depends on various factors with the integrations themselves. We are continuing to work on finessing our integrations and will be rolling out updates over the coming months."
In addition to smart home integrations, the Yale Assure Lock 2 packs a ton of additional features that make it worth having as a dedicated app for your front door. Most of them aren't new to the Yale Assure line, but they're still worth calling out:
Auto-lock and auto-unlock: As their names suggest, these features let you automatically lock and unlock your door without pulling out your phone. The auto-lock feature can be set to lock after so many minutes or as soon as you close the door. I found it worked reliably every time. The auto-unlock feature uses Bluetooth and your phone's location data to unlock the door when you come home. I found this it to be hit-or-miss, working about 50 percent of the time.
Yale DoorSense door sensor: Every Yale Assure Lock 2 comes with a door sensor in the box, which is really just a magnet that you either attach to your door trim or embed into the door frame. The lock senses the magnet to tell if the door is open or closed. I was able to use the DoorSense sensor from my old Assure Lock SL without a hitch, and the new Assure Lock 2 reliably reported whether my door was open or closed.
PIN codes and shared app controls: The Yale Access app allows you to create PIN codes for family and guests, and grant them limited lock controls if they download the app. Both these features worked flawlessly.
Access log: The Yale Access app's access log lets you see precisely when the door is locked or unlocked, as well as who did it.
Notifications: Yale calls these Smart Alerts, but they're just custom notifications that you can set in the Yale Access app. You can customize alerts for specific users, different times of day, whether the door is left ajar, and more. This feature is handy for knowing when kids get home from school or whether the dog walker shows up.
The physical lock hardware of the Assure Lock 2 is noticeably improved over the Assure Lock SL. The touchscreen keypad now has a matte finish, which hides fingerprints and smudges and makes it harder for someone to guess your PIN. The Yale logo is now a button that locks the door with one touch and "wakes up" the touchscreen to input your PIN. (On my old lock, you had to press the bottom-left corner of the black touchscreen, which was very unintuitive for new users.)
The best design changes are to the interior side of the lock that houses the thumb-turn, batteries, and smart module. This side of the lock is much smaller than that of the old Assure Lock SL, making it less noticeable on the door. And my personal favorite change? The battery cover is no longer held down by a screw, which means you can change the batteries without hunting down a screwdriver.
Since I reviewed a product sample from Yale and have to return it, I couldn't take a cordless drill to it to see how well it withstands drilling attacks. And my wife wouldn't be happy with me attempting to bust down my front door to see how well it holds up to kick-ins. I can report, however, that the sample I tried out is keyless, so it definitely can't be picked.
We'll have to wait until we can buy a sample at retail and run it through our lab tests for kick-ins and drilling to see how it fares. But if its construction is similar to the Yale Assure Lock SL, then it should perform well. That model receives Excellent ratings in our kick-in and reinforced kick-in tests and a Very Good rating in our drilling test.
Should You Buy the Yale Assure Lock 2?
I had high hopes for the Yale Assure Lock 2 because it checks all the boxes for connectivity and features I want in a smart lock. But based on my experience, whether or not it will work for you depends on how you intend to communicate with it.
If you mainly use Apple Home, buying this lock is a no-brainer. It's also fine if you plan to use it only with the Yale Access app, which has plenty of useful features for managing many people coming and going. But if you use Amazon Alexa, Google Home, or Samsung SmartThings to run your smart home, you might want to consider another smart lock—at least for the time being.
When Yale's Matter Smart Module launches (I hope soon after the Matter smart home standard, expected before the end of the year), this lock's performance could improve significantly. The module will allow the lock to communicate over the new Thread wireless network, which is expected to help improve the responsiveness of smart home devices. And Matter will provide a standardized way for this lock and other devices to communicate with Alexa, Apple Home, Google Home, and SmartThings, all of which are part of the Matter standard effort. I'll be curious to try this lock again with the new module, but until then, you should only buy it if it fits your individual needs.
Stay tuned to find out how the Yale Assure Lock 2 fares against the competition (and its predecessor, the Yale Assure Lock SL) in our in-depth lab tests. You'll find those results when we have them in our smart lock ratings.