Best Lego Storage Ideas, According to Lego Enthusiasts
Tips and products to help organize your Lego collection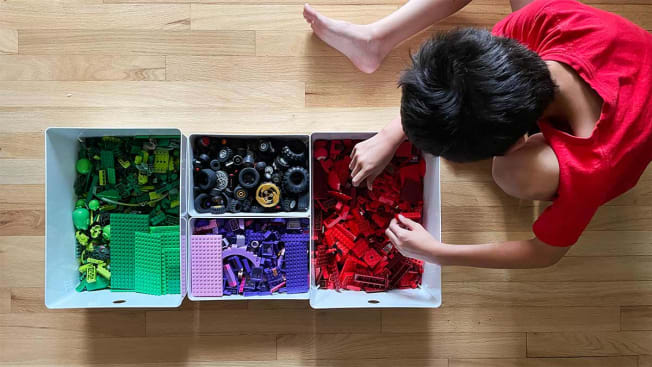 Lego has been around for 90 years, so it's no wonder that the iconic toy includes enthusiasts of all ages—from toddlers to grandparents. Lego fans can create just about anything, including mini figurines, houses, or a 7,500-piece Millenium Falcon set. 
But what does one do with 7,500 Lego bricks? Or even as few as 1,000? These little building blocks manage to find their way all over people's homes—into random drawers, stuffed under beds, embedded in carpets, and heaven forbid, crammed into toilets. They can completely consume your home if you let them. And parents of little ones will tell you: Inadvertently stepping on a Lego brick while stumbling in the middle of the night to the bathroom is a kind of pain that one does not wish upon even one's enemies.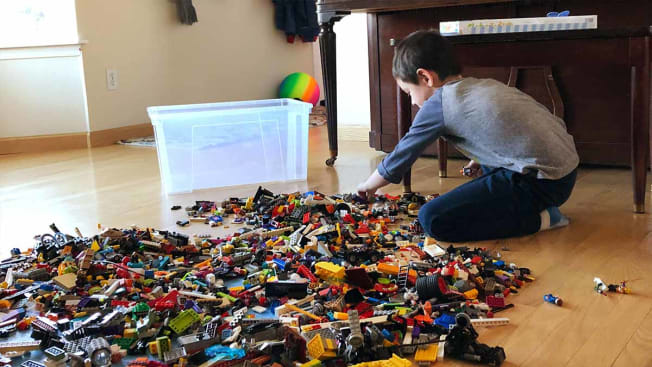 Level I: Simple Lego Storage Ideas
For younger children and occasional builders, no-frills containment might be key and requires the least amount of planning.
Many kids start out playing with Lego via sets and if that's their main method of building, help them keep the parts together by transferring them into bins or bags. "The cardboard boxes the sets come in will eventually get damaged, especially with kids," says Naeemah Ford Goldson, a certified professional organizer, owner of Restore Order Professional Organizing, and author of "Tidy Tessa," a children's book that teaches kids how to organize their things. "And then when the box is broken, the pieces fall out." 
Ford Goldson likes to use Marie Kondo kawaii letter-size pouches from The Container Store for Lego sets. And then you can store all the pouches/sets in a clear stackable bin.
If you're an adult or a tidy kid and want to keep the sets in the original box, it can be helpful to sort the pieces by color and put each color in a plastic baggie, says Kevin Hintz, a Lego master model builder and owner of Kevin the Master Builder, where he helps build professional Lego room setups among many other things. (His comments represent the views of his business and not of Lego or Legoland.)
There is nothing wrong with dumping all the bricks into one big container, like a clear 66-quart Sterilite tote (Home Depot, Target, Walmart), especially if you've gotten to the point of no return with keeping the sets together. 
"Back in our day, my brothers and I had a bunch of sets that would slowly get broken down over time until eventually, the lines blurred and we had to just throw everything into two big bins," says Jack Goldberg, lead content creator and co-founder of the YouTube channel Brick Vault. "We were happy with the chaos because we started building whatever we wanted and our parents were happy that they could get us to clean up since it was easy enough for us to take everything on the floor and put it in a box."
For kids younger than pre-school age, consider dividing the collection into several smaller shoebox-size containers to not overwhelm them with too many options at once. "If kids are building something specific, narrow down what they have to use initially because they'll spend more time trying to figure out what they have to get out of the bin, versus thinking about what they have to do with the materials in the bin," says Christine Anne Royce, an education professor at the Shippensburg University of Pennsylvania and former president of the National Science Teaching Association.
The benefit of tossing all your Lego bricks together is it encourages creative free-play and some kids are perfectly happy with the randomness. But you still need to get those pieces back in the bin at some point, which can be a pain. 
Dan Steininger, a master builder who worked at Lego for almost 25 years would throw Lego parties for his kids and their friends and dump Lego pieces onto a large tarp in the living room. "At the end, you just fold up all four corners of the tarp to gather the pieces and pour it all back into the box," says Steininger, whose comments are his own and not the views of Lego.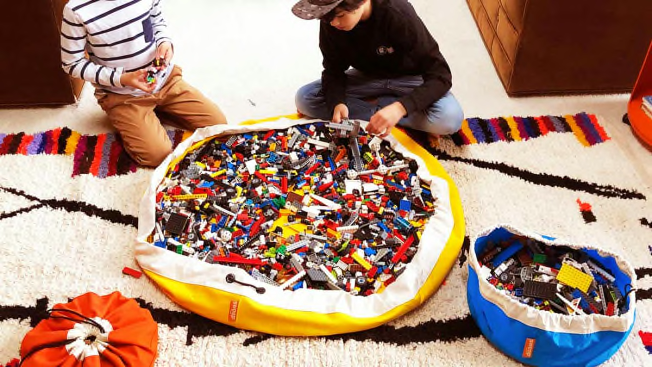 If you're willing to invest in a storage solution with cleanup basically built in, get a Swoop bag (also on Amazon). "No one wants to pick up a bin of Legos that have been spilled out all over the living room floor, says Sarah Kirk, founder of Swoop. "Those little tiny pieces get everywhere."
Kirk created the Swoop bag specifically for Lego bricks, modeling it after a bag her grandmother created for her brothers when they were kids. It's designed to spread out on the floor so kids can see their thousands of parts but a lip around the edge keeps everything within the perimeter. Once playtime is over, a drawstring cord allows you to literally swoop it all up into a sack for storage. No scooping with your hands or hunting for strays.
If you're just now entering the Lego realm, Kirk recommends starting with a smaller Swoop bag, like the mini or medium. That's because the bags need bulk weight in order to swoop properly. The large ones can hold about 17 pounds of Lego pieces. 
Goldberg says keeping little connector pieces in a small container, like a plastic food storage box, and tossing that in with your Lego bin is about as organized as you need to get for some kids, and it'll make building and cleanup easier, too. But once you or your child begin building projects that require specific pieces, it's time to level up your storage system.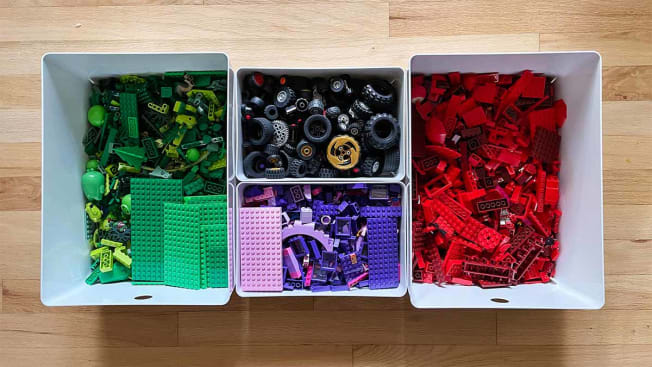 Level II: Intermediate Lego Storage Ideas
"I specifically remember the day I sat down and made a spaceship with only blue pieces and thought it was cool I just made something that's as good as Lego," says Goldberg. "It's the aha moment when kids realize they want to get more out of their builds and it starts making sense to organize their bricks because they're always looking for pieces that they can't find in a pile."
"The thing is, they kind of have to want to organize it," Goldberg says. "They have to get there on their own."
But that doesn't mean you can't help guide them. Royce says adults should encourage kids to try things even if they don't work out because if we don't teach kids to be flexible and have fluid thinking, they'll never start. They'll get frustrated and quit. Or, they sit there and wait to be told what to do. "In the grand scheme of life, that's not a helpful trait," says Royce. "They have to be able to think and consider options on their own."
Playing with Lego allows kids to demonstrate creativity where possible, lets them be innovative, and helps with flexible thinking and ingenuity, says Royce. "For a STEM teacher, that is the ultimate goal for using building blocks like Lego, regardless of age."
But organization is part of the learning process, too, because kids are getting involved in classification and categorization, Royce says. "But there is such a thing as being too rigid and there's no wrong or right way to organize Lego." Let them tell you or show you how they want to organize their things, whether that's by color or size.
Most kids, especially young kids, will start with color. In fact, most anyone who's starting to break down their sets and organize them will probably start with color, according to every expert we spoke with.
Lego bricks come in more than a hundred colors, but you can sort them into 10 to 12 color families and get transparent stackable drawers (stackable containers with lids are harder to access) to house each color family.
Get an extra drawer to store trays and small bowls for use while building. Plastic cafeteria-style lunch trays and food-prep bowls work great for sorting the pieces you're currently building with. "They also make cleanup easier because you won't have any loose pieces around and can just pick up your project off the dining table or whatever and move it out of the way," says Steininger. 
Another pro tip from Hintz: "Whenever you go to a Lego brand store, they have a section called Pick A Brick where you can buy individual pieces by the cup. Not only is this a great way to buy pieces in bulk, but you also get free cups with lids."
Lastly, print out Lego brick paper and keep a stack of them in the drawer along with pens, pencils, or markers. "The gridded sheets let kids map out their custom creations before they start building," says Steininger.
The next step up but not quite next-level would be to separate the color-coded Lego pieces further by size. It requires a bit more organization and many more compartments.
Our experts opt for tool boxes and caddies when organizing this way. "The same things people buy from the hardware store for their nuts and bolts," says Steininger. You'll want one of these organizers for each color. Make sure they have at least 20 to 25 adjustable compartments and a clear top that snaps shut. You might also want to get an extra one to store specialty elements, like wheels, connectors, and round pieces.
Steininger says they basically organized the pieces like this at Lego but at a much larger scale. "I didn't realize how crucial the organization [process] was until I retired and left Lego," he says. "I no longer just received boxes of Lego all pre-sorted for me and I was digging around for pieces like the kids do, which is totally frustrating as an adult. Now that I've got this system at home, it's unbelievable how much time I save while building.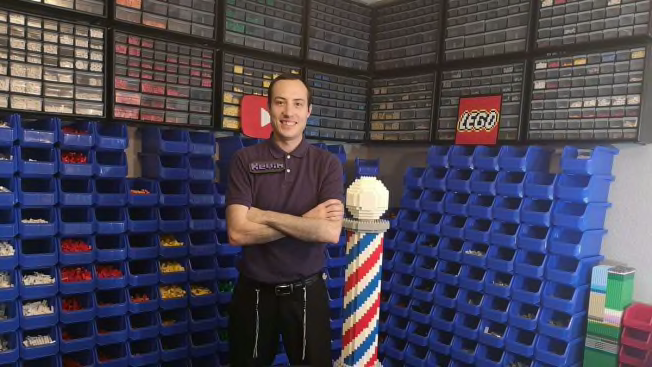 Level III: Advanced Lego Storage Ideas
So you've now got hundreds of thousands of pieces in your Lego collection. Welcome to the big leagues. At this point, you might need a dedicated room or at least a sizable wall because all those pieces should now be organized by type/function. This method is definitely more appropriate for adults and older teens, but Goldberg says even his 5-year-old nephew does well building within Brick Vault's system. 
Getting Technical With It
"Our high level of organization is very conducive to advanced building," says Goldberg. "But you don't want to start over-organizing if you don't have a lot of space because the more specific you get with organization, the more space you need." Think: four times more space than if you were simply organizing by color.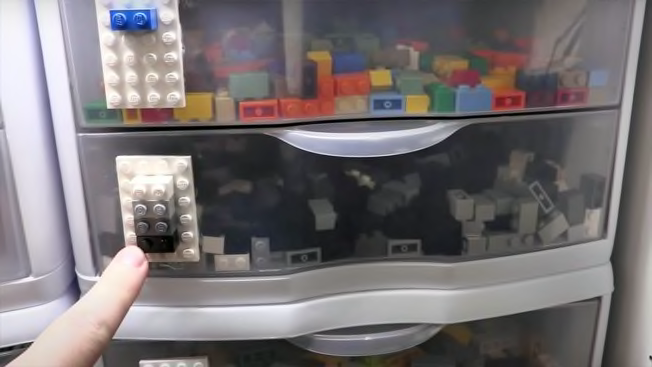 Brick Vault's setup consists of Ikea bookshelves lined up against a wall with 216 transparent drawers (altogether it measures 5.5 feet high, 12 feet wide, and 16 inches deep). Goldberg stuck LED lights under the very top shelf so there's always light shining down into the drawers for visibility. And then there are smaller transparent trays nested inside the drawers. 
For the first go-around, the drawers were labeled, but it didn't allow any of the parts to be easily moved around or reorganized if needed. "So now, each drawer has a flat Lego plate glued to the front where we attach the parts that are in the drawer," says Goldberg. "And that way we can move and replace each piece as needed."
If you want to go the label route, download the Brick Architect's labels, which were designed for Brother P-touch label printers. There are 1,500 labels with the technical part name, number, and a small picture.
All Lego Storage Ideas in One
Hintz still keeps his large Lego pieces in big plastic bins (Amazon, Home Depot) but the smaller pieces are sorted by color and about 90 types in Akro-Mils hardware cabinets (Amazon, Home Depot), which are hung on the wall with a louvered wall system. Each cabinet contains 48 drawers (some with dividers), one Lego color, and each drawer within each cabinet contains the same part. For instance, the upper right-hand corner drawer is going to have the same exact type of piece for the gray cabinet as for the red cabinet and the yellow cabinet.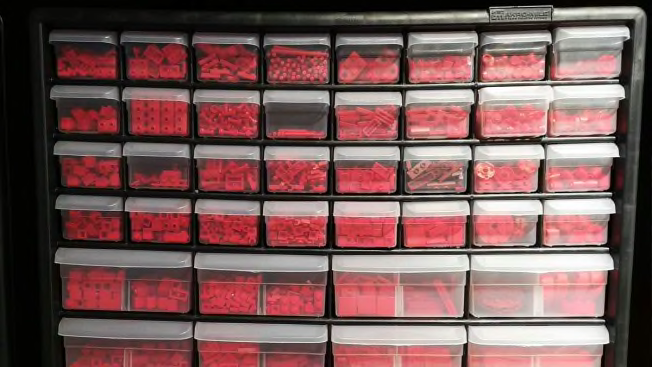 To start, Hintz recommends getting 12 cabinets for the 12 main Lego colors and then the larger pieces have about 20 different pieces for each color, so you'll need 240 of the larger bins. He also has a back stock, which he keeps inventory of via spreadsheets. "I use a lot of plastic zipper baggies for the back stock and less-common pieces," says Hintz. Small 2-inch-by-3-inch bags are especially great for minifigs.
This system is indeed advanced, but Hintz began work on it at 12 years old when he realized he wanted to grow up to be a Lego master builder. "It would have been very difficult to get here without being well-organized," he says.