When you shop through retailer links on our site, we may earn affiliate commissions. 100% of the fees we collect are used to support our nonprofit mission.
Learn more.
Think this might finally be the year to tackle that big home renovation project you've been putting off? Welcome to the club. Fueled largely by the rebounding housing market, home improvement spending was projected to reach $155 billion last year, surpassing the peak set in 2006, according to Harvard's Joint Center for Housing Studies. At the same time, the construction industry is in the throes of a massive labor shortage, having shed more than 2 million jobs since 2007.
You don't need a degree in Keynesian economics to spot the problem: Demand for home renovation work is swiftly outpacing the supply of qualified professionals. "It's gotten to the point that I've had to tell clients that it might be a few months before I can take them on," says LuAnn Fabian, a general contractor based in Hermosa Beach, Calif. So if you want to be in your dream kitchen by the holidays, you could be clutching your tile samples a lot longer than anticipated.
Though the number of remodeling pros has declined, there are still less experienced—and less scrupulous—ones out there, according to a recent survey of 300 general contractors from around the country conducted by the Consumer Reports National Research Center. Among the shady industry practices general contractors reported are contractors using unskilled laborers to carry out their work, and winning jobs with lowball bids and then jacking up the cost later with "unforeseen problems."
Our home renovation survey asked the crucial questions you might not know to ask, such as: How much wiggle room is there in the estimate? (Hint: more than you may think.) What are the biggest homeowner mistakes? How long do projects really take?
The answers, along with insights from other design and remodeling professionals, inform this, our home renovation survival guide. Follow our advice and you could save thousands of dollars on your renovation without compromising quality—or losing your cool.
More on Home Renovation
The Planning Phase
Proper planning is the best predictor of satisfaction and will also minimize the number of costly changes you make once the work is underway. So before you even think of looking for a contractor, you'll need to spend time gathering ideas and taking a hard look at your own budget. A 2015 report from Houzz, a home-design website, found that half of homeowners who renovated their kitchen gathered ideas for six months or longer. You can organize inspirational photos by using Houzz's ideabook feature or starting a Pinterest page; an old-fashioned scrapbook with pictures from your favorite magazines will also work.
As excited as you might be to get started, avoid the temptation to rush: Chances are you'll be living with the results of the home renovation project for a long time, so you'll want to get it right. Consider factoring major life changes into your plan, which could include an accessible walk-in shower or an open-plan family room big enough to accommodate your future teenage kids and their friends.
Remember to consider the impact on the resale value of your home, too, even if you have no plans to move. For example, you might not have any use for the second bathroom with a full tub, but you'll probably regret converting it into a home office or workout room if you ever do decide to sell, because additional bathrooms are always a big selling point.
Once you have a clear idea of what you'd like to do and how much you can realistically spend, it's time to bring in the pros. For major home renovation projects—say, a gut kitchen renovation or family room addition—you should gather your entire team as early as possible. "Its always best to have the architect and the general contractor working together right from the start," says Dawn Zuber, an architect based in Canton, Mich.
If you're not knocking down walls or making other structural changes, an interior designer or a certified kitchen and bath designer can probably draw up the plans; most charge fees between 4 and 7 percent of the total budget—compared with the 10 to 20 percent most architects charge.
Whether you opt for an architect or a designer, insist on 3D drawings: They'll help you visualize the remodeled space better than flat elevations will. Cutting-edge design pros are beginning to use virtual reality software to create "immersive" spaces that clients can experience by wearing a special headset. The technology isn't widely available but could soon significantly reduce remodeler's remorse.
Establish a system of checks and balances between your design team and your contractor from the start. "It's those big decisions made in the first 10 to 15 percent of the design process that have the most impact on cost," says Marc Truant, president of a Boston-based design-build firm—the term for remodeling businesses that provide both the design and construction work. "An experienced general contractor will help you head off things you can't afford before you pay for finished drawings."
Though word-of-mouth referrals from friends and neighbors are the best way to find remodeling pros, real estate agents can also provide leads to reputable general contractors. The National Association of the Remodeling Industry offers a state-by-state directory of certified contractors on its website, nari.org (its members must go through extensive screening and testing and adhere to a strict code of ethics), and online home services, such as Angie's List, HomeAdvisor, and Porch, can also help you find pros. Remember these rules as you go through the vetting process:
Check credentials. Even if they come with a glowing review from your sister-in-law, you still need to check the bona fides of every professional on your short list. In our survey, almost a fifth of general contractors lacked either a state license or the proper insurance, and 9 percent lacked both. Though proper credentials aren't a guarantee of quality, they're a good sign that the general contractor runs a reputable business. What's more, our survey found that fully accredited general contractors are better at holding down costs when unexpected problems arise. The Contractor's License Reference Site (at contractors-license.org) has information on licensing requirements in your state and a list of licensed contractors.
Listen to your gut. Trust and a good rapport between you and your contractor are essential. Any negative feelings you have during the initial interview (Too bossy? Condescending? Rushed?) will only intensify as the home renovation project heats up. It's also important to understand how a general contractor communicates during a project and to be comfortable with that method. Ask whether you'll be dealing with him directly, or whether he'll be delegating the job to one of his project managers (if the latter, make sure to vet the manager, too). Beyond face time, some general contractors rely on email or handwritten notes, and others use construction management software, which lets a homeowner track scheduling, payments, shipments, and more.
Remember that budgets are a moving target. The number you start out with during the planning phase is likely to change when you begin to see what materials actually cost. general contractors have to make similar calculations, factoring what they think the job will cost against their own profit margins and unforeseen expenses.
Always negotiate. Only 4 percent of the general contractors in our survey said they are never willing to negotiate the price of a job (66 percent are somewhat willing, and 30 percent are very willing). Getting bids from at least three general contractors will give you a sense of the market rate and also provide bargaining power. "Remember, the lowest bid may not be the best," says Katherine Hutt, national spokeswoman for the Better Business Bureau. Conventional wisdom holds that you should throw out the highest bid, but if you think that the general contractor offering it is the best person for the job, it's worth trying to negotiate a lower price.
Keeping the business of a repeat customer was the biggest reason to haggle, cited by 75 percent of general contractors, who reported offering a median discount of 10 percent. So if there's more work coming down the line, be sure to mention that during negotiations. Combining projects could also save you in the long run: Two-thirds of general contractors said they offer discounts on jobs involving more than one room (10 percent was the median discount offered on multi­room projects in our survey).
Be prepared for surprises. When we asked general contractors about job-related (as opposed to people-related) problems that lead to delays or cost overruns, they said that many of the culprits are hidden behind walls—structural damage, for example, or electrical wiring that isn't up to code. Even though most contractors plan for those contingencies, we recommend adding at least a 10 percent cushion into your budget to cover such surprises.
On major home renovation projects, it's worth paying a few hundred dollars for a pre-inspection by a certified home inspector. "Even a good general contractor might only look as far as the kitchen or bathroom; we see the house as a system," says Frank Lesh, executive director of the American Society of Home Inspectors. "Let's say you're putting in an extra bathroom. We'll come in with sewer scopes to make sure the plumbing system can handle the extra stress."
Larger contracting companies might offer a pre-inspection as part of their overall service. "We have a building performance engineer on our team who specializes in exploratory work," says John Kraemer, a general contractor based in Edina, Minn. "Using an infrared camera, he might find missing floor joists or walls that don't have any insulation." You'll still have to deal with the problems, but not in the last-minute manner that can quickly blow the budget.
Get everything in writing. No matter how much faith you have in your general contractor, a written contract is an essential protection for both of you. It should specify the full scope of the work, including a detailed breakdown of labor and material costs for each part of the project. For example, the electrical costs shouldn't be a single dollar amount. The contract should list the number of outlets, switches, and light fixtures, including all model numbers. It should also state a start and completion date (ask for a penalty fee of, say, $50 to $100 for every day past the deadline) and include a payment schedule, such as a 5 percent initial deposit with the remainder paid at defined milestones, for example, demolition, rough framing, and installation of finish materials.
Be sure the contract also spells out "exclusions," or what's not included. Want to save money by handling the debris removal or finish painting on your own? That must be stipulated. For major home renovation projects, it's also worth including an arbitration clause. Should a major dispute arise between you and your general contractor that can't be settled in good faith, the clause provides language for resolution outside the court system, often with a state-appointed mediator. As for the fine print, watch out for "allowances," which give the contractor a lot of leeway in the prices of products and materials, and can end up busting the budget very quickly.
Cover your assets. Nine out of 10 general contractors in our survey say they provide a written guarantee for their work, so insist on one in the contract. The median time period was 15½ months, with 14 percent of respondents promising more than three years of coverage. Even if your contract doesn't include a guarantee, you'll enjoy some protection if the contractor is licensed. For example, the California State License Board will rule on complaints involving patent defects (such as a cabinet that's coming off the wall) for up to four years and on latent structural defects (like a buckling foundation) for up to 10 years.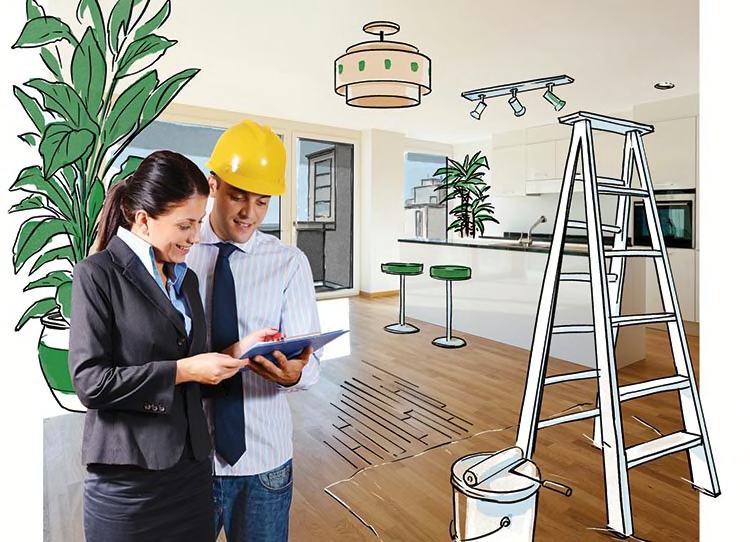 The Work Phase
No matter how well you plan, remodeling is full of uncertainty. "I always tell my clients to bump up their estimates of time and money by 20 percent," says Bruce Irving, a renovation consultant based in Cambridge, Mass. According to our survey, kitchen projects require a median of three weeks to complete, but a third of them take four weeks or longer.
The work is messy, too. If there's any way for you to move in with relatives or into a hotel, at least during the dusty demo phase, you'll minimize stress—along with possible exposure to hazardous materials. If your home was built before 1978, your general contractor will need to follow the Environmental Protection Agency's Lead Renovation, Repair and Painting Rule, which includes containing lead dust with plastic sheeting and disposing of contaminated debris in heavy-duty bags.
Store valuable or treasured items far from the work site or at a storage facility. If you have to stay in the house, a good contractor will help you find ways to keep disruptions to a minimum, by setting up a temporary food-prep space and relocating the refrigerator, for instance, during a kitchen renovation. These other tips will save you trouble once the work begins:
Stay involved. You can't just write the contractor a check—then check out. "Homeowner involvement throughout the project is critical," Truant says. Even if you've moved out of the house, plan on a couple of in-person meetings every week and more frequent meetings at crucial points, such as during the demolition phase or before tile is installed (changing the layout or grout color can be difficult and costly once work has started).
Stick to the plan. Changing your mind after the work is underway is the biggest mistake homeowners make, and it can be the costliest too, according to our survey. So-called change orders, or work that arises after the contract has been signed, inflate the budget by an average of 10 percent. It might be as simple as adding another couple of light fixtures in the hall, but that means the general contractor has to get the electrician back in, and probably the painter, too. The domino effect quickly adds up, and the homeowner foots the bill.
Make the general contractor your point person. Engaging the subcontractors directly often creates conflict. If you have a question about their work—or their behavior—tell the general contractor and let him or her handle it.
Though you shouldn't engage the subcontractors, you do need to be sure they're being paid. If they're not, you could be held liable. Stipulate in the contract that the general contractor will provide you with lien releases (basically proofs of payment) signed by the general contractor and subcontractor throughout the project.
Don't demolish your relationships along the way. Client-contractor relations aren't the only ones that get tested on a remodel. Couples often feel the strain as well. Consider a January 2016 survey from Houzz, which found that 41 percent of people who remodeled with their partner found the experience frustrating; 7 percent felt they needed couples counseling during the process, and 5 percent even considered a breakup.
"A home remodel is a blank canvas upon which any unresolved issues in your relationship will be painted," Irving says. He recommends that, whenever possible, couples should try their hand at a small project before tackling a potential relationship wrecker. "Have the bathroom retiled and see how that goes before you do a master suite addition," he suggests.
The Post-Project Phase
There's no such thing as perfection on a remodeling job. That said, don't make the final payment until you're 100 percent satisfied with the project. "Making sure the electrical plates are dead-square on the walls is worth being picky about," says Irving. "Otherwise they will haunt you."
Share your experience. Word-of-mouth still rules, but the power of online reviews on sites such as HomeAdvisor and Porch is getting stronger. Whether you had a great experience or a terrible one, you'll be providing a valuable service to other homeowners (and threatening to share a negative experience might also bring a wayward contractor back in line).
If you follow our guidelines, though, chances are your remodel will turn out just the way you wanted. Then it's time to start dreaming about your next project.