When you shop through retailer links on our site, we may earn affiliate commissions. 100% of the fees we collect are used to support our nonprofit mission.
Learn more.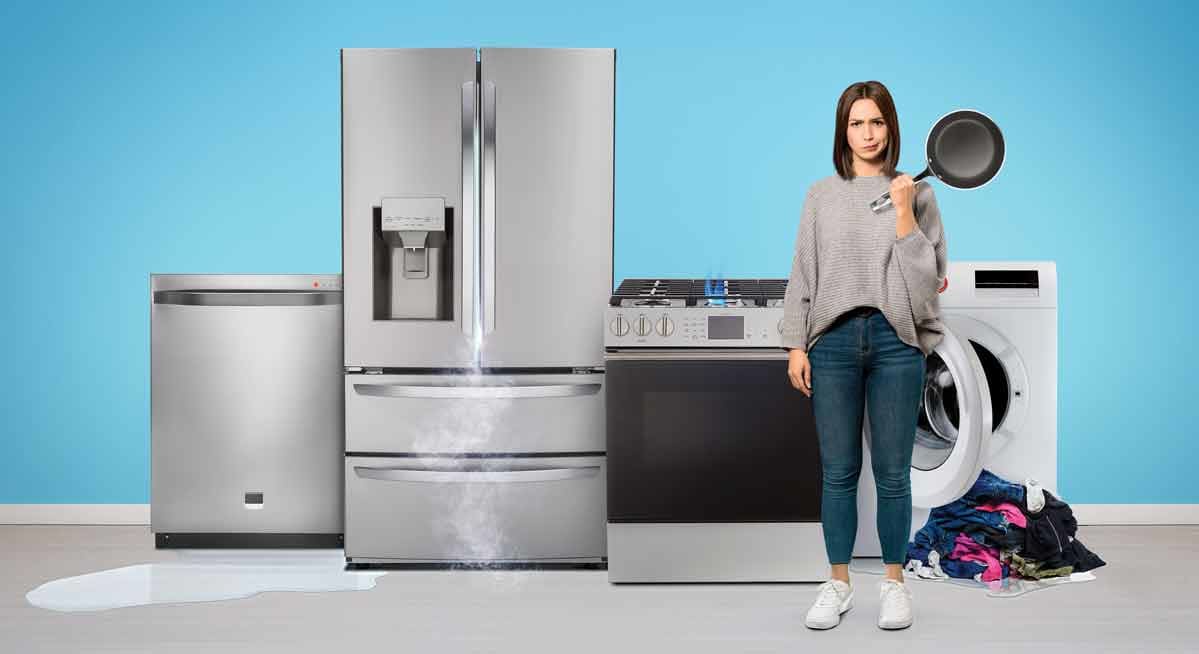 Photo-Illustration: Eric Heinz
The notion of a leaky dishwasher or a fridge on the fritz was unsettling enough during the height of the pandemic, but the outlook for repairing or replacing a major appliance isn't likely to improve this year.
And over the past year, when homeowners might have felt reluctant to have a repair technician in their house, people who hadn't considered the do-it-yourself approach reevaluated their options.
"Lots of people have been DIYing," says Chris Zeisler, technical service supervisor at Repair Clinic, an online clearinghouse for appliance repair parts and instructional videos. "A big part of what we can provide is answering the question: 'Is this something i want to tackle?' or 'Wow, this is beyond what I can do.'"
We asked our test engineers, and Zeisler and other experts in the appliance repair field, about which fixes are easy enough for most folks to do themselves—vs. which ones should always be left to a pro.
Appliance Fixes You Can DIY
Unclogging range ignition ports: Boil-overs can leave burners on a gas range with clogged ignition ports, resulting in a burner that doesn't light properly—or a weak or uneven flame. Remove the burner heads, then clean the ports with a toothbrush.
Cleaning your dryer's moisture sensor: Does your laundry still feel damp after the sensor-timed cycle wraps? Clean the clothes dryer's internal moisture sensor, often located near the lint trap, with a soft cloth and a mixture of mild soap and water. Dry with a clean towel. (Check the lint trap and vent duct, too, to make sure there's no lint buildup.)
Replacing a fridge door gasket: If your refrigerator door lets out a draft or even pops open on its own, it's probably time for a new gasket. First, check to make sure yours isn't just dirty: Spills and food bits can build up and prevent the gasket from forming a good seal. If, on inspection, you notice cracks or damage, it's time for a new gasket. Remove the old one and install a model-specific replacement. Consult your owner's manual for the details.
Replacing a dishwasher gasket: Do you see water collecting on the floor in front of your dishwasher? First, check the door seal for any rips or other damage. If the seal is no longer perfect, get a model-specific replacement gasket, which you install around the cavity's edge.
Repairs You Should (Probably) Never Try
Fixing a leak on your fridge's sealed refrigerant system: It's best to avoid contact with the potentially toxic gases in the circulating refrigerant. Also, making solid connections to copper parts involves brazing (similar to welding).
Replacing the bearings on a front-load washer: They're usually at the back of the drum, so you have to disassemble the outer cabinet and drum to reach them. That requires keeping track of all the electrical connections as you go so that you can reassemble later.
Tinkering with microwave electronics: A microwave capacitor can hold a high-voltage charge well after it's unplugged. If you don't correctly discharge the capacitor before you touch any metal parts or wires, you risk shock or even electrocution.
Working on an appliance under warranty: Do-it-yourself repairs might void the warranty, so read the fine print before you begin.
Editor's Note: This article also appeared in the August 2021 issue of Consumer Reports magazine.