When you shop through retailer links on our site, we may earn affiliate commissions. 100% of the fees we collect are used to support our nonprofit mission.
Learn more.
With the average cost of repairing water damage sitting at $2,566, according to HomeAdvisor, there's no better time than now to prevent frozen pipes at home.
Along with those tried-and-true measures, you can use smart leak/flood detectors and water-shutoff valves to prevent or mitigate water damage at home. You control and monitor these devices with a smartphone app, which will alert you if there's a problem. A smart water-shutoff valve, for example, lets you turn off your home's water supply from anywhere.
"When water is flooding your home, the clock is ticking," says John Galeotafiore, Consumer Reports' associate product testing director. "The ability to stop that immediately would be a big advantage."
These kinds of devices aren't new. Fibaro, Honeywell, LeakSmart, and many others have made them for the past few years. But at the recent CES 2018, we saw some new products that, in some cases, push the boundaries of what such devices can do, giving consumers even more choice.
The leak-protection devices featured here, shown in alphabetical order, connect directly to your home's WiFi and offer a smartphone app, so you can control them and receive alerts remotely.
Flo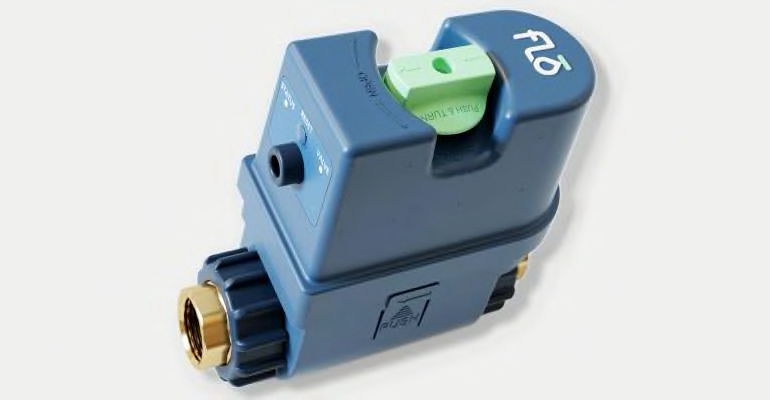 Price: $499
Plumber required: Yes
Availability: February
Flo is a smart water-shutoff valve with built-in sensors that monitor water usage and detect leaks. It's claimed to measure water flow, pressure, and temperature, and combine that data with machine learning to detect even small drip leaks. If Flo detects a leak, it will automatically shut off the water to minimize damage. At $499, Flo is one of the more expensive options on this list, but it could be worth the money if it's as smart as the company claims.
Guardian by Elexa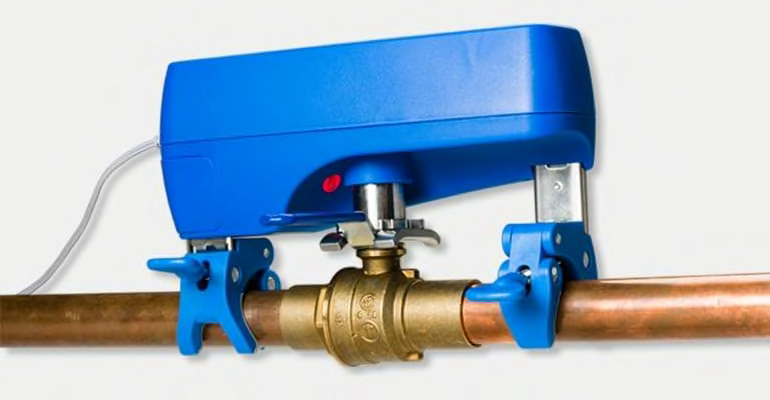 Price: $399
Plumber required: No
Availability: Now
The Guardian by Elexa system consists of a water-shutoff valve and three wireless leak detectors. All the products work together, so when a leak detector senses water and is triggered, the valve will automatically shut off your water. Perhaps the most innovative thing about this system is that installing the shutoff doesn't require any pipe cutting. Instead, the device clamps onto your water intake pipe around the valve handle and uses a motor to turn the handle on and off. It's one of the easiest solutions to install and saves you from having to call a plumber.
Phyn Plus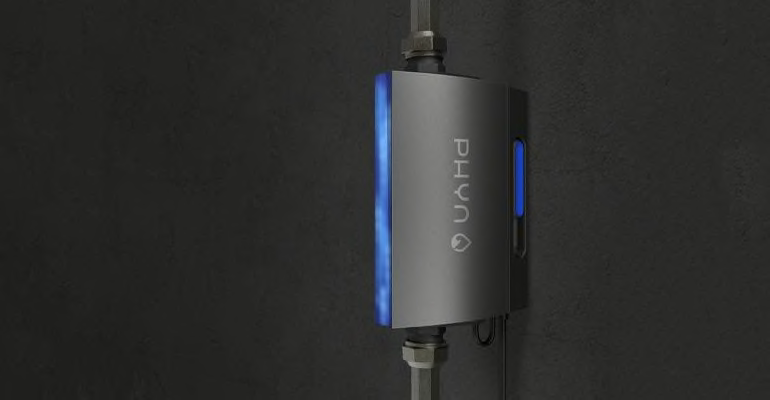 Price: $850
Plumber required: Yes
Availability: Late spring
Backed by Belkin, Phyn Plus is a sensor-laden water-shutoff valve that's claimed to detect four kinds of leaks: drip leaks, pinhole leaks, frozen-pipe leaks, and burst-pipe leaks. It achieves this by taking measurements with a very sensitive pressure sensor and an ultrasonic flow meter that "listens" to sounds in the water. Those measurements are fed through a series of algorithms to identify leaks. Thanks to its smarts, Phyn will even learn about your plumbing and become more accurate through user prompts, asking whether a "leak" it detects might just be a hose running in the backyard. The price is steep, and Phyn will require professional installation because it's sold only by Uponor plumbers, but with the high cost of water-damage repairs, it could prove to be a worthwhile investment.
Streamlabs Smart Home Water Monitor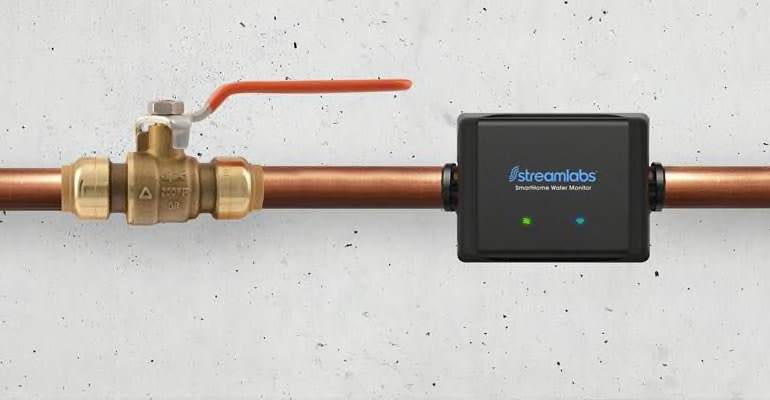 Price: $199
Plumber required: No
Availability: Now
The Streamlabs water monitor is a bit different from the other products on this list because it isn't an actual water valve. Instead, the monitor wraps around your intake pipe and uses an ultrasonic sensor to detect leaks and record water usage. Because it isn't a valve, installation is very easy, but it doesn't offer the added convenience of being able to shut off your water line like the Guardian above. Yet at just $199, Streamlabs is far cheaper than any of the other devices on this list.
WallyHome Prevention Bundle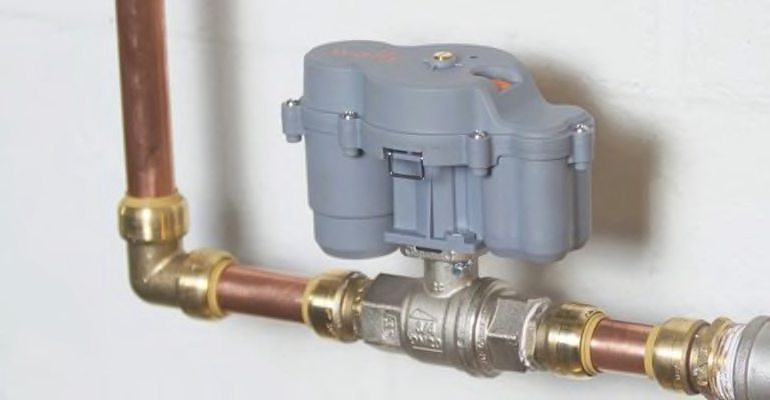 Price: $325 to $575
Plumber required: Yes
Availability: Now
Sears-owned WallyHome started as just a leak-detector system. But the company recently added the Wally shutoff valve to its system, which you can get as part of the WallyHome Prevention Bundle. The valve doesn't offer smarts like Flo or Phyn, instead relying on the system's leak sensors. If a WallyHome leak sensor detects a leak, the valve will automatically shut off the water. The company notes that you could also use one of its valves on your gas line, which could be a helpful addition to a natural gas detector. As for the varying bundle price, that's because WallyHome offers valves for three common pipe sizes: 3⁄4-inch, 1-inch, and 1 1⁄4-inch.
Frozen Pipes 101
If the temperature outside drops below freezing, your pipes might be at risk of bursting. Consumer Reports' senior home editor, Eric Hagerman, explains what to do if it happens to you.