When you shop through retailer links on our site, we may earn affiliate commissions. 100% of the fees we collect are used to support our nonprofit mission.
Learn more.
Most house fires start in the kitchen, according to the National Fire Protection Association (NFPA).
And the peak day of the year for a kitchen fire to happen? Thanksgiving Day. As you multitask like crazy, it's all too easy to get distracted by family, friends, and pets while you try to get your feast on the table.
Here are smart ways to ensure your kitchen stays a fire-free zone.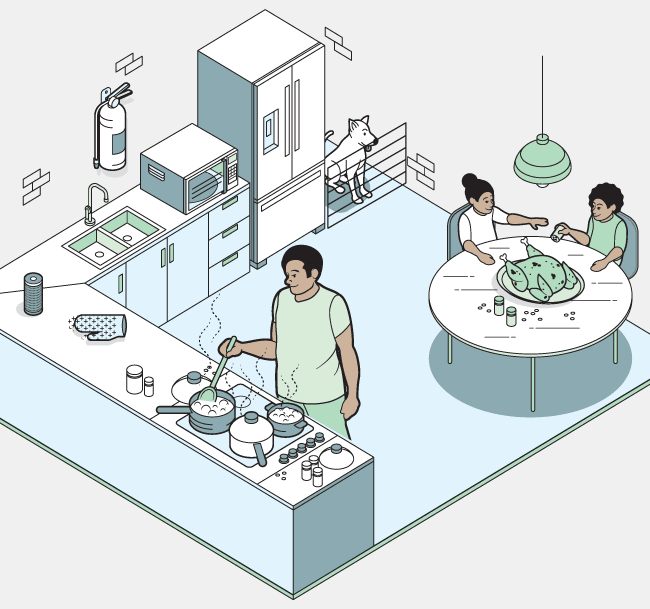 Click dots to learn more.
Illustration: Rodrigo Damati
In Case of a Fire, Do This
Flames in a Pan
Small fires in a stovetop pan can be smothered with a fitted lid. With your hand in an oven mitt, carefully slide the lid over the pan. Then turn off the burner. Don't move the pan or lid until they've cooled completely.
Fire in the Oven
Quickly turn off the oven and keep the oven door closed to prevent fresh air from stoking the fire.
Flames on Your Clothes
"Stop, drop, and roll." When you drop, cover your face with your hands if you can, then roll over and over or back and forth to put out the fire. Cool any burns with cold water for 3 to 5 minutes and don't hesitate to seek medical attention.
Flames Elsewhere
First, call 9-1-1. You can try to use your fire extinguisher, but be sure others leave the house and that you have a clear path to exit.
Top-Rated Smoke Detectors
Editor's Note: This article also appeared in the November 2021 issue of Consumer Reports magazine.