When you shop through retailer links on our site, we may earn affiliate commissions. 100% of the fees we collect are used to support our nonprofit mission.
Learn more.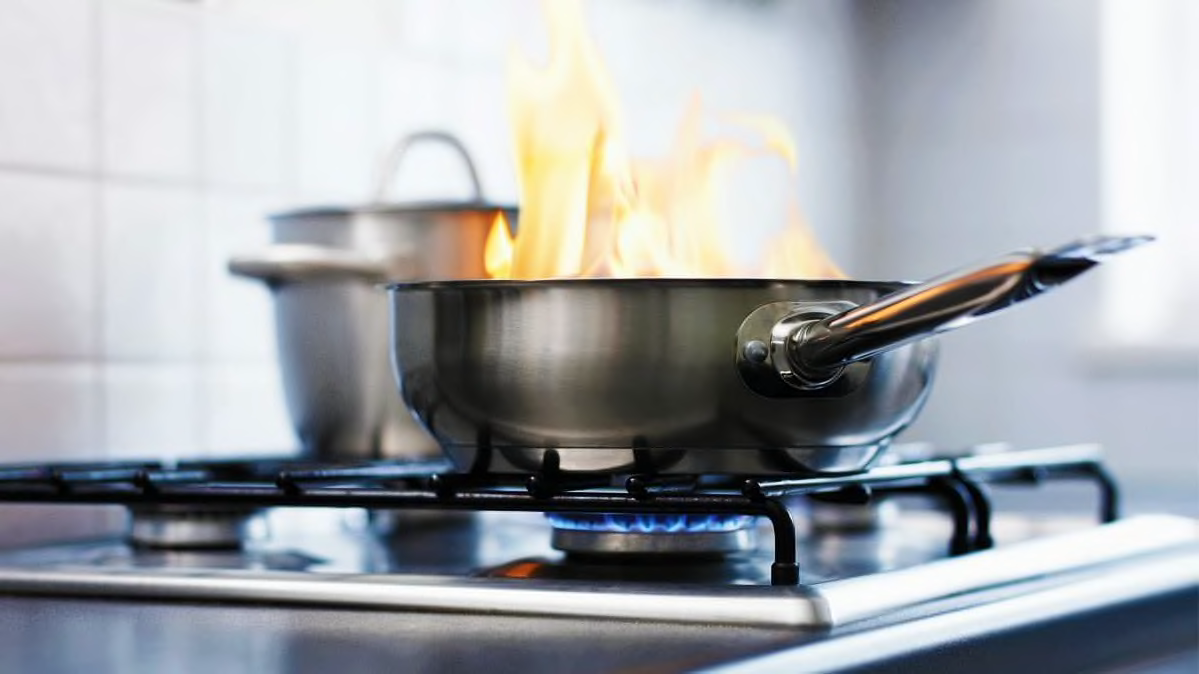 Your kitchen might well be the center of your holiday activities, but be careful—it's also where most house fires start.
And the peak day of the year for a kitchen fire is Thanksgiving, when you may be distracted by friends and family as you try to get the big feast on the table.
"Unattended cooking is the top cause of fires in the home," says Elliot F. Kaye, commissioner of the Consumer Product Safety Commission.
Even if a kitchen fire is contained to that room, it can be quite dangerous, even deadly. That's because the greatest risk isn't from burns but from inhaling smoke and toxic gases.
These tips from the CPSC and other safety groups will help make sure you don't become a victim of a kitchen fire on turkey day.
6 Steps for Preventing a Kitchen Fire
Stay in the kitchen when you're using the stovetop—and keep an eye on what you're cooking.

Wear a top with short or close-fitting sleeves. Loose clothing can catch fire more easily.
Keep children at least 3 feet away from a hot stove, as the National Fire Protection Association recommends.

Turn pot and pan handles toward the back of the stove to prevent people from knocking into a handle and spilling scalding food on themselves.
Keep curtains, towels, and pot holders away from hot surfaces.

Store solvents and flammable cleaners away from heat sources.
Take Action in a Kitchen Fire
Call the fire department (911) immediately.
If grease or oil in a cooking pan catches fire, don't pick up and carry the flaming pan outside; this can make matters worse. Instead, slide a lid over flames to smother them. Then turn off the heat and leave the lid in place until the pan cools.

Extinguish other food fires with baking soda and plenty of it.

For an oven or broiler fire, leave the oven door closed and turn off the heat to smother the flames.
Never use water or flour on any cooking fire.

Keep a fire extinguisher in the kitchen. Make sure you have the right type (Consumer Reports' fire extinguisher buying guide can help). And get CR's advice on how to use a fire extinguisher, and information on a recent 2017 recall of fire extinguishers.
Smoke Detectors 101
Your life could depend on a smoke detector actually detecting smoke. On the "Consumer 101" TV show, Consumer Reports expert Bernie Deitrick explains to host Jack Rico what you need to know about these lifesaving devices.