When you shop through retailer links on our site, we may earn affiliate commissions. 100% of the fees we collect are used to support our nonprofit mission.
Learn more.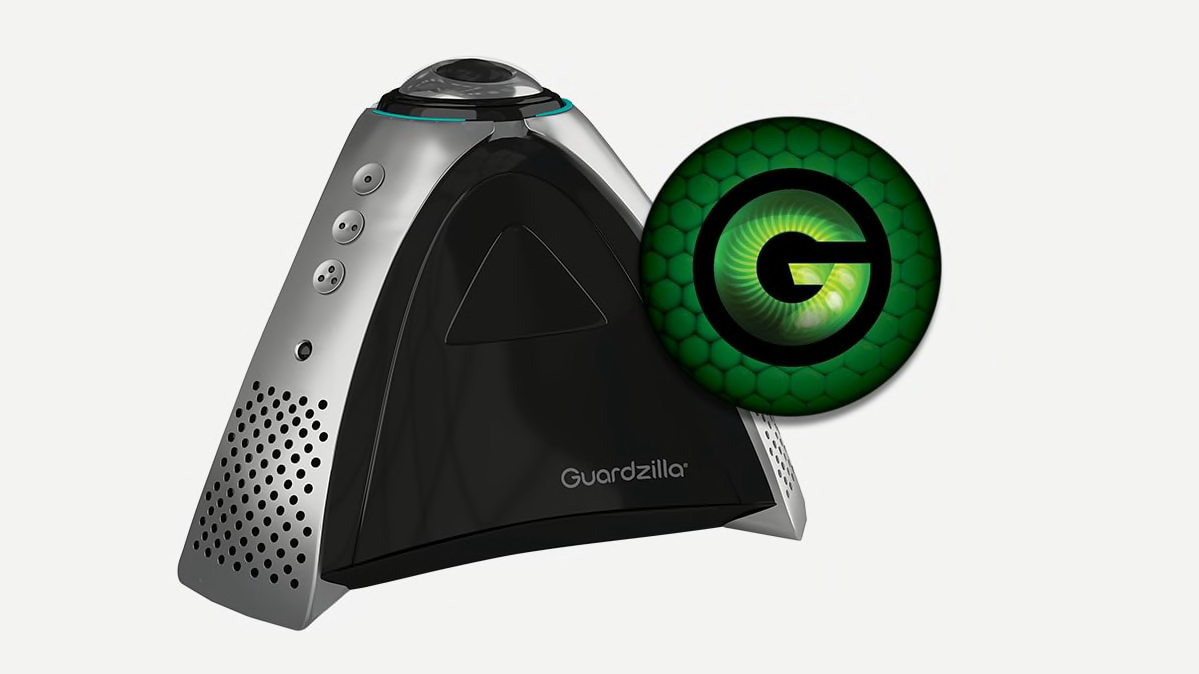 Guardzilla, a small home security camera company, has quietly gone out of business, leaving behind unpatched security flaws, barely or nonworking cameras in lots of homes, and piles of essentially useless cameras that are still being sold at Bed Bath & Beyond, QVC, and other retailers.
Consumer Reports learned earlier this month that Guardzilla had closed its doors when our test engineers tried to follow up about security problems they found with the Guardzilla 360. We disclosed the issues to Guardzilla last fall. The company fixed one problem, but never addressed a second one.
Because the Guardzilla 360 camera no longer works, we're labeling it a Don't Buy: Performance Problem in our wireless security camera ratings and in our detailed Guardzilla 360 test results. "In the case of the Guardzilla camera, we can no longer sign in to the app or add new cameras to our account," says Maria Rerecich, CR's senior director of product testing. "Since a consumer buying this camera will not get any functionality from it, we call it a 'Don't Buy.' "

The company has stopped responding to emails and its phone number is no longer working. A message posted on its website at the beginning of June still reads: "We deeply regret that these troubling times have caused us to close our doors. We are sorry for any inconvenience this has caused, as we will be unable to continue support for the Guardzilla product line."
More on Security Cameras and IoT
Like other internet-connected security cameras, Guardzilla cameras stored users' video clips on corporate servers. The servers continued working intermittently until mid-June but now appear to be completely shut down.

Nick Fletcher, a Guardzilla user in Flowery Branch, Ga., says his four Guardzilla cameras cost about $400.
"I noticed something was wrong about a week and a half before they actually posted that message on their website," Fletcher says. "My girlfriend and I both got kicked out of the app and could not sign back in to see the cameras. I emailed Support and never heard back."
Some consumers filed complaints with the Better Business Bureau as early as December 2019, saying the company wasn't responding to customer service requests.

The cameras, which cost up to $230, might not work anymore, but that doesn't mean videos stored on the company's servers have disappeared. Not unlike office chairs and old fax machines, users' personal videos are among the company's assets that could be transferred in a sale.
Guardzilla's terms of service state that in a sale, "personal information may be transferred to the buyer so that the buyer can continue to provide you with information and services."
That language provides some protection to consumers, according to legal experts.

"There's a strong argument the buyer is limited in what else they can do with the data," says Justin Brookman, the director of privacy and technology policy for Consumer Reports. "They can do whatever's necessary to deliver the service the consumer expects, but that's it."
In addition to Bed Bath & Beyond and QVC, these cameras can still be purchased at Amazon Marketplace, Buy Buy Baby, eBay, and Newegg Marketplace. Consumer Reports reached out to these companies to find out why they continue to sell Guardzilla cameras. Only eBay had replied by press time, saying it will continue to sell the cameras for now.
Listings for three Guardzilla cameras also appeared on Home Depot's website, but the retailer told CR those listings were an error and that Home Depot stopped carrying Guardzilla products in 2018.
Guardzilla isn't the first company to shut down its expensive connected devices and leave a lot of worthless hardware installed in consumers' homes. Back in 2016 Google subsidiary Nest bricked a $300 smart home hub called Revolv, causing the smart homes of many customers to cease functioning with just one month's notice. And in 2018 a startup called Lighthouse AI shut down, making its $300 security cameras stop working. In that case, consumers were offered refunds.
"This is definitely a systemic problem with the internet of things," Brookman says. "These products are usually dependent on constant maintenance by the manufacturer, at the very least for security updates as new vulnerabilities are found, but sometimes even just to run. Unfortunately, there are few clear norms about how long that support must be maintained, and regulators have largely been quiet."
Editor's Note: This article, orginally published on June 25, 2020, has been updated to reflect that CR has labeled the Guardzilla 360 camera a Don't Buy: Performance Problem in our security camera ratings.