We Tried a Wyze and an Arlo Home Security Camera as Pet Cameras. Here's How It Went.
The Wyze Cam V3 and Arlo Essential Indoor worked quite nicely and are less expensive than some pet cameras When you want to keep an eye on your pet from afar, you don't necessarily need to buy a pet-specific camera—especially if you want to save a few bucks.
That's the overall takeaway my colleague Patrick O'Brien and I garnered from our recent experience trying out two pet-specific cameras—the Furbo Dog Camera and the Petcube Bites 2—and two regular security cameras on our pets: my cat, Frannie, and his dog, Bentley. While there were fun features for pets on the Furbo and Petcube, like the ability to throw treats to your pet remotely and cute video diaries of their day, we found that using small, wired home security cameras worked just as well for basic monitoring functions. Of course, wireless models are also an option: Though the battery inside makes them convenient to place or mount, it also makes them generally more expensive, and some offer the ability to scan around a room, which could be useful if you have a larger space than a small New York apartment. With a wired camera, you don't need to worry about the battery running out, of course.
(Check out our full reviews of the Furbo Dog Camera and Petcube Bites 2 pet cameras.)
We brought home the Wyze Cam V3 and Arlo Essential Indoor cameras and took a look at how easy they were to set up and use via their respective apps, what kind of view the cameras offered, and what kinds of special features they included. 
And to be clear: While we wanted to see what kind of viewing angle these devices provided, and whether or not we could easily see our pets in the picture, we left the expert technical testing up to, well, our experts. Both of these models have been evaluated in our labs on factors like video quality, response time, and data security. (Read more about the best security cameras in our tests.)
Here's what we thought of these two models as pet-spying devices.
Price: $36 at Amazon, Best Buy, Home Depot, Walmart, and Wyze
Basic app features: The basic features that come free with the service provide motion-trigger alerts, sound-triggered alerts, and 12-second video clips. There's a 5-minute "cool down" period, which means that when there's nonstop motion, the camera will only capture one 12-second event video every 5 minutes. 
Subscription plan: The Wyze Cam Plus plan is either $1.99 billed monthly or $15 billed annually ($1.25 per month). That plan comes with a slew of other features, like video fast-forwarding, pet and person detection, and more.
Did we like it? Yes, the Wyze Cam V3 has a nice, wide viewing angle, and with a magnetic base and optional mounting equipment, it's easy to set it up where you need it. Among those we looked at, the price can't be beat. The sound is a bit tinny, but overall it's a great value pick.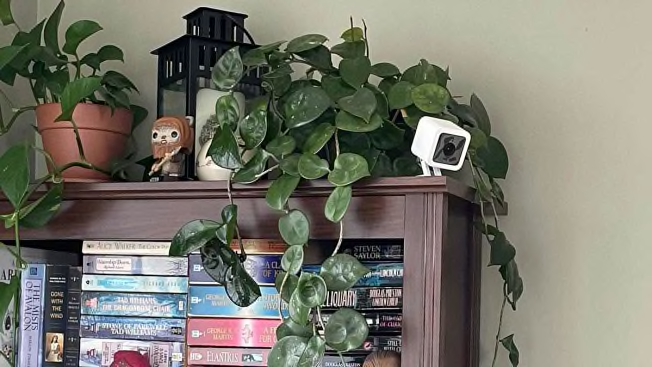 Arlo Essential Indoor: The Basics
Price: $100 at Amazon, Arlo, Best Buy, Dell, and Lowe's
Basic app features: The Arlo Essential Indoor camera comes with live video streaming and motion notifications, but beyond that you'll have to upgrade for more.
Subscription plan: The next step up from the free service that comes with the device is the Arlo Secure plan. It's either $9.99 per month for as many cameras as you own or $2.99 per month for a single camera. That buys you unlimited video cloud storage for 30 days, interactive alerts, and access to priority support.
Did we like it? Yes, we like the Arlo a hair more than the Wyze for its ease of use and super sound—we could really hear everything in the room, even the quiet thump of my cat hopping off the couch.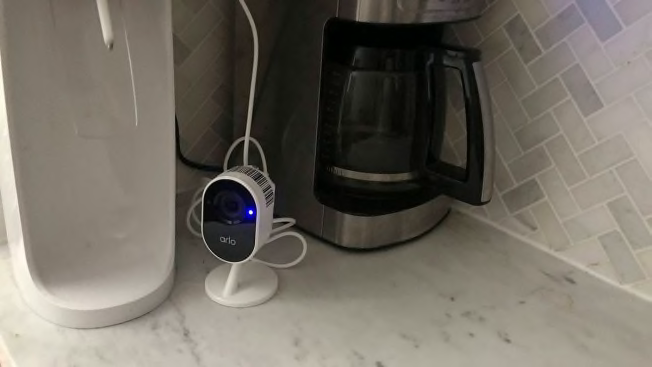 Both cameras require users to download their respective apps to control the devices. Setup involves aiming the camera at a QR code on the app, which was really easy for the Wyze but slightly trickier for the Arlo, we both found. 
The Arlo also has a privacy shield you can enable when you don't want the camera on, which makes a noise when it snaps open (that could be annoying to more easily startled pets). Patrick and I both had a little trouble getting the Arlo and its shield to behave during setup, but it wasn't anything that a little persistence can't address.
Both apps let you take photos and videos while using the live view, as well, and save them to your phone. And while Patrick says the Arlo misidentified his dog, Bentley, as a person a few times, what pet owner hasn't done the same thing themselves from time to time? When using either camera with my cat, Frannie, more often than not I received a simple "motion detected" alert, rather than a pet-specific notification. Cats, however, are sneaky like that.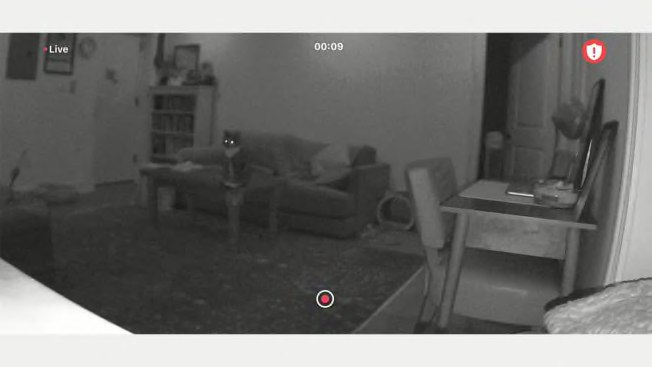 Though both of these cameras are pretty tiny, they're also mighty when it comes to viewing angle: We both found that, when placed either on a kitchen counter or even on a bookshelf, we could get a wide viewing angle of the rooms where we placed the cameras. Because you can't point or swivel these cameras remotely, that's a big plus.
After Patrick and I had a chance to discuss our experiences, we decided that the Arlo has a very slight edge over the Wyze in terms of pet-spying: The Arlo app is really easy to use, and we both liked the picture best on it (which goes against our official lab testing, but hey, human eyeballs like what they like). Plus, it's a bit sturdier in build, whereas either my cat or myself tipped over the Wyze a few times. But they're both small and inconspicuous, which is a bonus compared with the larger, pet-specific cameras. The Wyze is also about $60 cheaper than the Arlo, however, making it a great value pick.
When you shop through retailer links on our site, we may earn affiliate commissions. 100% of the fees we collect are used to support our nonprofit mission. Learn more.