When you shop through retailer links on our site, we may earn affiliate commissions. 100% of the fees we collect are used to support our nonprofit mission.
Learn more.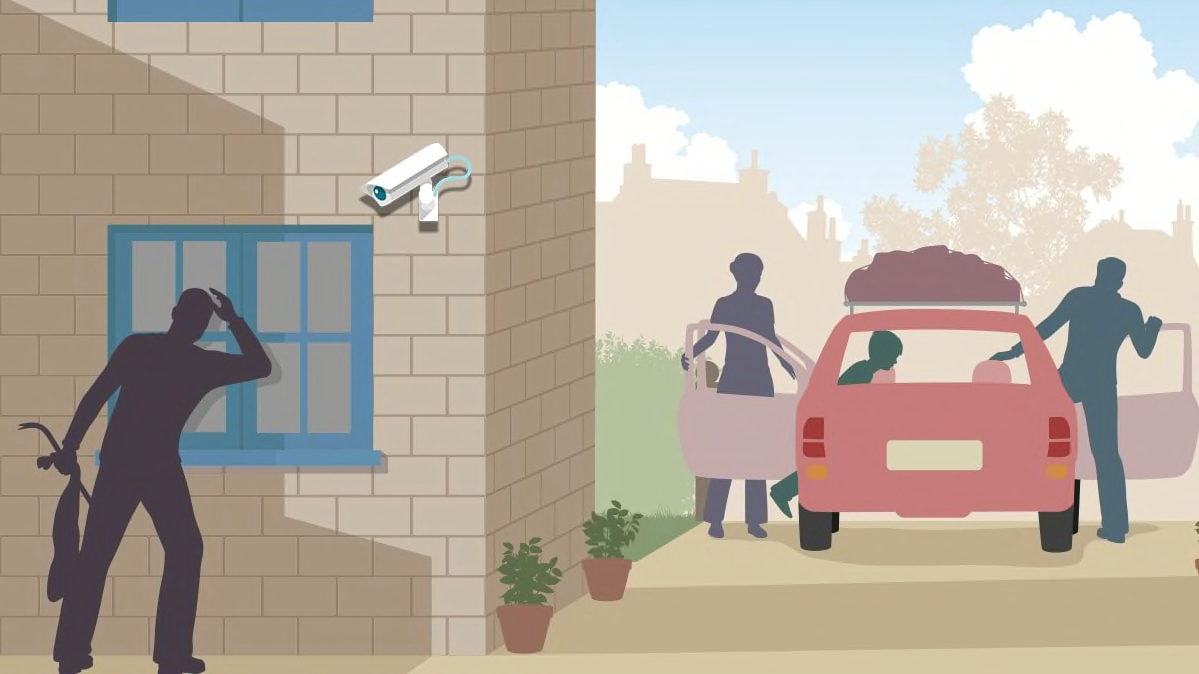 With Wednesday's relaunch of the Ring Alarm system, originally announced as Ring Protect and swiftly canceled because of a lawsuit, Amazon-owned Ring joins more than a half-dozen companies, from the savvy startup SimpliSafe to the tech titan Samsung, hoping to get a foot in the door of your smart home.
"These companies are using their new DIY security systems as a beachhead for their other smart-home products," says Mark Allwood, a Consumer Reports market analyst. "If you buy a Nest security system, you might be compelled to buy a Nest thermostat."

The flurry of activity gives consumers the advantage of choice.
"Security and monitoring devices are still among the top-use cases for a smart home, and approximately 20 percent of the residential market has a professionally monitored security system," says Brett Worthington, a senior vice president for Samsung SmartThings. "The majority of the remaining 80 percent includes consumers who are interested in smart-home and security products and services but are not looking for professionally installed options."
To help you decide which home security system may be right for you, Consumer Reports calculated the five-year cost to install and run one with professional monitoring. We haven't had a chance to test the new systems; in fact, a few of them have yet to hit store shelves.
Types of Home Security Systems
The first decision you'll have to make is who you want to monitor the system. Some home security systems offer optional professional monitoring, in which responders track your system for triggered alarms.
Alternatively, you can self-monitor by keeping an eye on your home through alerts and video feeds on your smartphone. However, two systems, Scout Alarm and SimpliSafe, require you to pay a monthly fee for smartphone alerts ($10 and $25, respectively), essentially charging you for self-monitoring. (Without those alerts, if you're not home you'll have no idea if your alarm goes off.) The SimpliSafe fee also includes professional monitoring.
Another deciding factor is how important smart-home features are to you. The straightforward systems from SimpliSafe and Scout Alarm offer home security and not much else. They might connect to security cameras, leak detectors, and the like, but don't expect them to control your heating or lights.

Others systems double as a smart-home platform. This approach is best exemplified by SmartThings ADT Home Security, the Honeywell Smart Home Security System, and Wink Lookout. They allow you to connect to and control other smart-home products, including smart thermostats, lighting, and door locks.
With any type of do-it-yourself home security system, of course, it's your job to install the hardware and sensors and get everything up and running.
How We Compare Security System Costs
To accurately compare the costs of these home security systems, we used data from Energy Star (PDF) to determine the number of first-floor windows—those most likely to be targeted by a burglar—in the average American home. We combined the average number with one front door and one back door. Based on that information, our cost comparison is based on a system with 17 contact sensors for each security system: 15 windows and two exterior doors.
Most DIY system starter kits come with only two to four contact sensors, which is why they can be offered at such attractive prices; some start at $200. But when you factor in the cost of the additional sensors that you'll need, the price for your initial setup can easily skyrocket. For example, with 17 contact sensors, an iSmartAlarm security system will cost you $620, not $200.
While none of these systems require professional monitoring, to help you weigh the monitoring choice we factored in the cost of a subscription for five years. Check out the chart below for a comparison of the top systems.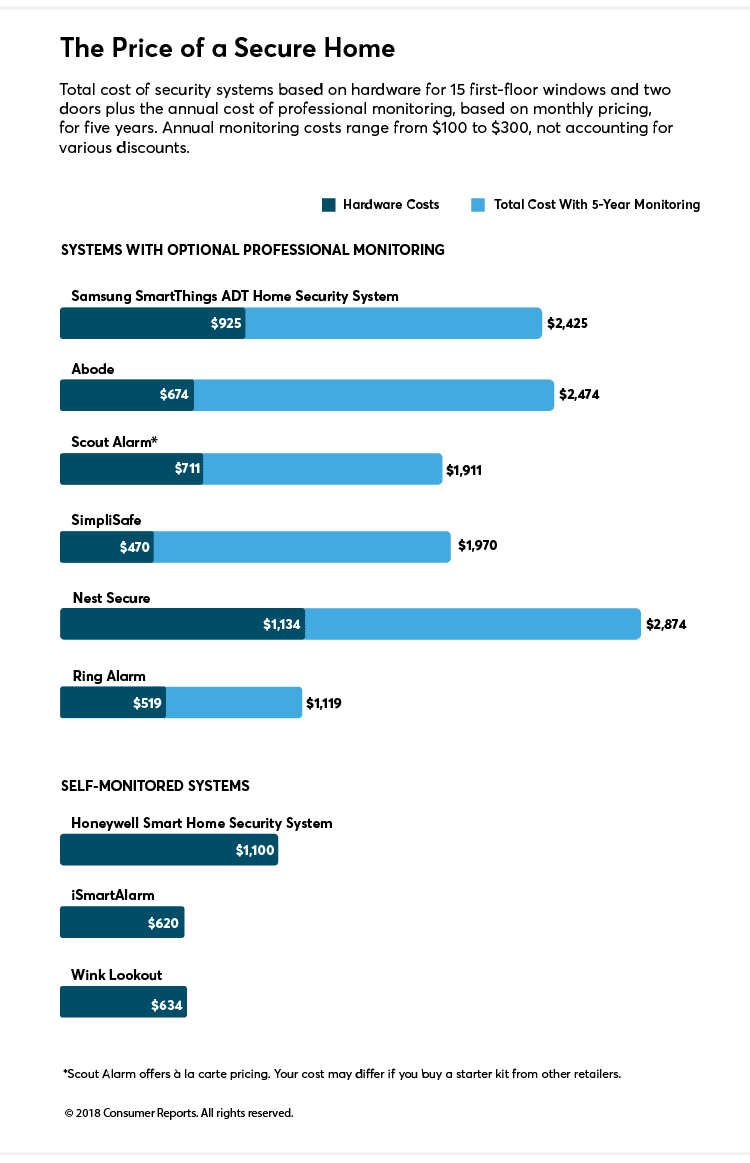 As you can see, the cost of a home security system can get pretty steep over time. The most expensive one with monitoring for five years is the Nest Secure, with a total cost of $2,874. You can save $10 per month on Nest's $29 monthly monitoring fee (the service is provided by Brinks Home Security), but it requires signing a three-year contract.
Based on our analysis, there are two systems worth highlighting.
Best Value
Ring Alarm
Starter kit cost: $199
Total hardware cost: $519
The original version of this article highlighted the Ring Protect system as our best value pick, but because of a legal dispute, Ring canceled preorders for the system and Scout Alarm became our pick. But now that Ring is relaunching the system Wednesday as Ring Alarm with preorders that ship next month, we're reinstating Ring as our best value pick.
If you're interested in professional monitoring, Ring Alarm is the least expensive system of the bunch. Its hardware prices are not the lowest—that honor goes to SimpliSafe—but they're reasonable, especially compared with SmartThings ADT and Nest.
Ring Alarm's professional monitoring plan, at $10 per month or $100 per year, is less expensive than other plans by $10 to $20 per month. If you don't need professional monitoring, you can self-monitor the system free. Ring Alarm also includes a Z-Wave radio chip that a Ring spokeswoman confirmed allows you to use Ring Alarm as a smart-home hub for compatible Z-Wave lights, switches, locks, and more.
Ring Alarm preorders will ship July 3, 2018.
Smartest Smart-Home Option
Honeywell Smart Home Security System
Starter kit cost: $500
Total hardware cost: $1,100
The new Honeywell DIY system is the second-most expensive option behind Nest Secure, but it offers far more value. The system's base station doubles as a security camera, with facial recognition and two-way audio, and a smart speaker with built-in Amazon Alexa. Honeywell told us that it's also working to add Google Assistant, giving you two virtual assistants to choose from, as well as integration with Apple HomeKit devices.
Like Ring Alarm, Honeywell's system also includes Z-Wave to connect third-party Z-Wave smart-home products.

With this roster of integrations, the Honeywell Smart Home Security System could connect to dozens of smart-home devices. And it will run on the same app Honeywell built for its Lyric thermostats and security cameras.
In an odd move for a Fortune 100 company, Honeywell launched the system on crowdfunding platform Indiegogo, where interested consumers can pledge funds for a preorder for a January delivery.
"Indiegogo is made up of passionate early adopters and tech enthusiasts, exactly the type of people we'd like to get early feedback from," says Ted Booth, Honeywell's experience design director. "We'll use that feedback to drive future enhancements to the product."
The Honeywell Smart Home Security System will be available in early August.
Editor's Note: This article has been updated with revised costs for Nest and the addition of the Ring Alarm.
Protect Your Home When You're Away
You want to keep what you have safe from burglars, right? On the 'Consumer 101' TV show, Consumer Reports shows you how to protect your property when you're not home.