A Flood of Security Cams, Video Doorbells, Sensors, and Smart Locks Will Hit the Market This Year
We comb through new options in DIY home security from Arlo, Eufy, TP-Link, and Schlage, and others Take a glance at the dozens of options available in DIY home security products—from security systems and cameras to video doorbells, smart locks, and more—and you might think the market is pretty much saturated. But that's not stopping manufacturers from introducing new products this year, many with innovative features, competitive prices, or a combination of both.
Among the most unusual? A security camera that sprays smoke at intruders, and a smart lock that uses facial recognition to let you in.
I've covered smart home products for seven years now, and this surge in products reminds me of the home security boom of late 2017 and 2018, when brands like Amazon-owned Ring, Cove, Google Nest, and Samsung SmartThings launched DIY home security systems (as opposed to individual products) for the first time. And more established brands, such as Abode and SimpliSafe, launched new versions of their systems to stay competitive.
This time around, the focus seems to be more on individual security sensors, cameras, and smart locks, though there's one new security system from the camera maker Arlo coming to market.
"Home security continues to be extremely popular with consumers and promises even more growth over the next few years," says Mark Allwood, Consumer Reports' market analyst for home security and smart home products. "A major driver of this increase in brands entering the category is the forthcoming Matter smart home standard, which will allow products from multiple brands to 'talk' with each other."
The products below were announced at the annual Consumer Electronics Show in early January, but a vast majority of them won't be going on sale until later this year. We'll purchase the most compelling options from the bunch to run through our in-depth lab tests.
Without further ado, here's a look at 2022's most interesting product releases.
Cameras and Doorbells Galore
Of all the types of products coming this year, none are more prolific than security cameras and video doorbells. The models we've evaluated in our labs range in price from $20 to $300, and for the most part, these 2022 launches seem to be targeting a middle ground between budget-focused and higher-end models.
New Ways to Unlock Your Front Door
There weren't nearly as many smart locks announced at CES, but the few that debuted are quite innovative.
First up is the new Schlage Encode Plus Smart WiFi Deadbolt, $300. It offers all the features of the existing Schlage Encode smart lock, plus support for Apple HomeKit and Apple's new Home Key feature, which allows you to unlock your door with a tap from your iPhone or Apple Watch.
The lock also supports Thread, a specialized wireless network for smart home devices that will be part of the Matter smart home standard. Donald Beene, senior product manager for Schlage, says the new lock "is well positioned to be one of the first solutions we seek to be Matter-compliant."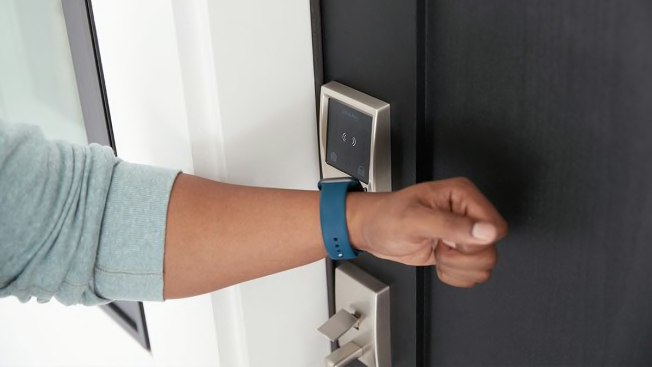 The other lock of note is the Ultraloq U-Bolt Ultra WiFi smart lock, which features a camera for facial recognition so you can unlock your door just by looking at the lock. We've tested smart locks from Eufy and Kwikset with fingerprint recognition, but facial recognition is a first for the residential lock market.
A Notable New Home Security System, Useful Home Sensors, and More
At CES, Arlo announced its second home security system, the Arlo Security System. (Arlo announced a security system in 2019, but it never came to market.) This new system uses multipurpose sensors similar to the Kangaroo and discontinued Google Nest Secure systems.
But these sensors are capable of much more than detecting motion and whether doors/windows are opened or closed. Each sensor can also detect door tilt (handy to know if garage doors are horizontal/open or vertical/closed), water leaks, ambient light changes, temperature changes, and the sound of smoke/CO alarms going off.
Arlo did redesign the system's base station, though. It functions as a keypad, siren, motion sensor, smoke/CO alarm sound sensor, and NFC reader (for arming/disarming by tapping your smartphone). Naturally, the system works with Arlo security cameras and the Arlo Secure subscription, which can be used to dispatch emergency services in the event of a break-in.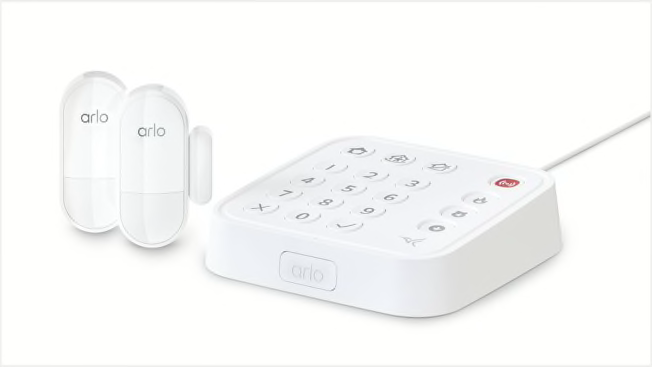 A handful of companies also released new home security sensors that work either on their own or as part of a home security system.
Kidde released its first-ever WiFi smart smoke/CO detector, giving First Alert and Google Nest some much needed competition in this important yet sparse market. The alarm costs $90 and is available now at Home Depot. Meanwhile, Ring announced a new glass break sensor, $40, for its Ring Alarm systems, which up until now required an Amazon Echo smart speaker to detect the sound of glass breaking. The sensor is available now for preorder.
Finally, Kohler announced its H2Wise powered by Phyn smart leak detector system. Kohler hasn't provided many details on the system, but like most, it has the ability to detect leaks and track your home's water usage. There will be two versions: one with a valve that shuts off your home's water supply when a leak is detected (which requires professional installation), and another without a shutoff valve (which you can install yourself).
While the H2Wise system has a different aesthetic than the Phyn Plus system, functionally both systems look almost identical. The Phyn system performs quite well in our tests, so Kohler's version could prove to be a compelling option for your home.
While many of these products look promising on paper, the truth is in the test results. We'll have to buy them and bring them into our labs to evaluate them.
We currently test security cameras, video doorbells, DIY home security systems, smart locks, smart thermostats, smoke and CO detectors, water leak detection systems, smart sprinkler controllers, and more. We'll have to see whether any of these new products can beat out existing models in our ratings.
When you shop through retailer links on our site, we may earn affiliate commissions. 100% of the fees we collect are used to support our nonprofit mission. Learn more.