When you shop through retailer links on our site, we may earn affiliate commissions. 100% of the fees we collect are used to support our nonprofit mission.
Learn more.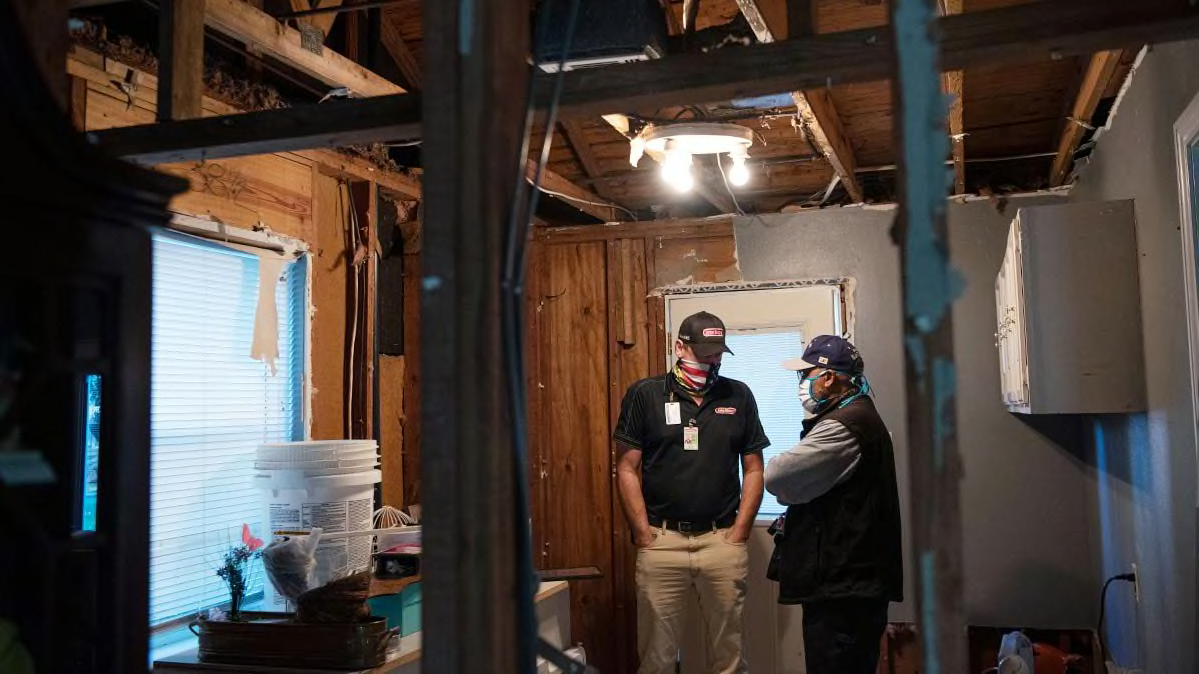 Photo: Callaghan OHare/ Getty Images
As the recovery from the recent snow and ice storms ramps up, Texans are expected to file hundreds of thousands of homeowners insurance claims to recover their losses.
State Farm, the largest homeowners insurer in Texas, says it has already received 37,000 claims for frozen and burst water pipes this year from policyholders in the state compared with 75 through all of 2020.
More on Homeowners Insurance
Those homeowners and renters will mainly be seeking compensation for water damage, which could include ruined floors, walls and ceilings, cabinetry, electronics, clothing, and lots more personal property. Last year the average residential claim for frozen and burst pipes in Texas was $10,300, State Farm says.
More than 100 Texas counties have been declared part of a federal disaster area. Any affected homeowner or renter in that region—including those without insurance coverage—can also file for financial assistance or temporary housing from the Federal Emergency Management Administration (FEMA). But you need to contact your insurer first, if you have one; FEMA's assistance is intended to supplement that coverage.
Here are a few first tips to get you started with your claims.
Contact Insurer and Do Stopgap Work
The first step is to get in touch with your insurer or the agent who sold you the homeowners insurance. Do it soon; your policy requires you to make a claim in a timely manner. The insurer can also advise you about what repairs you should make right away to make your home habitable or to prevent further damage.
For example, if you need to find a plumber to close off water lines, check the database of licensed plumbers, updated daily by the Texas State Board of Plumbing Examiners. To encourage more plumbers to help in Texas, the state recently let licensed out-of-state plumbers apply for temporary six-month Texas plumbing licenses; those folks are listed in the database, too.
Regardless of where the plumber is from, check the Better Business Bureau from that region for complaints and other information. (The BBB recently published advice specifically for Texas homeowners seeking plumbers.) You also may find testimonials on local review sites for consumer services.
Even if the insurer sends you a check right away for that emergency work, you may have to pay the bill yourself first. Either way, keep receipts that you can later file with your claim.
Get Your Coverage Details
When you contact your agent or insurance company, find out what's covered in your policy. You also can probably find it on your account page on the insurer's website.
A standard homeowners insurance policy covers damage to the home's structure as well as personal property—minus a deductible. The amount you're paid will depend on the kind of coverage you have. Though "replacement cost" coverage should cover the cost of repairing or replacing your home and any lost or damaged items, "actual cash value" coverage will pay you the value of your home and the damaged items inside, less depreciation.
Your policy also may cover the "loss of use" of your home, and for additional living expenses (ALE) such as rent or hotel bills, restaurant meals, transportation, clothing, and other expenses—up to a limit—when your home becomes uninhabitable or inaccessible due to fire. If it's accessible and habitable but you can't go back to it due to mandatory evacuation orders, you're covered for ALE, up to a limit.
Claim Small Water-Related Losses
Usually, CR advises avoiding filing claims for losses that appear to be less costly than the value of the deductible. That's because if you later file other claims, the insurer could decide you're reporting too many incidents and raise your premium—or refuse to renew your policy.
But the Texas storm may prove the exception. With water damage, small spots on a wall or ceiling could reflect a bigger mess behind the Sheetrock, says Amber Mostyn, a Houston attorney who represents consumers against insurers. "Reporting it now shows you've reported in a timely manner," she says. "And if you find something later, it could very well add up to above the deductible."
Prepare for the Adjuster
The insurance company will assign an adjuster, who will assess the damage and submit an estimate for review. Since the beginning of the pandemic, adjusters have increasingly been doing their work remotely—communicating through smartphone tools like FaceTime, Google Duo, and Skype—and accepting videos and photos directly from policyholders' phones.
During the appointment, the adjuster may ask you to walk from room to room taking video with your phone, describing damage, and showing it in context and scale by zooming in and out.
But if you're not comfortable dealing virtually—or the damage appears to be considerable and severe—you can ask the insurer to have an adjuster come to your home, says Camille Garcia, a spokesperson for the Austin-based Insurance Council of Texas, a trade group.
If the adjuster will be coming to your home, ask the insurance company for his or her name before your appointment, then ask for identification before letting the person into your home.
Regardless of whether your adjuster's visit is conducted virtually or in-person, it helps to make a list of items that were destroyed or are in need of repair. Include the amount you paid for them and gather any receipts you can find.
You can report more damage you discover after the adjuster's appointment. Depending on the policy, a claim can stay open—and you can receive additional compensation—for many months after the initial report, Garcia notes.
Document All Your Transactions
After the end of the adjuster's appointment, remain in contact by email or text so that you have backup of all your communication. Keep notes about missed appointments, unreturned phone calls, what you discussed, and even whether the adjuster was rude. Though you probably won't need this information, it will be useful if any disagreements have to be resolved in court.
Make copies of all documents. Copy everything you give to the adjuster, such as your list of property lost or damaged. If the adjuster advises you to get repairs, get that permission in writing, Mostyn advises.
She says that in an emergency situation, the first adjuster may be replaced by a new one during the claims process, so having correspondence in writing could be helpful to you. "There's often not a good handoff of information when the next adjuster comes in," she explains.
Discuss Exclusions or Limits in Your Policy
After the appointment, the adjuster or a company representative may give you a better idea of what the insurer intends to pay for the entire claim. If your insurer maintains that your policy doesn't cover all the damages or if you think the compensation is too low, ask the carrier's rep to explain in writing how he or she got to the estimate. The rep should also include any reason certain items aren't covered and whether there are any coverage limits.
If you have custom work in your house, an adjuster may not know how to properly estimate the value. Get an outside estimate from a contractor.
If you think the wording in the policy is misleading, contact a local plaintiff's attorney who specializes in insurance law. The Consumer Federation of America notes that courts have consistently ruled in favor of policyholders on policy ambiguities. File a complaint with your state's department of insurance.
Consider Hiring a Public Adjuster
If you have a very large claim, you may want to turn to a public adjuster, who works on your behalf and represents you for the claim. But be aware of fees. In some states a public adjuster's fees are capped, typically at 10 percent to 12 percent of the insurance payout. In other states there are either no caps or adjusters simply charge a flat fee.
To find a public adjuster, check with the National Association of Public Insurance Adjusters. Ask for references from past clients and look to see whether he or she has several years of experience and a state license where required.
There are four states where no licensing is required—Alabama, Alaska, Arkansas, and South Dakota. If you live in one of those states, Diane Swerling, a principal at Swerling Milton Winnick Public Insurance Adjusters in Wellesley, Mass., suggests contacting an attorney who works with catastrophe victims to help you find a reputable adjuster.