When you shop through retailer links on our site, we may earn affiliate commissions. 100% of the fees we collect are used to support our nonprofit mission.
Learn more.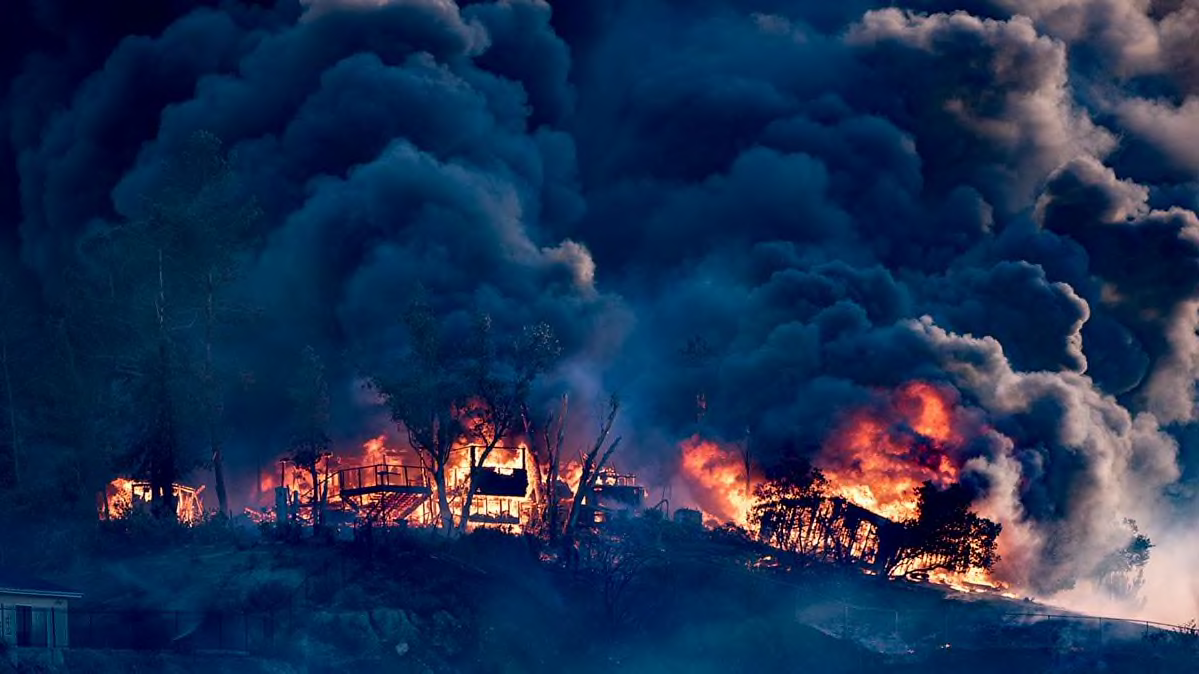 Photo: Ronen Tivony/NurPhoto/Getty Images
As Hurricane Florence barrels toward the Southeast Coast, homeowners in North Carolina, South Carolina, and Virginia are bracing for potentially huge damage to their residences.
If Florence maintains its Category 2 status, residents could face as much as $62.4 billion in replacement costs from the storm surge, according to estimates by CoreLogic, which provides risk data to major insurance companies.
But many homeowners are underinsured for natural disasters, particularly for flooding damage, which isn't covered under most policies. You can buy a separate flood insurance policy, but few homeowners do.
Even if you believe you have full coverage, it's important to review and update your policy regularly, says Chris Hackett, senior director of personal lines at the Property Casualty Insurers Association of America, a trade group.
"People are often surprised to find out the terms of their policies, such as what their deductible is," Hackett says. "And many underestimate the cost of fully replacing damage to their homes."
So take the time now—before a flood, fire, or some other disaster strikes—to make sure you have the right type and amount of homeowners insurance.
More on Emergency Preparedness
To help you figure out your home insurance needs, we recently surveyed 19,100 Consumer Reports members who live in areas hit by Hurricane Harvey, Hurricane Irma, or the California wildfires last year. These people are in a unique position to tell you what you need to do to protect your home, family, and belongings before disaster strikes.
Forty-five percent of those in Irma's wake had property damage, as did 15 percent of those affected by Hurricane Harvey. Although only 2 percent of the people in areas swept by California's wildfires had property damage, 26 percent of them had their homes completely destroyed.
Here are five lessons CR members learned that could protect you from devastating financial loss if disaster—natural or otherwise—strikes.
Review Your Coverage
Just more than half the people in our survey review their homeowners insurance coverage at least every few years.
"Check what your insurance covers each year and adjust it to correct any shortfalls. My insurer stopped covering wind damage in the state of Texas, so I had to buy a separate policy to make sure I'd be covered if a hurricane hit."
Charlie Brower, 79, who had to evacuate his home in West Columbia, Texas, during Hurricane Harvey
Know What's Covered
While there are exceptions for people who live near the Texas coast, standard homeowners policies typically cover damage from wind, fire, explosions (such as from a propane tank), lightning strikes, hail, and other perils. That means that hurricanes, tornadoes, and wildfires should be covered by most policies. Any outbuildings on your property—such as a garage, shed, or fence—are also usually covered. Damage to outbuildings was the most common problem reported by our survey respondents.
If your home is uninhabitable after a storm, your homeowners (or renters) insurance should also reimburse you for living expenses, such as a hotel room or meals out. (Five percent of our survey respondents who had property damage said they couldn't live in their home after a hurricane; 42 percent said they had to stay elsewhere after damages from a wildfire.) This benefit is generally limited to 20 percent of the total coverage on the structure of your home.
In addition to covering the loss or damage of personal property for covered perils, a homeowners (or renters) policy also protects against theft or vandalism, as in the event of looting following a wildfire or hurricane. Personal property coverage on a typical homeowners policy is usually 50 to 75 percent of the dwelling's insured value.
Policies vary, so check with your insurer to see which specific perils are and aren't covered by your plan. If you own a condo or live in a co-op, check your bylaws or underlying lease to determine what the association covers and what your personal insurance responsibilities will be.
Know What's Excluded
Damage from floods, ground movement (such as earthquakes and sinkholes), and water backups isn't included in homeowners policies. (Get more information on flood insurance.)
Earthquake coverage can be added to some plans for a fee or purchased as a separate policy. In California, residents can also purchase it from the California Earthquake Authority. Rates vary significantly. For example, the statewide average in California is $832 per year, but in San Francisco it costs about $1,500 to $6,000 annually to cover an older home with a reconstruction cost of $750,000.
Don't forget to factor in the deductible. Most homeowners policies are subject to a deductible of $500 to $1,500. Those for earthquake insurance are higher; the CEA offers plans that range from 5 to 25 percent of the policy limit. (People who live in hurricane-prone areas may have similarly high deductibles for hurricane coverage.) That can be a big expense. If your home is insured for $350,000 and your policy has a 5 percent deductible, you'll have to pay $17,500 out of pocket on a covered claim.
Other exclusions to keep in mind include hail damage to the roof, which may not be covered if the roof is more than 10 years old, and any "sublimits" on personal property such as jewelry, artwork, and furs, which can be as little as $1,000 to $2,500. To cover such valuables, you may need to purchase a scheduled personal property endorsement, which could cost about $25 per $1,000 of coverage per year.
Get Credit for Updates
For example, installing impact-resistant windows and doors if you live in a hurricane zone could earn you as much as a 45 percent discount on your premiums, says Juan Rodriquez, an engineer who manages large civil works and home-building projects.
"If you improve your home to better withstand a storm, you might get a discount on your insurance."
David Beatty, 58, who evacuated his home in Bonita Springs, Fla., during Hurricane Irma
Some insurers will require you to do your entire house, says Lynne McChristian, a consultant with the nonprofit Insurance Information Institute. That could be pricey: A 60x80-inch hurricane-impact door can cost about $1,900, and a single-hung window can run $500 to $600, Rodriquez says.
Opt for Full Replacement
In our survey, 18 percent of CR members who filed claims found that they were underinsured. That can be a serious problem when a home is a total loss.
"Make sure your insurance will pay for the cost of rebuilding your home. Some of my mom's neighbors whose homes were destroyed had to sell their lot because they didn't have enough coverage to rebuild."
Ryan Cross, 38, who had to evacuate his home in San Diego during a wildfire
Rather than insuring your home for its actual cash or market value (the amount it would cost to replace it minus depreciation), McChristian suggests that you insure it for the full replacement cost. This option costs 10 to 20 percent more per year than actual cash value coverage, but it will pay to rebuild your home exactly as it was, even if the amount exceeds the estimated value. It's a good idea to have a professional appraiser evaluate your home's replacement cost every two to three years, McChristian says.
Shop Around
When it's time to renew your policy, compare the same coverage offered by the insurers at the top of our homeowners insurance ratings. Some of the major insurers included in our 2016 survey provided a significantly better experience handling claims. Amica Mutual Insurance Company and USAA are among the highest-rated homeowners insurance companies reported by members who filed claims of $10,000 or more between 2013 and 2016. They also received the highest marks in all categories.
"I spent a lot of time shopping for the best coverage at the best price. Look for companies that have a good record of paying out claims."
David Beatty, 58, Bonita Springs, Fla.
You may be able to save hundreds in premiums by shopping around. About 9 percent of respondents in the 2016 survey said they had switched insurers in the previous three years, and of those, more than half did so because they got a better price.
Ease the Claims Process
Taking an inventory of your belongings and keeping it up to date will make it easy to see whether you're sufficiently insured. It could also speed the insurance claims process by helping to provide proof of losses for tax or disaster-aid purposes, McChristian says, especially if you have photos or a video of your possessions. Charlotte Coppenhaver, 73, and her husband, Dorian, 71, who evacuated their home in Dickinson, Texas, during Hurricane Harvey, had a check within a month.
"I take a video every year of all the belongings in our home, including what's in each drawer and cabinet. It ensured we didn't forget to claim anything that was damaged in the hurricane."
Charlotte Coppenhaver, 73, who evacuated her home in Dickinson, Texas, during Hurricane Harvey
The Coppenhavers only had to worry about claiming their destroyed possessions. They sold the Dickinson home they'd lived in since 1985 a month before Harvey hit and were renting it from the new owners until their move to Orlando, Fla., a month after the storm.
The couple calculated that their artwork, books, furniture, and the rest that they lost were worth $248,000. But they had insured them for only $85,000. "A FEMA adjustor told us to claim it all, just in case some of the claims were disallowed," Coppenhaver says. None were; they received a check for $85,000 and were able to recoup some of the rest of their losses on their 2017 tax return under the Disaster Tax Relief and Airport and Airway Extension Act of 2017, which allowed victims of hurricanes Harvey, Irma, and Maria to claim additional personal casualty losses last year.
"In the end it's just stuff," Coppenhaver says. "You'll never own anything that's worth more than life itself."
Editor's Note: This article also appeared in the October 2018 issue of Consumer Reports magazine. It was updated on September 13, 2018.