When you shop through retailer links on our site, we may earn affiliate commissions. 100% of the fees we collect are used to support our nonprofit mission.
Learn more.
Honda reaffirmed its commitment to hydrogen-powered vehicles a few years back with the redesigned Clarity fuel-cell car. Now it's turning that car into an environment-friendly mini-brand with a plug-in hybrid and a battery electric version.
The two new Clarity variants were unveiled at the 2017 New York International Auto Show. The family of Clarity cars is a key part of Honda's strategy to transition from gasoline to electric power. The automaker has a corporate goal of having two-thirds of its fleet running on electricity by 2030.
"Electrification is the future of mobility and the future of Honda," said Steven Center, vice president of environmental business development at American Honda Co. "It all starts now with this Clarity series."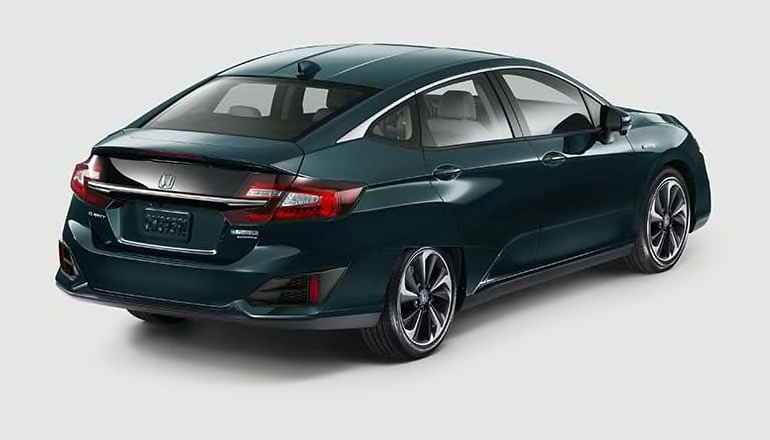 Honda describes the Clarity Electric as the "first affordable, midsize, five-passenger battery electric vehicle." The vehicle is expected to have an 80-mile range, and it can be fully recharged in three hours. That's an all-important measure for consumers wanting a more normal driving experience. It lags behind segment leaders like the Tesla Model S and the Chevrolet Bolt, both of which boast more than 200 miles. On the other hand, the Clarity Electric promises to be far cheaper than a Tesla and is bigger than a Bolt. It is powered by a 161-horsepower motor wired to a 25.5 kWh battery pack. Honda is projecting a sticker price in the mid-30s.
"It's designed for EV purists who want the experience of an all-electric vehicle with the premium quality of a five-passenger sedan with the affordability of a Clarity," said Center.
Like the Clarity Fuel Cell, Honda will sell the Clarity Electric in markets best equipped with the infrastructure to accommodate future owners. For the fuel-cell car, that means Honda is leasing only in California, which has by far the most hydrogen filling stations in the U.S. For the Electric, look for Honda to concentrate sales and marketing in California and the nine other states that copy its zero-emissions vehicle rules.
The Clarity Plug-In Hybrid, on the other hand, will be offered in all 50 states. This car will be the volume leader in the series, Honda says, combining an all-electric driving range rating of 42 miles and 330 miles factoring its 1.5-liter four-cylinder gasoline engine. The plug-in hybrid will compete with models like the Chevrolet Volt and Toyota Prius Prime.
Visually, the cars sit on low and wide aerodynamic bodies with unique design elements like a thin line of LED headlights. On the inside, Honda has created spacious interiors outfitted with premium, environmentally-responsible materials. All three versions of the Clarity will be quiet and smooth to drive, with good dynamic handling plus seamless electric-drive torque and acceleration, Honda says.
Other high-tech features include both Android Auto and Apple CarPlay interfaces with smartphones, and standard Honda Sensing—the automaker's package of safety sensors and driver-assistive technologies.