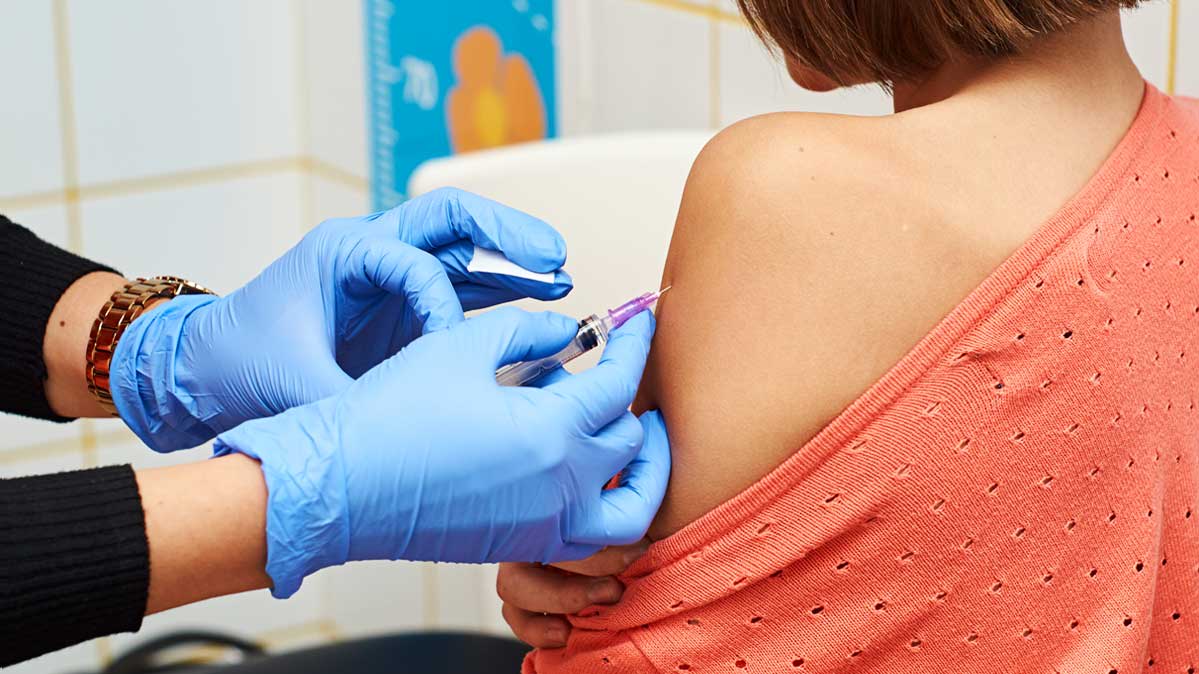 Over the last few years, the rate of vaccination against human papillomavirus (HPV) has continued to rise steadily among adolescents.
That's good news, experts say. In fact, according to the most recent data from the Centers for Disease Control and Prevention, as of 2017, 66 percent of teens ages 13 to 17 had at least their first dose of the vaccine, up from 60 percent the year before. (For full protection, they need two or three doses total, depending on when they start the series.)
But a new study mixes some bad news in with the good.
Research published in the The Journal of Infectious Diseases found that just 16 percent of children had finished the vaccine series by age 13, which is when the CDC recommends they complete it. And just 35 percent had finished the series by age 15.
This finding is concerning, because the immune response to the vaccine is stronger the earlier kids receive it, says study author Robert Bednarczyk, Ph.D., an assistant professor of global health at Emory University's Rollins School of Public Health. Plus, the vaccine series is most effective if given before adolescents become sexually active.
Also concerning is that some earlier research, like a study published in 2018 in the American Journal of Public Health, suggests that the percentage of people completing the series—at least in a timely way—may actually be dropping.
The CDC recommends that youngsters get two shots of the HPV vaccine at age 11 or 12, between 6 and 12 months apart. Those who are 15 or older when they begin the series need three shots within 6 months for full protection.
The study found that in 2006, about two-thirds of the girls and young women who started the HPV vaccine series had completed it within a year. But by 2014, just 38 percent had done so.
"We don't know how effective it is if you have this very delayed completion" or don't finish the series, says study author Jennifer Spencer, M.S.P.H., a Ph.D. candidate at the University of North Carolina at Chapel Hill.

What experts do know is that getting vaccinated against HPV is critical. HPV, which can often show no signs or symptoms early on, is responsible for 90 percent of all cervical and anal cancers, CDC statistics show, and a large share of cancers of the vagina, penis, vulva, and throat. In total, HPV causes about 33,700 cancers in the U.S. each year.
And research shows that the vaccine is up to 99 percent effective at preventing the development of several types of abnormal cervical cells that can progress to cervical cancer.
"The ability to have a vaccine that can prevent the infection that causes those cancers is such an important advancement in public health," Bednarczyk says. "It should be a top priority for parents to get their adolescents this vaccine."
Here's what else you need to know about the HPV vaccine, and how to make sure kids and teens finish the series.

Vaccination Rates Are Better but Not Ideal
The federal government's official goal is to have 80 percent of girls and boys ages 13 to 15 receive all necessary doses of the vaccine by 2020. According to a 2018 study in the Journal of Infectious Diseases, 27.4 percent of boys and men ages 9 to 26 reported receiving at least one dose of the vaccine in 2015 or 2016, up from just 7.8 percent a few years prior. For girls and women, 45.7 percent had at least one dose of vaccine in 2015 or 2016.
"It's encouraging that we are seeing an overall increase among males," says Eshan Patel, M.P.H., a public-health researcher at the Johns Hopkins University School of Medicine and the study's lead author. "However, overall, we're still doing not that great."
Rates of HPV infection in the U.S. remain high. An April 2017 report from the National Center for Health Statistics found that 25 percent of men and 20 percent of women ages 18 to 59 are infected with what's called high-risk HPV, the type that can cause cancer. Previous studies of just women put the prevalence closer to 15 percent.
"That's pretty startling," says Geraldine McQuillan, Ph.D., an infectious-disease epidemiologist at the CDC and the lead author of the NCHS report. "People tend to ho-hum this whole thing, not think it's really an issue. This is an infection that leads to cancer—it's important."
Completing the Series
Research has shown that primary care physicians don't recommend the HPV vaccine as strongly as they do other vaccines for adolescents, in large part because it takes a good bit of time to discuss and they think parents don't support it for their kids. And some doctors may not consider completing the series a priority for their patients, Spencer says.
Also, doctors may not see kids this age very regularly. Adolescents may be less likely than younger children to go to a doctor for a yearly checkup.
So if your doctor doesn't bring up the HPV vaccine, ask about it.
And to make it easier for your youngster to finish the series, schedule an appointment for the second (or third, when needed) dose right after he or she gets the first, Spencer says. That way, it's on your schedule in advance.
Or ask your doctor's office staff whether they can send you a notice when it's time for your child's next dose. A 2016 study found that not receiving a reminder was a key reason parents forgot to take kids in to finish the HPV vaccine series.
If your child hasn't received the first dose at age 11 or 12, you do have some time.
It's true that it's best for people to get the HPV vaccine before they become sexually active because it's somewhat less effective once people have been exposed to the virus.
But vaccine is still recommended until age 21 for men and age 26 for women, men who have sex with men, and a few other specific groups, the CDC says.
Consumer Reports is an independent, non-profit organization dedicated to helping consumers. We make it easy to buy the right product from a variety of retailers. Clicking a retailer link will take you to that retailer's website to shop. When you shop through retailer links on our site, we may earn an affiliate commission – 100% of the fees we collect are used to support our mission.
Learn more.
Our service is unbiased: retailers can't influence placement. All prices are subject to change.