When you shop through retailer links on our site, we may earn affiliate commissions. 100% of the fees we collect are used to support our nonprofit mission.
Learn more.
It is well established that the taut and agile BMW 3 Series delivers an engaging driving experience. The 3 also boasts a well-crafted interior with high-tech electronics and thorough attention to detail. And now, in addition to three conventional engines and one diesel, BMW is offering a plug-in electric hybrid powertrain.
Although we purchase every vehicle we test, we recently rented a 330e directly from BMW to see how the defining 3 Series characteristics transfer over to a green machine.
The pricey 330e starts at $44,100, about $4,000 more than the diesel and $5,000 more than the closest mainstream version, the 330i. The plug-in uses the regular turbocharged four-cylinder found in the base 3 Series, the 320i, along with the electric drive. Unlike other versions and the diesel, all-wheel drive is not available with the hybrid.
The hybrid can run for about 14 miles on battery power alone. We found that it recharged in 2 hours on 240-volt power, taking in about 6.5 kilowatt-hours.
The default hybrid mode uses the gasoline engine and electric drive to balance power and efficiency. A driver can opt to save the electric charge for future use through a button on the console. This feature is helpful if you want to run on electric power in an urban setting or during stop-and-go driving, rather than use it up on a long hill. The engine can also charge the battery on the fly to regain a few miles when the battery is almost depleted. There is also an electric-only mode that resists turning the engine on unless maximum power is required.
Most hybrids employ a continuously variable transmission (CVT), but BMW eschews convention by using its smooth and responsive eight-speed automatic. This gearbox helps the car perform with verve.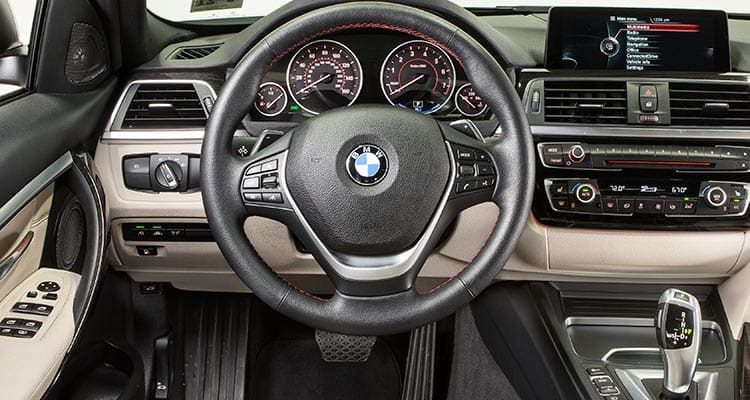 Beyond the hybrid, this 3 Series sedan is largely the same as its conventional brethren. The businesslike interior isn't flashy, but it is impeccably furnished. Supremely comfortable front seats prove supportive for the long haul. The rear seat is less than generous, as with other 3 Series models. The plug-in hybrid trunk is a little tighter than usual to make room for the battery pack. Still, long items can be extended through the folding rear seat.
If you crave the enjoyable 3 Series driving experience yet would like to benefit from gliding on electric power for short distances without the look-at-me styling associated with the BMW i3, Tesla Model S, and Toyota Prius Prime, you'll find the 330e a compelling proposition.
Read the complete BMW 3 Series road test.