When you shop through retailer links on our site, we may earn affiliate commissions. 100% of the fees we collect are used to support our nonprofit mission.
Learn more.
Unless it's a Tesla, electric vehicles typically are good for about a 100 miles or so, and that's on a good day. (Literally, as cold, foul weather saps range.) The new Chevrolet Bolt changes that with an EPA-rated range of 238 miles. Even if it ends up with less than that in the real world, such a long leash endows the car with a much more practical range than rival EVs, demanding less travel planning on the owner's part, much less white-knuckle range anxiety, and more emissions-free serenity.
And the Bolt delivers on this promise for less than half the price of a typical Tesla Model S and even less than the price of the average new car, when factoring tax incentives. The Bolt goes on sale by the end of 2016, with a price starting at $37,495 (before the federal tax incentive of $7,500).
Instead of a 25 to 30-kWh battery, as is typical in other price-comparable EVs, Chevrolet built the Bolt around a large 60-kWh battery pack that forms much of the car's floor. The company also equipped the Bolt with a 7.2-kW onboard charger that facilitates juicing up the car in nine hours on a 240-volt connector, according to GM. Getting 25 miles worth of range in an hour is relatively quick. It's hard to call it fast charging, but the Bolt is also capable of being charged by DC (direct current) to add about 90 miles of range in 30 minutes. Unfortunately, there's no provision for Bolt owners to access Tesla's much higher density network of supercharger stations.
EV-savvy readers might note that the upcoming Tesla Model 3 could supply 215 miles of range, but that Tesla is at least a year away and final pricing hasn't been announced. So, yes, old-school Detroit beat Silicon Valley to the punch with an affordable long-range EV.
The Bolt's rather mundane looks mask the car's advanced technology and sophistication. Take a turn behind the wheel and you immediately feel the silent, instant electric torque from the moment you tap the throttle. With 200-electrified horses on tap, this small hatchback accelerates with gusto.
By virtue of the low-mounted battery, the Bolt feels planted in corners, despite its tall stance. The car is eager to tackle a curvy road and is actually fun to drive—virtues that most EVs can't claim. The ride is firm, yet compliant and composed, making the Bolt feel solid and substantial.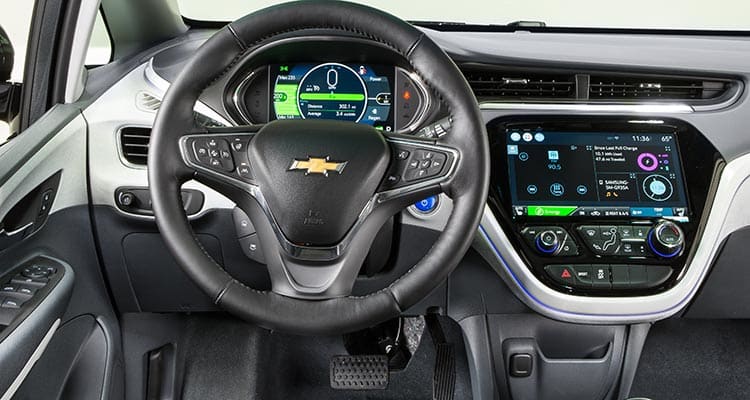 Choosing the gear selector's L position increases regenerative braking, capturing energy to recharge the battery. In this mode, you quickly adapt a one-pedal driving style, barely tapping the brakes. Leave the lever in D and the Bolt coasts like any conventional car. Like in the Chevrolet Volt, there's a paddle you squeeze on the back of the steering wheel that engages even more regenerative braking, acting much like a hand brake.
You sit high in the Bolt—almost on par with small SUVs. Big windows make it feel open and airy, and visibility is good. There's decent space in the rear seat, helped by a totally flat floor. Nicely textured plastic and orange-colored stitching on the optional leather seats liven up the cabin.
A huge 10.2-inch screen dominates the dash. It works really well, with comprehensive energy consumption data. Even the digital instrument panel is artfully done, with prominent information regarding range and an ability to configure the display for audio or phone functions. Apple CarPlay and Android Auto compatibility is nice, too. The optional surround-view camera, on top of the standard backup camera, is a handy touch.
Unfortunately, the electronic gear selector is the same one we didn't care for on the Buick LaCrosse and Cadillac XT5; finding reverse is tricky.
Unlike some EVs, there's decent cargo room in back with an uninterrupted load floor. A removable panel can create a two-tiered floor to allow for concealed items.
The Bolt's top-trim Premier version adds leather, blind-spot monitoring, front and rear heated seats, a heated steering wheel, and the aforementioned surround-view camera. But the Bolt is no luxury car. It is short on premium ambience that you'll find in a Volkswagen eGolf or Ford Focus electric. Items such as a sunroof or power seats are not offered.
Advanced safety gear, such as forward-collision warning and automatic emergency braking, is only optional on the Premier. We wish it was standard.
No question, GM has accomplished a commendable feat here with the Bolt's long cruising range and fairly affordable price. If you don't see a lot of Tesla Model 3 intenders canceling their reservations, it might be due to the Bolt's somewhat dorky styling. Otherwise, we're upbeat about the Bolt and look forward to buying one for a complete test soon.