2023 Alfa Romeo Tonale SUV Preview
The Italian automaker's first plug-in hybrid will be offered alongside a gasoline-powered version Alfa Romeo has formally introduced the Tonale, a small SUV that will also have a plug-in hybrid (PHEV) version. It slots beneath the Stelvio SUV, and it will go up against the entry-level Audi Q3 and BMW X1 when it comes to the U.S. in about a year.
Despite the automaker's claim that the hybrid marks the beginning of a corporate metamorphosis into an alternative-fuel vehicle company, a traditional gasoline version will most likely make up the lion's share of Tonale sales.
Stylistically, the Tonale is an attractive addition to Alfa Romeo's small vehicle line, looking very much like Stelvio, Jr. Its two powertrains position it well in a fast-growing segment. If the Tonale is anything like its stablemates, handling and performance should be magnifico. In a nomenclatural sense, though, this SUV is an odd duck, if only because Tonale—pronounced toh-nah-lay—may read like "toenail" to some. Then again, those likely to buy an Alfa Romeo SUV may already be in the know.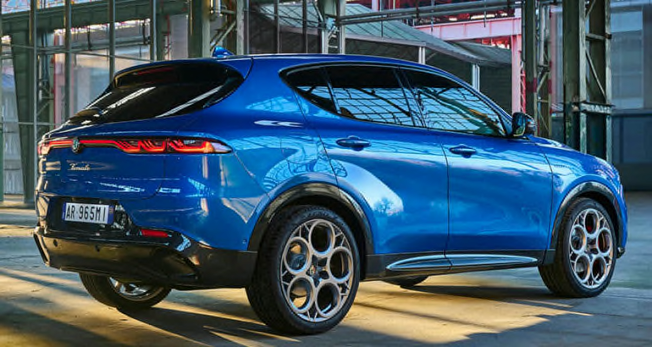 As with all other Alfa Romeos since anyone can remember, the Tonale's signature grille centerpiece—an inverted triangle with rounded corners—sets it apart from the omnipresent herd of SUVs trundling through ubiquitous post-pandemic traffic. BMW does something similar with its twin-kidneys grille, but Alfa adds to that with interesting wheel options and distinctive tail lamps. The overall aesthetic resembles Alfa's existing rear-wheel-drive-based Giulia and Stelvio models, particularly when viewed from the front or rear three-quarter angles. From the side, the Tonale has more cab-forward proportions that belie its underlying front-wheel-drive architecture.
The Tonale's interior is all business, with initial photos showing it to be a drab black. There is more vitality in the lovely red leather interior (shown below) available only in Alfas dressed in red, white, and black exterior paint, an option that will likely be available on at least one of the new SUV's trim levels.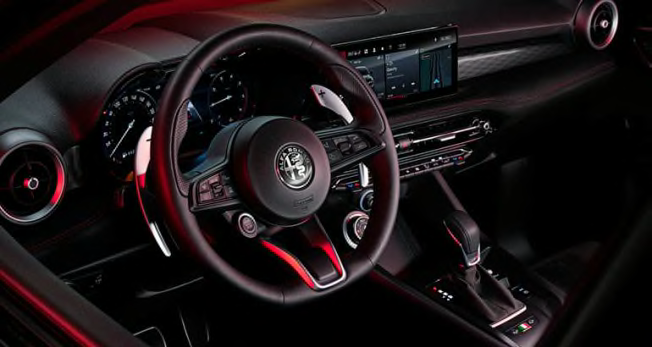 As with other vehicles that fall under the aegis of Stellantis—which in the U.S. includes Alfa Romeo, Chrysler, Dodge, Fiat, Jeep, Maserati, and Ram—the Tonale will come with a Uconnect infotainment system that features a 10.25-inch center screen and a 12.3-inch instrument screen in front of the driver. The latest version—UConnect 5—comes with wireless Android Auto and Apple CarPlay, wireless phone charging, and Amazon's voice-activated Alexa virtual assistant. We found the UConnect system one of the easiest to use and we hope it stays that way. 
Other controls throughout the interior appear to be pretty conventional, with physical switches and toggles for the climate system and a traditional gear lever located in the center console.
 At 178 inches long, it's about the size of an Audi Q3. No word on how much cargo space will be available in the Tonale, or if the hybrid version will have more or fewer cubic feet available for stowage behind the rear seats. 
Both the gasoline and PHEV trims will come with all-wheel drive. The conventional gasoline-powered engine will be a 2.0-liter, turbocharged four-cylinder mated to a 9-speed automatic transmission, and with 256 horsepower and 295 lb.-ft. of torque, it is one of the more powerful SUVs in the segment.
The PHEV is the more interesting option. This trim combines a 15.5-kWh lithium-ion battery, a 90-kW electric motor, and a 180-hp, 1.3-liter turbocharged four-cylinder engine into a package that can crank out 272 horsepower in total. The system's small gasoline engine—which will also be used in the Jeep Compass 4xe and is a version of the Fiat Global Small Engine found in models like the Fiat 500X and Jeep Renegade—drives the front wheels through a six-speed automatic transmission. The electric motor powers the rear wheels. Alfa says the PHEV will go up to 30 miles on electric propulsion alone.
Alfa Romeo will offer its active suspension system in the Tonale. A drive mode selector switch allows the driver to choose different settings that fine-tune the suspension and engine performance to different purposes. There are settings for a softer, more comfortable ride, and also for tighter handling and more lively powertrain performance for those looking for a thrill. There is also a mode aimed at peak efficiency.
There are no official claims yet for 0-60 mph times, either for the gasoline or hybrid versions, and fuel economy estimates have not yet been released.
Active Safety and Driver Assistance Features
Alfa Romeo says the Tonale will come with all the latest active safety features, including automatic emergency braking with pedestrian detection, blind-spot warning, rear cross traffic warning, a high-resolution surround-view camera system, and a driver monitoring system that warns drowsy or distracted drivers to pay attention or pull over. It will also come with advanced driver assistance technologies, including adaptive cruise control and lane centering, that together form the basis of "traffic jam assist," which maintains vehicle speed and direction amid heavy congestion.