When you shop through retailer links on our site, we may earn affiliate commissions. 100% of the fees we collect are used to support our nonprofit mission.
Learn more.
Rivian has shown two vehicles meant to open up a new market for upscale, completely electric vehicles: a first-of-its-kind all-electric pickup, the R1T, and a companion SUV, the R1S.
Starting at $67,500 (or $60,000 after the federal tax credit), the R1T won't be for everyone. And to get the advertised 400-mile range, you'll have to pay thousands more for the higher-kilowatt battery pack. But the base model, with a 300-mile range, is priced like a top-of-the-line Ford F-150 or a GMC Sierra. But unlike those models, the R1T won't consume any gas.
Rivian has revised its on-sale dates from late 2020 to June 2021 for the R1T and August 2021 for the R1S. Consumers can reserve a Rivian with a refundable $1,000 deposit. The company will build its vehicles at a converted Mitsubishi factory in Normal, Ill.
For consumers, the question will be whether Rivian starts to sell vehicles in volume, like Tesla, or flames out like the original Fisker or the more recently spiraling Faraday Future.
There's no electric pickup on the market now, but by the time Rivian's is available, it may have competition. Tesla CEO Elon Musk has said that a pickup is a priority for the coming years, along with the Model Y, a Semi, and a second-generation Roadster.
"I started Rivian to deliver products that the world didn't already have, to redefine expectations through the application of technology and innovation," says Rivian founder and CEO RJ Scaringe. "Starting with a clean sheet, we have spent years developing the technology to deliver the ideal vehicle."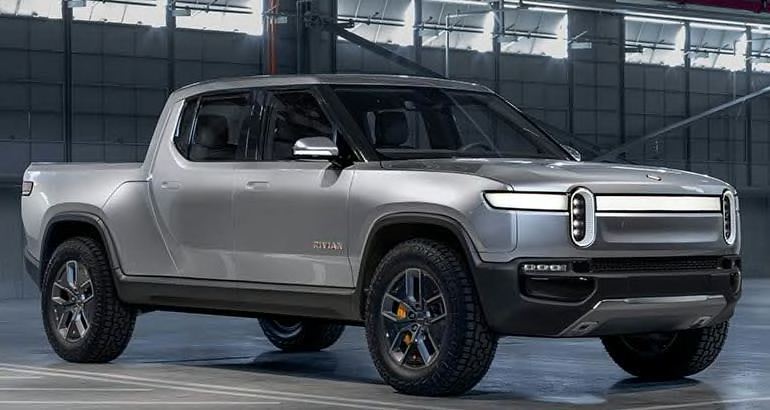 Rivian's vehicles have a sleek, high-tech look on the outside. They have clean lines and unique lighting—two vertical headlights embedded in a long, horizontal white light bar where the grille would be. The trucks sit high off the ground, and with sealed battery compartments, they're capable of driving through 3 feet of water.
The R1T incorporates other electric-motor advantages, like accelerating 0-60 mph in a claimed sports-car-like 3 seconds. An electric motor on each wheel delivers power and traction that adjusts to the road conditions, useful for snow or off-road excursions. Multiple drive shafts, multilink rear suspension, and height-adjustable air springs add to off-road capabilities. The vehicle can lower itself for better aerodynamics and easier passenger access.
In another twist over the conventional pickup, Rivian has used its "skateboard" architecture (the batteries lay flat along the floor) to open up storage areas.
Ford Motor Company has invested $500 million in the electric-vehicle startup Rivian, following a $700 million round of investment in February, 2020, led by Amazon.
Ford plans to use the skateboard to create a new vehicle. The automaker previously stated that it would offer at Mustang-inspired crossover and a zero-emission version of the F-150 pickup truck.
The R1T's storage bed is shorter than that of some midsized pickups, but there are two unique added compartments—a front trunk under the hood and a long "cargo tunnel" behind the rear seats, accessed from outside the vehicle, that's big enough to accommodate skis or a surfboard.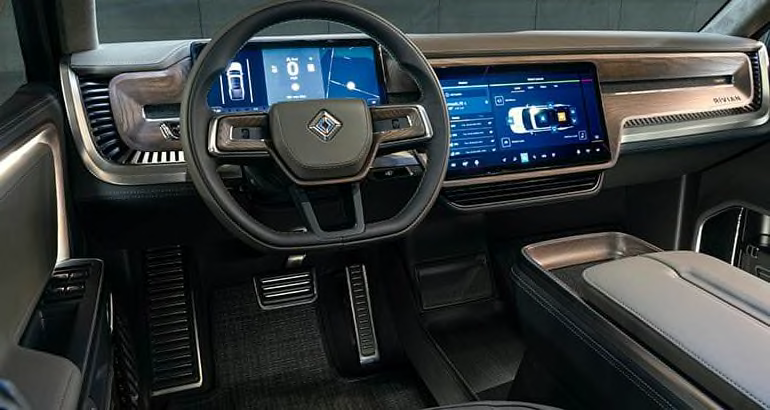 The R1S is a seven passenger, three-row SUV with an upright stance that resembles the Ford Flex or an old Jeep Wagoneer. Like in the R1T, Rivian promises a cabin full of space and premium materials, such as polished wood and leather. As with Tesla models, it has streamlined most controls into a large touch screen—which our testing shows can have distinct advantages and disadvantages.
The R1S Launch Edition starts at $70,000 after tax credit ($7,500), and Rivian says it will have a range of 300+ miles on a full charge. A less-expension R1S Explore comes in January 2022 for $62,500, after tax credit.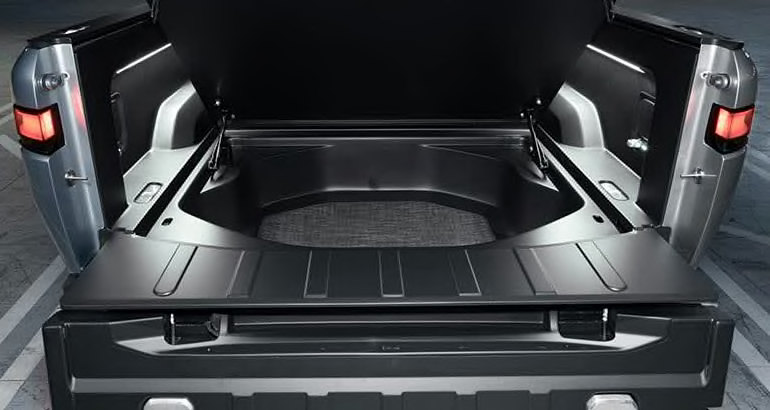 Electric Cars 101
Electric cars are bringing some of the biggest changes the auto industry has seen in years. On the "Consumer 101" TV show, Consumer Reports expert Jake Fisher explains to host Jack Rico why these vehicles might not be as newfangled as you think.