When you shop through retailer links on our site, we may earn affiliate commissions. 100% of the fees we collect are used to support our nonprofit mission.
Learn more.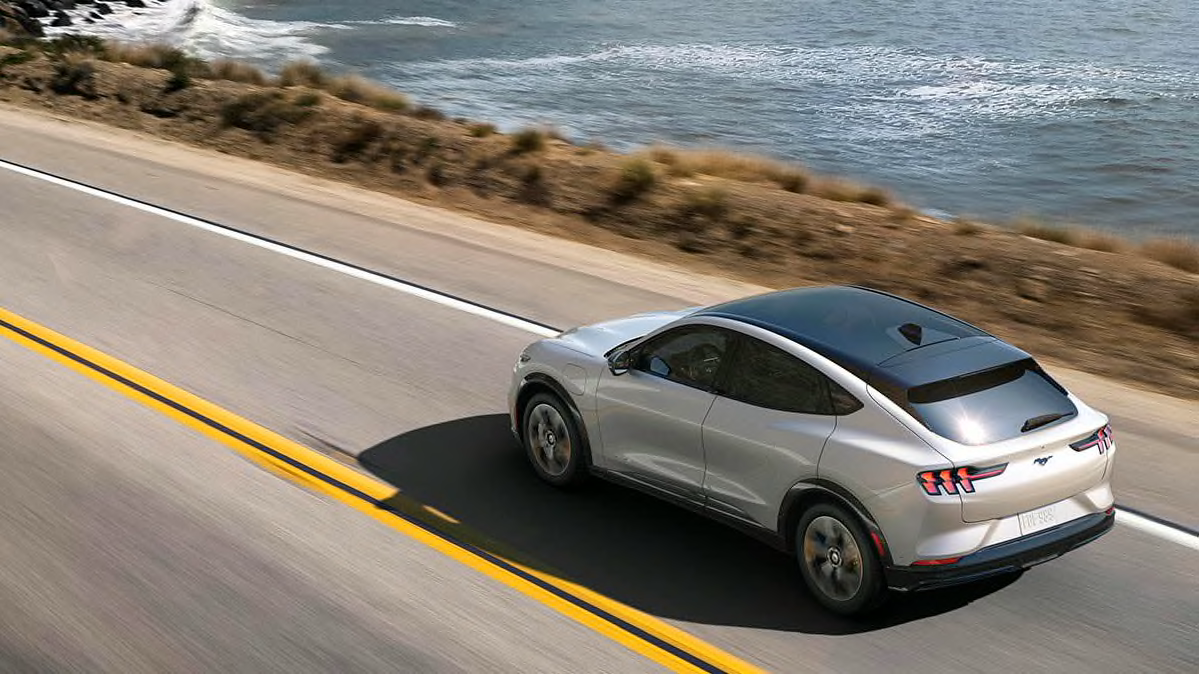 In a major step to address climate change and air pollution, California will require that all new passenger vehicles sold by 2035 meet zero-emissions standards, with the goal of phasing out gasoline-powered vehicles in the state over the next few decades.
California Gov. Gavin Newsom issued the executive order Wednesday, effectively banning new gas-powered car and SUV sales in the state in 15 years. His order also requires medium- and heavy-duty trucks to meet zero-emissions vehicle (ZEV) requirements by 2045.
To be clear, the order will not ban ownership of gasoline-powered cars or prevent their sale on the used-car market.
In addition, the order requires development of new affordable fueling and charging options for EVs. It also calls for the state to invest in alternatives to private, car-based transportation, including a statewide train network and projects that support bicycle and pedestrian infrastructure.
"This is the most impactful step our state can take to fight climate change," Newsom said. "For too many decades, we have allowed cars to pollute the air that our children and families breathe. Californians shouldn't have to worry if our cars are giving our kids asthma."
The executive order should have widespread effects on the auto industry. California is a large enough market to influence which vehicles automakers sell across the U.S., and the state is already responsible for 45 percent of the country's total U.S. ZEV sales. Consumer Reports' experts predict that California's new rule will give consumers more choices and lower prices from a future crop of EVs.
In addition, regulations and consumer interest already have pushed more EVs into the marketplace, and automakers may already have enough EV and hydrogen options on the market by 2035 to meet the mandate. Currently, ZEVs make up 8 percent of CA's total new vehicle sales—a number that has been growing each year.
According to the governor's office, the new passenger car mandate alone will reduce greenhouse gas emissions by more than 35 percent. It would specifically cut by 80 percent oxides of nitrogen emissions, which are linked to cardiac disease, may cause damage to lung tissue in children and adults, and may worsen conditions such as asthma, emphysema, and bronchitis. Last week, the American Lung Association's Road to Clean Air report said California could experience $22 billion in annual public health benefits via widespread transportation electrification.
Under current state regulations, California defines a ZEV as a battery-electric vehicle such as a Nissan Leaf or Tesla model, a plug-in hybrid vehicle like a Toyota Prius Prime, or a hydrogen-powered vehicle such as a Toyota Mirai. Although the number of new affordable EVs on the market is currently limited, the governor's office says it expects the price of these vehicles to drop dramatically because of new technology and economies of scale.
In addition, EVs may save consumers in the long run, says Chris Harto, senior transportation policy analyst at CR and author of an upcoming analysis about the cost of electric vehicle ownership. "Our analysis shows that consumers in California can save about $1,000 a year in fuel costs by switching to an electric vehicle today," he says. "And California drivers can save money overall because lower fuel and maintenance costs will more than offset the current price premium for electric vehicles."
The move is likely to have major ripple effects across the auto industry and for consumers in other states because California is the largest vehicle market in the U.S. In addition, multiple other states follow California's lead on vehicle emission-reduction efforts, which are led by the California Air Resources Board.
The automotive industry sells about 16 million vehicles annually, when there isn't a pandemic, with California accounting for about 2 million of those sales. California sold more than 240,000 ZEVs, plug-ins, and hybrids, according to the California New Car Dealers Association.
The executive order will no doubt add momentum to the development of affordable EVs. This announcement immediately followed Tesla's declaration Tuesday that it will have a $25,000 EV in three years, and Volkswagen's announcement earlier Wednesday that its ID.4 electric crossover will have a price tag that puts it below the average new car, after factoring in federal tax incentives.
"The development of zero-emissions vehicles has accelerated over the past several years in large part due to California's leadership, and consumers across the whole country are able to benefit," says Alfred Artis, CR's California transportation policy analyst.
California is the first U.S. state to put a date on phasing out the sale of new fossil-fuel-powered vehicles. But it joins 15 countries that have already announced similar proposals, including multiple European Union countries, the United Kingdom, Canada, China, Costa Rica, Egypt, India, Israel, Singapore, Sri Lanka, and Taiwan.
Ultimately, Artis says the executive order sets a goal that will put the state on a path toward cleaner air and more affordable EVs. "This broad goal will improve consumer choice and acknowledges the climate realities in the state and the world," he says.