Preview: Electric 2023 Genesis GV60 Charges to Production
Thrilling "boost" feature, drift mode, and facial recognition among the highlights Genesis committed to making all its new vehicles purely electric starting in 2025 with fuel-cell EVs and battery EVs, with the goal of being a 100 percent zero-emission vehicle brand by 2030 and carbon neutral by 2035. Leading its charge is the GV60, a small crossover based on an electric-only platform shared with the Hyundai Ioniq 5 and the more powerful Kia EV6.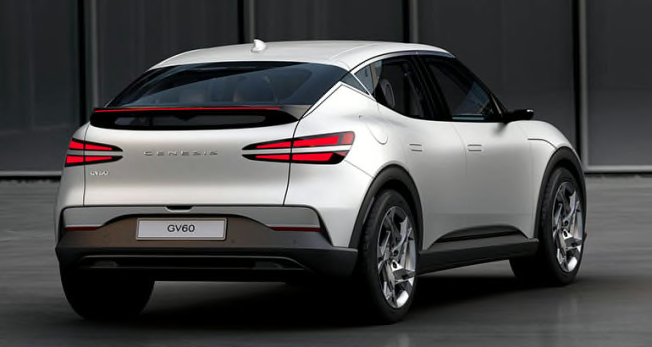 The attractive GV60 touts several innovative features and a long list of potential safety equipment, but we don't yet know how the U.S. version will be outfitted. Current Genesis models all come standard with a comprehensive list of active safety and driver assist systems. As Hyundai, Kia, and Genesis brands shift their focus to electric mobility, there is clear cost savings in developing models with a common platform and hardware. But it remains to be seen how these related models will differ from one another and the competition. Each seems promising, but there appears to be significant overlap in packaging, pricing, and capabilities.
The latest Genesis models have impressed our staff, with good power, handling dynamics, comfort, and interior details, but they share a common demerit of having overly complicated infotainment controls. No doubt, the brand has clear virtues to build on, and we're eager to see how they are applied to this intriguing new model.
The coupe-like GV60 has a smooth exterior, with few styling cues to signal its Genesis lineage. It also appears to share nothing visually with either the Ioniq 5 or EV6. The horizontal headlamps, configured with parallel lines, remind of other Genesis models, but there aren't matching lights on the fenders, as seen on the automaker's SUVs. The hood is a clamshell design that wraps onto the fenders, all the way to the wheel arch. Underneath is a modest front storage compartment.
The sharp slope to the rear contributes to the sporty silhouette, rather than maximizing cargo space. This is similar to the aft design of the GV70.
Perhaps the most striking design facet is the side mirrors. On models shown during the online event, traditional mirrors are replaced with video cameras that feed sizable monitors inside the car, located at the base of the windshield pillars. This is a clever concept to improve aerodynamics, but it won't see production for U.S.-bound cars.
As the name implies, the GV60 is smaller than the GV70—by 6 inches. For comparison, it is almost 8 inches shorter, bumper to bumper, than the Ford Mustang Mach-E.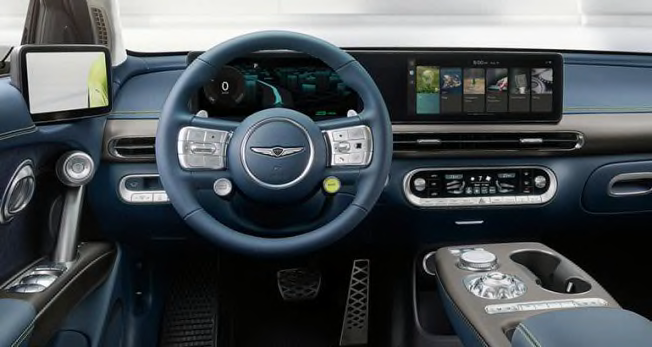 The cabin has a much different appearance than current Genesis models, emphasizing display screens and elliptical shapes. However, it does follow brand tradition with luxurious embellishments that add textures to common controls. Perhaps the most unique of these is the "crystal sphere" in the center console, adjacent to the twin cup holders. When the vehicle is turned off, this creates mood lighting. When the vehicle is turned on it rotates to expose the gear selector.
Access to the car is among its show-off features, with face recognition used to unlock the vehicle and a fingerprint reader to start it. This combined system can be configured for two drivers, each connected to a user profile that affects many settings throughout. And to provide remote access for others, there is a phone-based digital key.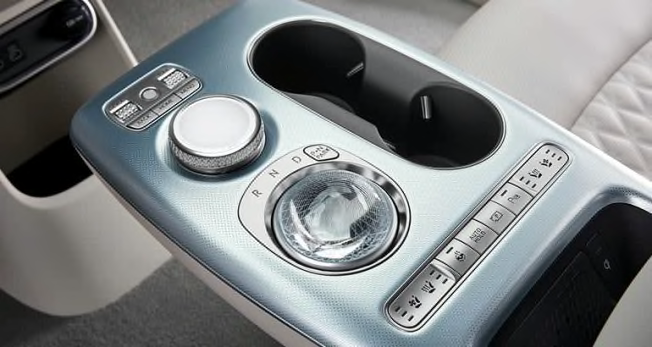 The standard rear-wheel-drive GV60 uses a single motor with 225 horsepower; Genesis estimates that it has 280 miles of range. The all-wheel-drive standard version adds a second motor and sees combined output increase to 314 horsepower, with an estimated 248 miles of range.
Stepping up to the performance model brings two motors, with a combined 429 horsepower output. For maximum acceleration, there is a boost button that delivers extra juice to the motors for up to 10 seconds, raising output briefly to 483 horsepower. This enables 0-to-60-mph sprints in less than 4 seconds. Maximum range is expected to be 229 miles per charge.
And to have extra fun with that power beyond blasting in a straight line, there is a "drift" mode that changes how the power is distributed (emphasizing the rear wheels) and stability control, allowing the driver to slide the vehicle around. This is a great party trick for television commercials, but it is clearly not wise to engage in such EV hooliganism on public streets.
The driver can choose from three sound effects to give the car distinct aural personalities, including futuristic, electric, and a simulated sporty exhaust sound.
All GV60s use a 77.4-kWh battery. It is compatible with 400-volt (150 kw) and 800-volt (250 kw) fast-charging stations in public places, enabling the car to go from 10 to 80 percent charge in 18 minutes using a 250 kw DC fast charger.
The sophisticated, adaptive suspension uses the front camera and navigation system to predict road conditions and adjust the suspension accordingly, such as road surface and speed bumps.
Safety and Driver Assistance Systems
Genesis has developed a broad portfolio of active driver assist features, although it is not clear which will be standard. The features include forward collision warning, automatic emergency braking, blind spot warning, lane keeping assist, and adaptive cruise control.
It will also offer driver attention monitoring, remote parking, rear collision warning and automatic braking, multi-collision braking to intervene after a collision, and safe exit assist, which watches for approaching traffic when passengers attempt to open the doors. And it will offer some level of autonomous driving assistance.