2023 Subaru Solterra EV Charges to Production with Up to 228 Miles of Range
Built on a platform shared with the Toyota bZ4X, the Solterra promises to be off-pavement ready for weekend adventurers As Subaru prepares to launch its first-ever electric vehicle, the Solterra, we caught up with it at the New York International Auto Show. The new outdoor activity-inspired compact SUV uses a two-motor electric powertrain to form a new version of Subaru's symmetrical all-wheel drive system, offering 8.3 inches of ground clearance for weekend adventurers traversing dirt trails. 
What it competes with: Nissan Ariya, Toyota bZ4X
What it looks like: The offspring of a Subaru Crosstrek and a Toyota RAV4.
Powertrain: Front and rear electric motors with a combined 215 hp; all wheel-drive
Price: $48,495-$51,955 (plus $1,225 destination charge)
On sale: Mid-2022
Subaru faithful have been waiting with bated breath for news of the brand's entry into the EV market as other automakers, one after another, have signaled their intent. If the Solterra meets the light-duty off-roading and snowy weather performance standards set by Subaru's other cars, the brand's EV converts will most likely be happy with it. All-wheel drive and decent ground clearance are a good start, as are good cargo room and interior styling cues familiar to anyone who has owned a Subaru built within the last few years.
Subaru says the Solterra's body styling is pinned on its trapezoidal grille—seen here as a blank panel because a traditional grille is unnecessary on an EV. It's worth noting that the trapezoidal grille blank, thin headlight housings, and oval-shaped blue brand badge makes the Solterra look not unlike Ford's Mustang Mach-E from the front, as does its deeply sloping rear hatch.
The similarities end there, though. The Solterra's styling could be described as angular and active, with chiseled lines and stabs of black plastic accents suggesting ruggedness and motion. The roof appears to be adorned with utility rails—a must for any self-respecting Subaru owner, who likely has bicycles, cargo bins, kayaks, and other kit in that vein to clip to the roof.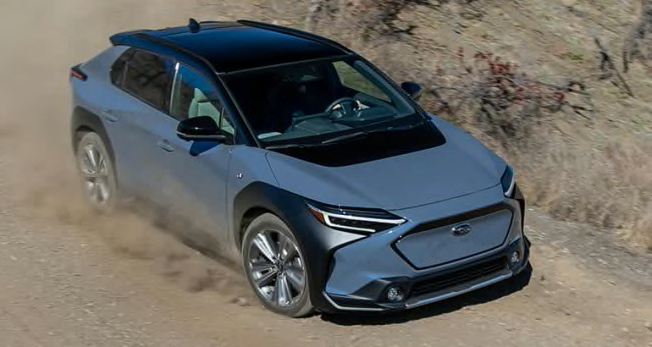 Much like many current Subaru models, the center of the dash is dominated by a large touch screen, although the Solterra's is a 12.3-inch horizontally oriented unit. And it appears to be running a version of the redesigned infotainment system debuting on many new Toyota and Lexus models. Wireless Android Auto and Apple CarPlay will be standard, and a wireless smartphone charging dock will be optional. The turn signal and wiper stalks, and several of the dash controls, look as though they may have been lifted from Toyota's existing parts bin—not that that's a bad thing.
Volume-wise, the interior space is smaller than the current Subaru Forester by a few cubic feet. Despite its steeply raked rear glass, the Solterra offers a bit more cargo space than the Forester. That's likely because the Solterra has a large, flat load floor, which Subaru says can be arranged at two different heights. The 60/40-split rear seats fold down to provide even more cargo space. The rear hatch opening is more than 41 inches wide to ease loading and unloading.
Thanks to the e-Subaru platform that underpins the Solterra, the floor of its passenger compartment is flat, too, which Subaru says aids legroom.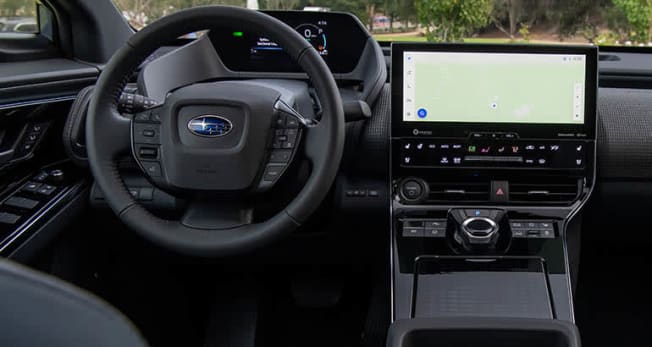 Subaru hasn't yet offered details on the individual power output of the Solterra's two electric motors, but their combined power output is 215 hp and 249 lb.-ft. of torque. The all-wheel-drive system will include the X-Mode traction and hill descent features found on many gasoline-powered Subarus. The automaker says maximum range is 228 miles. Like every EV, the Solterra will be compatible with both Level 1 and Level 2 charging, as well as commercial DC fast charging. Subaru says the battery can be charged to 80 percent capacity in under an hour using DC fast charging.
The Solterra's infotainment system is enabled to make use of apps to help the driver find charging stations, tapping into a network of more than 3,000 DC fast chargers and 38,000 Level 2 chargers.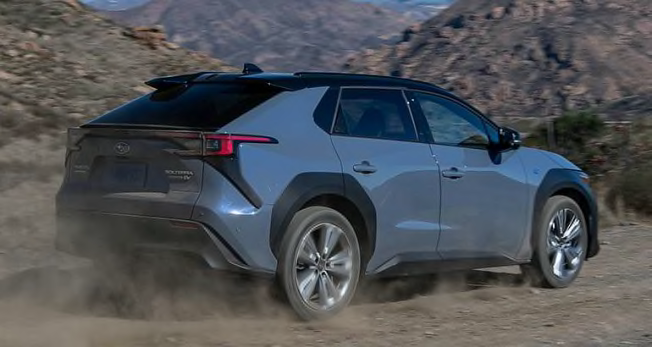 Safety and Active Features
The Solterra will come with EyeSight, Subaru's suite of advanced active safety features that includes automatic emergency braking, blind spot monitoring with rear cross-traffic, lane change assist features, and adaptive cruise control. The car will also have a 360-degree view camera and a parking assist feature that applies the brakes if an obstacle is encountered while backing up. A new feature called safe exit assist that alerts passengers of approaching vehicles when getting out of the car will also be included.