When you shop through retailer links on our site, we may earn affiliate commissions. 100% of the fees we collect are used to support our nonprofit mission.
Learn more.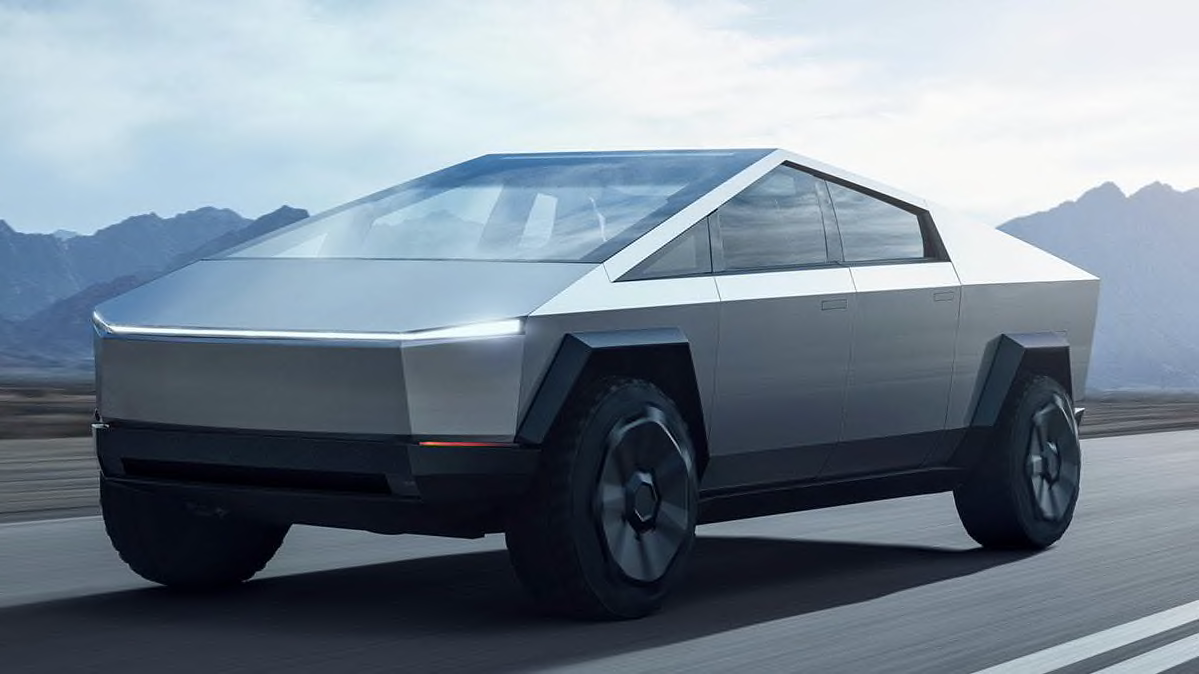 The Tesla Cybertruck rocked the automotive world when the prototype was unveiled in November 2019. Its brash, edgy design is unlike any vehicle that has been produced, seeming to draw inspiration from children's building blocks and the DeLorean DMC-12. It boasts big numbers, with sports car–like acceleration, heavy-duty-truck-grade tow capacity, massive 500-mile range, and the overpromising Full Self-Driving driver-assistance features.
The company originally said the truck would begin production by the end of 2021, but as Tesla CEO Elon Musk shared on a recent earnings call, production will be pushed back into 2022. Tesla.com now indicates that productions nears in 2022. That sounds like 2023 for deliveries, especially given that the company has several major barriers to overcome first.

Musk repeated a now-familiar saying during the earnings call: "It is easy to make prototypes, hard to do mass production." He did state that engineering is complete, and the Cybertruck is moving into a beta phase this year. But there are numerous important factors that will impact timing.
It will be built at a new facility in Texas that is still under construction, and the Cybertruck assembly line will start after the updated Model Y begins production there.
Among the challenges Tesla faces is solving its current chip shortage. Company officials stated that this hurdle affects when the Cybertruck and Semi tractor-trailer truck will begin production.
Another roadblock is getting its next-generation 4680 batteries built at a sufficient volume. Tesla's own descriptions of the challenges in doing so point to these promising batteries being a real factor with timing.
With all the tech explained during the August, 2021, "AI Day" presentation, it would seem that production may also be aligned with the availability of the upcoming chip from Tesla for running its Full Self Driving suite of features.
Musk has indicated that the production Cybertruck will be a hint smaller than the prototype, whose key dimensions were a near-match for the Ford F-150 crew cab, making it more compatible with the subterranean tunnels created by the related Boring Company to help vehicles move under busy cities.
It is still hard to believe that the company truly intends to produce such an angular product, but the U.S. Design Patents filed this July show a design that very much resembles the Cybertruck prototype. Clearly the styling and specifications have garnered a large following, with reports pointing to more than a million refundable deposits made on the Cybertruck. Even a fraction of that would be stunning, given the radical design and how little is known about the final product.
More details will emerge as the countdown to production continues. Here is what we know so far.
What it competes with: Chevrolet Silverado Electric, GMC Hummer EV, Ford F-150 Lightning, Rivian R1T
What it looks like: A sci-fi movie extra, designed as a cross between a DeLorean and a door stop.
Powertrains: Single-motor, rear-wheel drive; dual- and tri-motor with all-wheel drive.
Price: $39,900-$69,900
On sale: Available for preorder now. Delivery estimated to be in 2023 at the earliest.

CR's Take
It's hard to believe this is a production-intent vehicle, given its unconventional design. The shape and structure raise all kinds of questions that will eventually be answered, including outward visibility, pedestrian compatibility, and most important, whether it is just a prank.
The performance claims are shocking. About 18 months after the 500-mile range and 2.9-second 0-to-60-mph time were announced, we learned about the production challenges, including getting the crucial, next-generation batteries built. Living up to those promises will be difficult, and the engineering challenge to fulfill the headline-grabbing boasts will ultimately play a role in the rollout timing. Tesla does have a history of making stunning claims, then taking the time necessary to fulfill them. To its credit, the company does make good on its power and range targets.
We are very interested to see how it performs in crash tests. Other Teslas have done extremely well, but the boasts about the solid steel body, tough glass, and the sharp angles and planar surfaces have us curious about its ability to absorb crash energy.
Whatever happens with the production Cybertruck, it will be interesting, and we will test it.
Outside
The head-turning styling uses a hard stainless steel "exoskeleton," similar to airplane design. Musk showed off the strength of the truck's body panels at the unveiling, with an onstage demonstration of a sledgehammer swung hard at the door panels. Each time, the sledgehammer bounced off of the panels without leaving a mark. The glass is likewise said to be much tougher than what is commonly used in the industry.
The 6.5-foot bed has a large, hidden storage compartment. The tailgate on the prototype folds down like on most trucks; we hope the production model will have a gate that is also side-hinged, like on the Honda Ridgeline, to allow access to that underfloor bin. The tailgate, at least on the prototype, does have a neat trick: It can tilt down and extend to become a ramp for loading a motorcycle, an all-terrain vehicle, a lawn mower, a grill, or other wheeled items.
The prototype has a retractable tonneau cover that seals the bed with a smooth top that makes for a single, angled surface that extends over the roof, contributing to the defining wedge shape. Tesla has shown a potential cap design for the bed that could be used for camping.
The Cybertruck has been shown only with bare metal, reminiscent of the DeLorean. It is unknown whether the futuristic pickup will be offered in colors.
Inside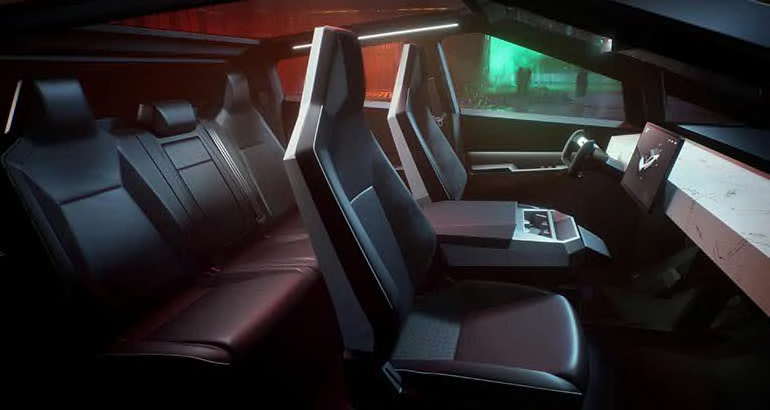 The interior has a minimalist design, with a large, dominant center screen—like current production models. The illustrations from Tesla show a yoke in place of a round steering wheel, as is now available on the Model S.
There are two seating configurations: Five seats, with two front seats flanking a large center armrest with storage and two cupholders, and six seats with a front bench.
The illustrations reveal a glass top, giving the cabin an open feeling akin to the Model X.
What Drives It
The Tesla truck will come in three variations, with one, two, or three motors. Specific output hasn't been released yet, but Tesla has published key performance figures as outlined in the chart below.
Tesla Cybertruck Versions
| | | | |
| --- | --- | --- | --- |
| | Single-Motor RWD | Dual-Motor AWD | Tri-Motor AWD |
| Price | $39,900 | $49,900 | $69,900 |
| Range (miles) | 250+ | 300+ | 500+ |
| 0-60 mph (seconds) | <6.5 | <4.5 | <2.9 |
| Tow capacity (lb.) | 7,500+ | 10,000 | 14,000+ |
| Payload (lb.) | 3,500 | 3,500 | 3,500 |
Safety and Driver Assistance Systems
No details on safety systems have been released, but it is reasonable to assume the Cybertruck will include at least the features that are found on the Model 3, Model S, and Model X.
Those Tesla models come standard with forward collision warning, automatic emergency braking with pedestrian detection, lane departure warning, and lane keeping assist. However, they do not include blind spot warning or rear cross traffic warning.
Full Self-Driving Capability is offered for $10,000. The website says that "selecting Full Self-Driving today will secure your price as it increases in the future." Last month, Tesla introduced a new subscription plan for the driver assistance package at $199 per month. The automaker describes FSD as a "suite of more advanced driver assistance features" that are designed to work under a driver's active supervision, including automatic lane changes, active parking assistance, and traffic light and stop sign recognition. To be clear: Despite the feature's name, no commercially available self-driving cars currently exist.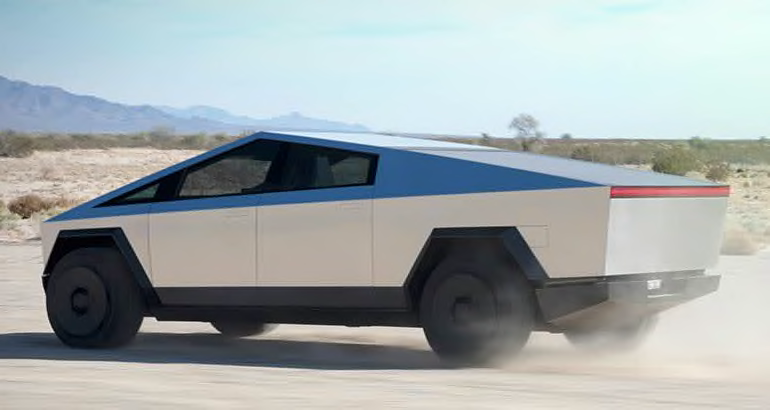 Electric Cars 101
Electric cars are bringing some of the biggest changes the auto industry has seen in years. On the "Consumer 101" TV show, Consumer Reports expert Jake Fisher explains to host Jack Rico why these vehicles might not be as newfangled as you think.