When you shop through retailer links on our site, we may earn affiliate commissions. 100% of the fees we collect are used to support our nonprofit mission.
Learn more.
The Toyota Mirai is proof that hydrogen fuel-cell vehicles are a viable transportation option—but not yet for widespread use.
The Mirai's primary advantage is that it's an all-electric car that doesn't suffer from typical electric-vehicle limitations. It uses hydrogen as fuel, which is converted into electricity to power the car. The Mirai takes just a few minutes to refill rather than the hours to recharge a conventional EV. And the Mirai's 275-mile range exceeds most EVs by a wide margin. Even better: The only tailpipe emission is water vapor.
But the hydrogen-fuel infrastructure is very limited outside of California. Toyota will cover fuel costs for three years or up to $15,000, whichever comes first. The government estimates annual fuel cost at $1,250 for 15,000 miles, about twice the gas cost for a Toyota Prius.
On the road, the 4,100-pound Mirai has sluggish acceleration and leans into turns, a sensation made more extreme by its tall stance.
The ride, however, is almost luxury-car plush, effectively smothering any bumps in the road. Outside noise is kept to a minimum. Despite the unconventional layout, most controls work intuitively.
Be warned, however: This sedan fits only four adults, and those in the rear must contend with limited legroom, short seats, and jammed-up toes.
Forward-collision warning and automatic emergency braking come standard.
Read the complete Toyota Mirai road test.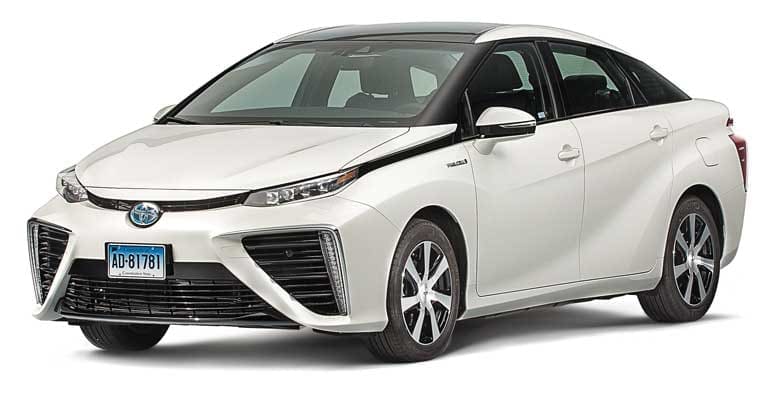 HIGHS: Long range for an EV, relatively quick fill-ups, ride comfort, standard AEB, emits only water vapor
LOWS: Only seats four, clumsy handling, limited hydrogen infrastructure, cargo space
POWERTRAIN: 153-hp electric; 1-speed direct drive; front-wheel drive
FUEL RANGE: 275 miles per tank
PRICE AS TESTED: $58,335
More Recent Reviews
Editor's Note: This article also appeared in the October 2017 issue of Consumer Reports magazine.