When you shop through retailer links on our site, we may earn affiliate commissions. 100% of the fees we collect are used to support our nonprofit mission.
Learn more.
At Consumer Reports, we welcome smart, cutting-edge automotive convenience features, but we also prioritize safety. That's why last month, after evaluating Tesla's Summon self-parking feature, Consumer Reports contacted the company to express our concerns about the functionality of that system.
Summon allows Model S owners to tuck their Teslas (which have wide bodies) into a garage or tight parking spot, without having to be in the vehicle. That's a pretty revolutionary idea, since, by design, it allows a car to move without the operator having physical access to the steering wheel or brake pedal. This makes it critically important for that vehicle to have failsafes that prevent it from accidentally colliding with a wall or other obstacle.
When it was first rolled out, Summon allowed users to park their vehicles using Tesla's smartphone app or the keyfob, provided they were positioned within 10 feet of the car. Pressing once on the smartphone screen or keyfob started the car in motion, pressing a second time stopped the vehicle.
We tried Summon multiple times with a Model S P85D we purchased for Consumer Reports' test fleet, and discovered several scenarios that could make it difficult for a user to stop the vehicle—including a dropped keyfob or an accidental shutdown of the app while the car was in motion.
Consumer Reports has long advocated for "deadman's switches," and we believed that the Tesla Summon feature should have one, as well. In this case the user would always have a finger on the app or keyfob in order for the car to keep moving. Drop the controller or take your finger off the keyfob or smartphone for any reason, and the car should stop.
In response, Tesla promised to send an update out wirelessly to all Model S's. Our P85D received its update on February 26, and we have evaluated it to see if the fix addresses our concerns.
---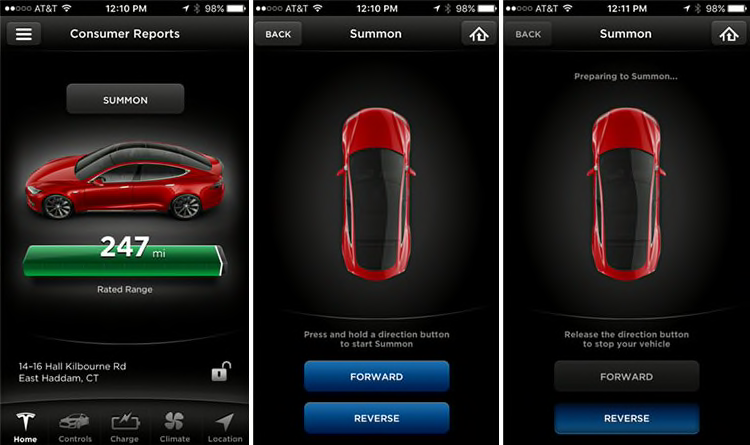 Our Findings
As before, the user has to activate Summon mode through the car's interface. The Summon function on Tesla's smartphone app has been updated, and now does operate as a deadman's switch. When we tried it out, the car stopped almost immediately when a tester removed his finger from the screen.
Tesla also has disabled the use of the keyfob in Summon's default mode. Keyfob control is still available, but to enable it, users will have to go through a series of menus in the car's interface and acknowledge warnings about its use. We don't recommend using this, since the keyfob still does not operate as a deadman's switch. Tesla told Consumer Reports that, because the keyfob can only communicate with the vehicle for four seconds at a time, the company could not update its functionality, so we suggest people only use the app.
It's encouraging to see how wireless technology allowed a safety fix of this nature to be executed so quickly across a line of deployed vehicles. However, the Summon rollout also highlights the importance of making sure such software is as safe as possible and takes all potential consequences into account before deploying into the field.
Read our complete Tesla Model S road test.