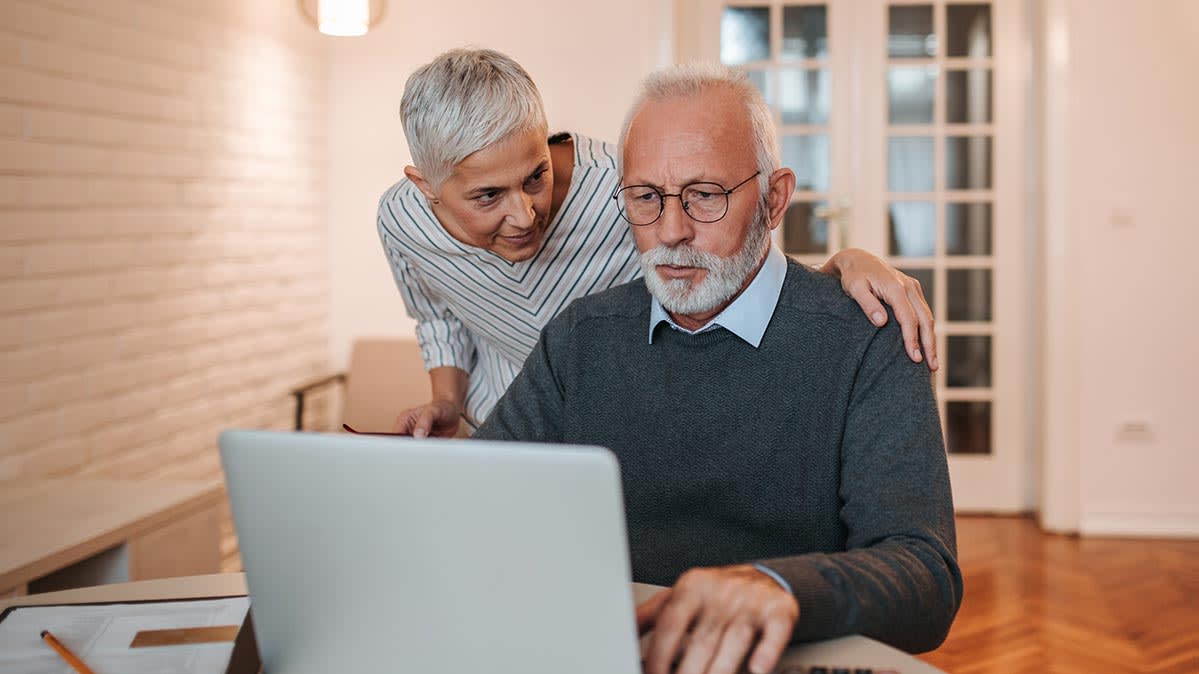 Staying offline doesn't keep you safe from online threats.
That's bad news for many older Americans. According to a 2017 study by the Pew Research Center, 34 percent of senior citizens in the U.S. don't use the internet. If you narrow that list to include only those over 80, the number rises dramatically, to 56 percent.
Tech-averse seniors may think that by staying offline they can avoid web-based scams that cost so many consumers both money and peace of mind.
"There's this fear of the unknown, and it's totally understandable," says Marci Lobel-Esrig, founder of Silver Bills, a service that handles household bills for seniors electronically. "But I think there's a false sense of security in hard-copy checks."
Privacy and security experts say that staying offline actually carries big risks. Carrie Kerskie, president of Griffon Force, a Florida-based firm that helps identity theft victims, explains that online accounts that haven't been set up can fall into the hands of cybercriminals.
"It's much easier for bad guys to access accounts than most people imagine," she explains.
Anatomy of an Online Scam
The problem starts when criminals buy basic information about a consumer on a criminal marketplace, probably on the dark web. "I can go online and buy personal data for as little as five dollars," Kerskie explains.

Such information could include your name, address, phone number, birthdate, and a Social Security number, which may have been stolen in a data breach and then put up for sale. And that material can be enough for a cybercriminal to initiate online access to an existing banking or investment account—sometimes even with the help of an unwitting customer service rep.
"The bad guy pretends to be the account holder," Kerskie says.
One factor that makes this ploy dangerous is that it can go undetected for a long time. Sometimes an institution will snail mail a notification to the account holder to acknowledge that online services have been set up. But Kerskie says that some of her clients have discarded the notices, thinking they were junk mail, sent in error, or were even some kind of scam.
Even in a best-case scenario, it can take a week or more for such a notice to be delivered, leaving a cybercriminal plenty of time to drain an account.
Kerskie worked with one couple who rarely used retirement funds in a brokerage account. "They never touched it, so they didn't pay much attention to it," she says. "They didn't have checks for the account, much less online access."
But that didn't stop the cyberthieves from gaining control of the account—and by the time anyone noticed the unusual activity, the hackers had wired $50,000 out of the account.
How to Protect Yourself
There's a simple way to deal with the problem.
We contacted JPMorgan Chase, Fidelity, and Charles Schwab, and they all had the same security solution: Just open online access for your account and secure it with a strong, unique password, which you shouldn't share with anyone you wouldn't give account access to.
"The advantage of an online account is that you can get instant access. You can get real-time information about any transaction," says Tom Kelly, a spokesman for Chase. He also encourages consumers to check their balances and statements regularly, either on paper or online, and report any unusual or unauthorized transactions immediately.
Although financial accounts should be your first priority, also make sure to protect your telephone and wireless accounts, which are a prime target for cybercriminals.
Kerskie says hackers target cell phones because they are commonly used to access banking and investment accounts, credit cards, and other important services. If criminals gain access to a single bank account, the damage can be severe. But a consumer's smartphone can help to unlock a range of accounts.
If you're the sort of consumer who's simply not interested in doing business online, get someone to do it for you. If you have an adult child or a trusted friend who can set up the online account features and monitor them for unusual activity, you're golden.
For further peace of mine, says Lobel-Esrig, you can add a service such as Eversafe, an identity theft monitoring program she recommends that has senior-friendly features, including the option to allow an adult child or other authorized representative to receive notices of unusual account activity on your behalf.
How to Create Strong Passwords
Think your passwords are tough to hack? Think again. On the 'Consumer 101' TV show, host Jack Rico and Consumer Reports expert Bobby Richter show how to protect your most private information online.
Consumer Reports is an independent, non-profit organization dedicated to helping consumers. We make it easy to buy the right product from a variety of retailers. Clicking a retailer link will take you to that retailer's website to shop. When you shop through retailer links on our site, we may earn an affiliate commission – 100% of the fees we collect are used to support our mission.
Learn more.
Our service is unbiased: retailers can't influence placement. All prices are subject to change.