Infrastructure Law Includes $65 Billion for Improving Internet Access
Internet service providers will be required to offer low-cost plans as well as clear nutrition-label-style information on pricing and services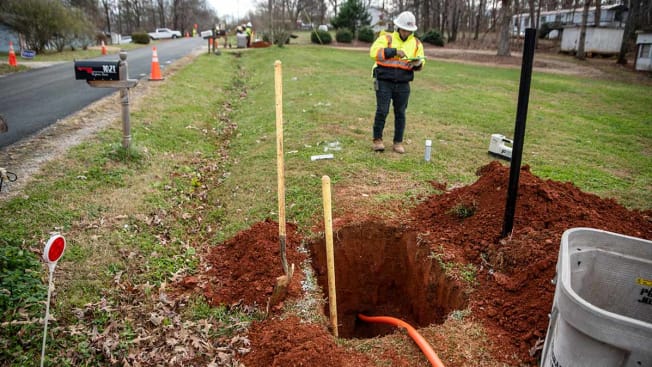 The federal government is allocating about $65 billion to improve broadband internet access in rural areas and make broadband more affordable for lower-income households across the U.S.
The internet provisions are included in the $1 trillion-plus Infrastructure Investment and Jobs Act signed into law today by President Joe Biden.
States will receive large grants to pay for internet improvements. The legislation extends a federal discount on broadband service for low-income families. And it requires clear, uniform labeling of internet prices that will help consumers compare plans and understand the fees on their monthly bills.
Consumer advocacy organizations, including Consumer Reports, hailed the measure as a major step toward addressing internet inequalities in the U.S.
What the New Law Does for Broadband Access
These are the major internet-related provisions of the Infrastructure Investment and Jobs Act.
Internet bills will be easier to read and compare. The legislation requires internet providers to use a uniform label to describe their service offerings and prices. The format, which is modeled on food nutrition labels, was proposed by the Federal Communications Commission in 2016 but then reversed by a new FCC chair in 2017. The intent is to let individuals easily make informed decisions when shopping for an internet provider and a service plan. 
Internet discounts become permanent. The Emergency Broadband Benefit Program, which offers monthly discounts of up to $50 to consumers, was established by Congress in response to the COVID-19 pandemic to help low-income families afford their monthly internet bill. But it's set to expire either when the pandemic is declared over or the funding runs out. The new bill allocates $14.2 billion to extend the subsidy indefinitely under a new program called the Affordable Connectivity Fund. It provides a $30 discount on service for qualifying households. And now, ISPs have to apply the discount to any internet plan a consumer wants to sign up for. Some participants have complained that ISPs were pushing them to choose higher-priced plans that would be difficult to afford once the discount expired. "The reported shenanigans of some ISPs to upsell our most vulnerable consumers as a condition for using the emergency benefit have been addressed in this legislation," Schwantes says. "Allowing consumers maximum flexibility for how they wish to use their benefit will increase the effectiveness of this program."
States get money to improve internet infrastructure. The bulk of the money, $42.5 billion, will go directly to states and territories to fund internet improvements. The intent is to focus on unserved and underserved areas of the country, those that lack any internet access or where consumers can receive only low-bandwidth speeds. At least $100 million is reserved for each of the 50 states, and an additional $100 million is to be split among American territories, such as Guam and the U.S. Virgin Islands.
Internet providers are required to offer low-cost options. Internet providers that receive federal grant money will be required to offer low-cost service to eligible low-income households. Advocacy groups including CR are hoping this rule will one day be expanded to include all internet providers, whether they receive federal funding or not.
Digital equity, inclusion, and literacy programs are implemented. The bill includes $2.75 billion for the Digital Equity Act, which will help states develop comprehensive plans to ensure equal access to the internet for historically underserved communities, and to fund projects that make the internet more accessible, such as WiFi hot spots in schools and digital literacy programs for seniors. The intent is to help close the digital divide, which tends to hit low-income families and communities of color the hardest.
The FCC writes rules to stop "digital redlining" by internet companies. The bill requires the agency to adopt rules within two years to address "digital redlining," in which internet providers decline to build or offer access to broadband service in areas deemed unlikely to be profitable. Part of the FCC's job will be to establish what it means to have equal access to broadband and prevent discrimination of access based on income, race, ethnicity, color, religion, or national origin. The FCC will need to determine what actions by a service provider would constitute a violation of those rules.
Advocates are largely praising the current legislation as a big win for consumers. But some key provisions initially proposed by Democrats and Biden are missing.
One called for higher, symmetrical upload and download speeds for companies applying for grants. Until recently, most consumers only had to worry about download speeds, or how fast videos and web pages arrived in their homes. Recently, upload speeds have become more important because they affect video calls, including teleconferencing calls with co-workers and videochats with family and friends. People who have fiber connections such as FiOS may already enjoy fast uploads, but many cable internet subscribers experience slow uploads that can inhibit teleconferencing.
The original provision didn't make it into the bill, but the Senate bill did adopt a threshold of 100 megabits per second for downloads and 20 Mbps for uploads. Cable companies argued that their networks aren't capable of supporting faster upload speeds and that they weren't needed by most consumers.
Also removed from the Senate bill were provisions that would have encouraged municipal broadband networks, which are built and run by city and town governments, often in cooperation with private-sector companies. Biden's original $100 billion broadband proposal prioritized support for broadband networks owned or operated by local governments and nonprofits, "providers with less pressure to turn profits and with a commitment to serving entire communities," according to a White House fact sheet.
Municipal broadband networks have been opposed by many in the broadband industry and congressional Republicans, who introduced legislation earlier this year banning them nationwide. In addition, 18 states have laws curtailing municipal networks, saying that the restrictions can promote competition in the private sector. Consumer Reports supports the right of communities to choose for themselves whether to invest in municipal broadband systems. The same position is held by three-quarters of Americans, according to a recent nationally representative survey of 2,565 adults (PDF) conducted by CR. 
Editor's Note: This article was updated to reflect the passage and signing of the infrastructure law. The article was originally published Aug. 5, 2021.