When you shop through retailer links on our site, we may earn affiliate commissions. 100% of the fees we collect are used to support our nonprofit mission.
Learn more.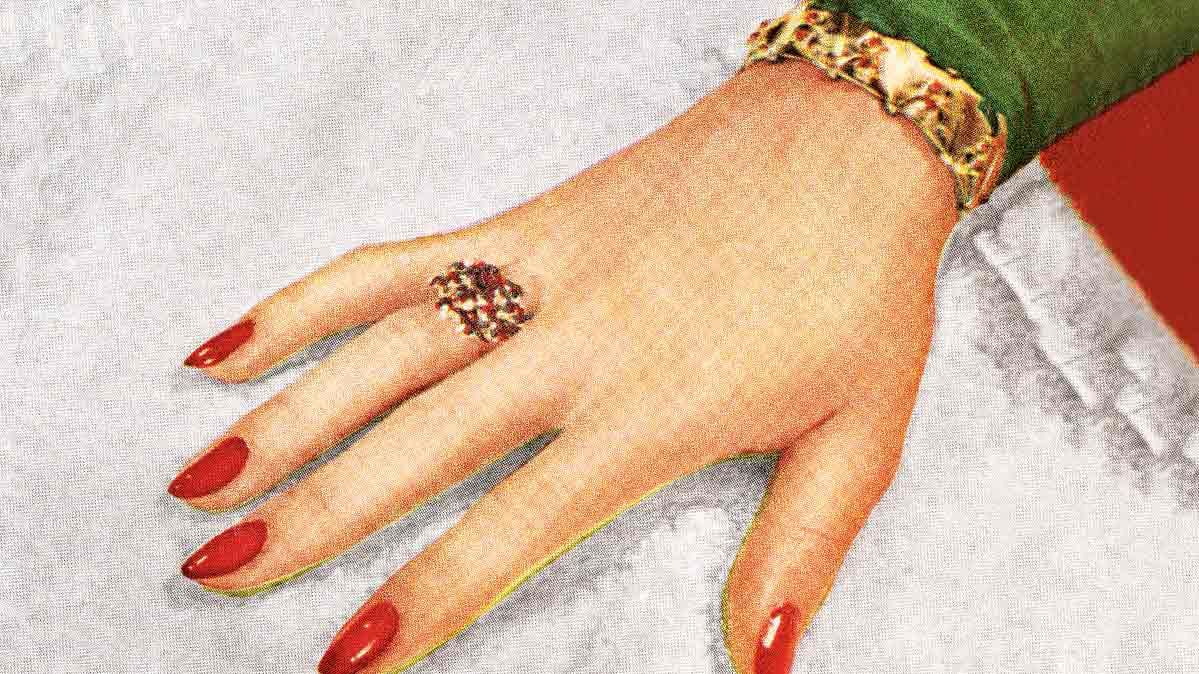 Americans seem to be losing that lovey-dovey feeling.
According to a recently released survey by the National Retail Federation and Prosper Insights & Analytics, only about half of Americans plan to celebrate Valentine's Day this year, down from previous years.
But while fewer will mark the occasion, sales are expected to be higher. According to the survey, consumers will spend $20.7 billion—up 6 percent over last year. Among the most popular items they will buy—in addition to candy and flowers—is jewelry, which is predicted to account for almost $4 billion in sales this year.
"Men are the most likely to buy jewelry for Valentine's Day and for a significant other," says Katherine Cullen, director of industry and consumer insights at the National Retail Federation. "It's a gift that has a lot of meaning."
Before you buy any jewelry, it's a good idea to educate yourself about how it's priced, says Courtney Jespersen, a savings expert at the website NerdWallet.
The cost of a brooch or necklace, for example, can depend on a number of factors, including the quality of the stones and the craftsmanship. When buying a diamond, the cut, clarity, carat, and color need to be evaluated before making a purchase, she says. If buying, say, a gold ring, prices can vary depending on a number of factors, including whether it's made from yellow, white, or rose gold.
Keeping Jewelry Affordable
Once you've decided what to buy, there are other steps you can take to make sure your purchase stays within your budget.
Consider store-financing plans carefully. Some jewelers offer store credit cards, which typically include a low-interest or interest-free promotional period to pay for the purchase. But after the grace period ends, the cards charge high interest rates. So if you do use a store card to make the purchase, make sure you pay it off before the promotion ends.
Kay Jewelers, for instance, currently has store cards that offer special financing plans with 12 or 36-month terms. Both have minimum purchase requirements and the 12-month plan requires a 20 percent down payment. If you don't make minimum monthly payments and pay off your purchase by the end of the promotional period, you'll be charged interest at an APR that could be high.
Zales offers no interest promotions if the balance is paid in full for six months, 12 months or 18 months. It also provides a reduced rate credit plan— if you pay in full by 36 month you'll be charged an APR of 9.99 percent. After that, the card charges an interest rate that can be as high as 29.99 percent.
Ask if you can trade in old jewelry. If you have jewelry you no longer wear, consider asking the jeweler whether it accepts trade-ins to offset the cost, says Jespersen. Some jewelers will accept trade-ins from other stores or jewelers; others accept only jewelry previously bought at their store.
Ask for a discount. Jespersen says that shoppers can always ask for an incentive to follow through with a purchase. One example: a discount equal to the value of sales tax on the item you're planning to buy.
Check the return policy. Each jeweler has its own return and exchange policies. JCPenney, for instance, requires that fine jewelry be returned within 60 days of the purchase date with a sales receipt. It won't accept returns of body jewelry, which includes things like belly rings and nose rings.
At Kay you also have up to 60 days to make a return, but you can't return any customized jewelry, which includes jewelry that has been engraved or custom-designed.
At Blue Nile you have only 30 days to make a return, and engraved rings (not other kinds of jewelry) may be returned for credit. The cost of engraving, however, is nonrefundable.
Consider buying insurance. If you plan to make an expensive purchase, consider buying insurance in case of damage, theft, or loss. Standard homeowners or renters insurance typically covers only up to $1,500 of jewelry value. Some insurers offer specialized plans for jewelry that is worth more. Talk with your insurance provider about your options.