Best Electric Can Openers
We evaluated six top-selling electric can openers, and here's what we discovered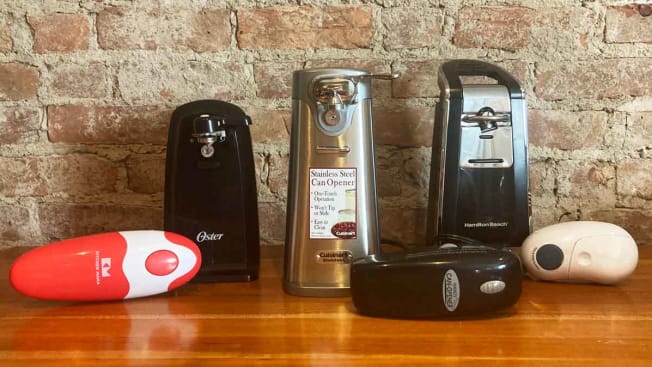 A reliable can opener is often a kitchen staple—and an unreliable one can derail your dinner plans fast. Many of us have been midway through opening a can only to have the opener stall out, leaving us dangerously trying to pry open the top to get to the goodies inside. 
But if you look online, reviews of electric can openers vary widely. It's tough to tell which ones are actually good. That's why we decided to try out six of the best-selling electric can openers. My goal was to find one that will open different-sized cans—from a 15-ounce can of beans to a 28-ounce can of crushed tomatoes—with ease and without dropping the can (and its contents) onto the counter. It should also be able to remove the top of the can easily and without leaving razor-sharp edges that can slice into fingers, shouldn't have a blade that gets gooped up with food, should be quiet enough that you don't need to shout over it while using it, and sturdy enough to last longer than a few months.
To evaluate all these openers, I needed a cooking project that involved a lot of cans and some extra helping hands. I decided to make a three-bean chili, a tuna casserole, and two pumpkin pies—all to be donated to the New York Common Pantry. Then I invited four friends—Kate, Viv, Rahul, and Anna—to help me make the food and try out all the can openers. 
I'm lucky to have a not-so-small New York City kitchen, so having friends over to cook is pretty fun. It was also lovely to have the opportunity to make a meal for people in need from my own home. New York Common Pantry is an excellent organization, performing "food rescue" from businesses and individuals alike. They even do pickups. 
Over the course of the afternoon, we traded stories about past canned food experiences along the way. Rahul, the group's most impassioned product reviewer, was particularly interested in finding a new can opener for his mom, who suffers from arthritis in her hands.
"For years, my mom hosted Thanksgiving for a massive crowd—around 50 people," Rahul told us. "She made this cranberry sauce people loved, from these cans of jellied cranberry, and she'd have to open like a dozen cans. But then she got arthritis in her hands and couldn't use a manual can opener anymore, so I started researching electric ones. I bought her one over a decade ago and it ended up being a really valuable purchase." 
Here's what we discovered about each can opener as we opened sixteen cans and prepared the meals.
Editor's Pick: Handheld Can Opener
Kitchen Mama Electric Can Opener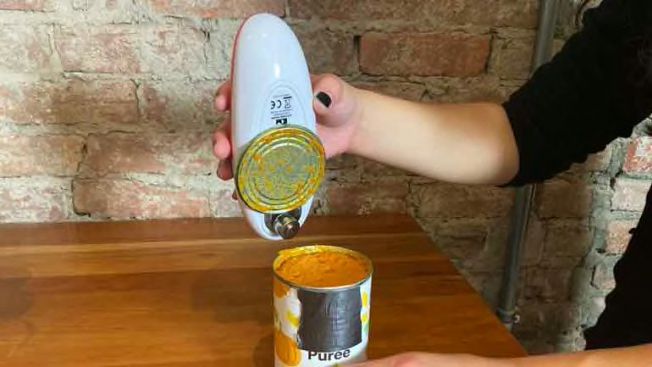 Price paid: $28.99
Where to buy: Amazon, Kitchen Mama, Walmart

What we liked: The Kitchen Mama Electric Can Opener comes in very Instagram-friendly packaging—a cute, color-blocked box with punny messaging: "YES YOU CAN." I felt empowered just looking at it. The design ethic extends to the machine itself, which is oblong-shaped and matches the same color blocking on the box. As someone who often prefers form over function, I also appreciated that the Kitchen Mama is available in a few different colors, so you can match your kitchen aesthetic. 
"This one has the best design of all the handheld ones," Viv agreed, as we watched the Kitchen Mama circle the top of a can of adobo peppers. 
Luckily, this can opener isn't all just looks. After placing it on the rim of the can, all our testers had to do was press a button and it would begin to circle the can, making a cut not on top but along the rim. This yields a "safe cut" with no sharp edges. You can also replace the top of the can like a cap. You don't have to worry about it falling into the food.  
This can opener is not too screechy or loud, though it does click as it cuts around the can. There's also no auto-stop. 
"The opener lowers its position on the can when it gets all the way around," Anna observed. "But you do have to press the button again to stop it."
Once you press the button, the opener reverses by an inch or so, presumably to make sure the top has been fully cut open, then it stops. When you remove it from the can, the top clings to the opener, which is a nice feature because it keeps it from clattering on your counter and leaving a mess.  
What we didn't like: The big drawback for this can opener is that it requires four AA batteries—and they don't come with the machine. After I unboxed this model, I had to run out for more batteries because I could only scrounge up a few in our odds and ends drawer.
Editor's Pick: Countertop Can Opener
Hamilton Beach SmoothTouch Can Opener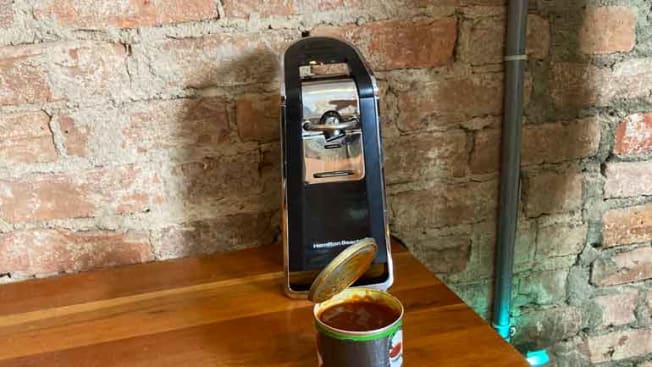 Price paid: $31.85
Where to buy: Amazon, Best Buy, Target, Walmart, Wayfair

What we liked: The Hamilton Beach SmoothTouch Can Opener was the fan favorite. This countertop electric model takes up more space than the handheld versions, but it's well designed and looks nice. The cord tucks neatly into a cubby in the back of the appliance, making it easy to stow. 
To operate the opener, you have to attach the can, then press a lever on the top of the machine to get it started. The machine cuts the can around the top, leaving no sharp edges. It doesn't have auto-stop, but it stops as soon as you lift your hand from the lever. That means you can't start cutting a can and turn your back, but you probably shouldn't do that anyway. 
It also held onto the can after it finished cutting, so the beans didn't come crashing down onto my countertop.   
What we didn't like: The cord is pretty short, which means you have to be close to an outlet to use the machine. The lever is also a little heavy to press. 
"I would worry that my mom, who has arthritis in her hands, wouldn't be able to press this," Rahul said. 
Handheld, at a Higher Price
Sharper Image One Touch Can Opener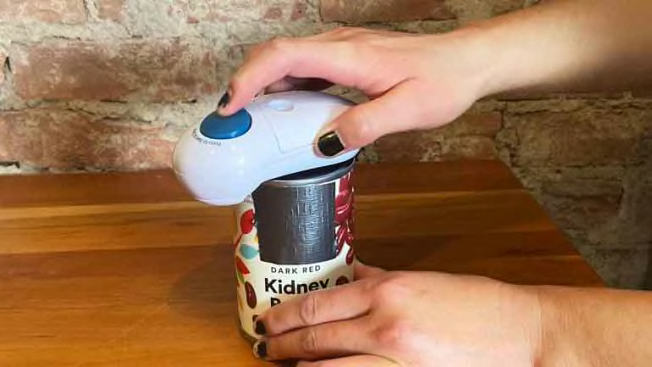 Price paid: $39.99
Where to buy: Sharper Image

What we liked: We appreciated that it safe-cut the lid and the magnet held onto it after it finished cutting, so there wasn't any counter mess to clean up. 
What we didn't like: Ultimately, the One Touch worked okay, but it wasn't our favorite. It not only was one of the more expensive models but also required two AA batteries to operate. Getting it started took some trial and error. Anna had to press the button a couple of times before it clamped on and started cutting. The sound was not appealing—kind of screechy.
If You Like Form Over Function
Cuisinart SCO-60 Deluxe Stainless Steel Can Opener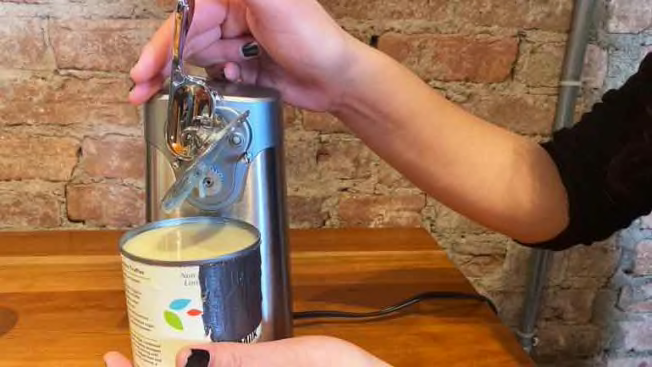 Price paid: $48.45
Where to buy: Amazon, Bed Bath & Beyond, Best Buy, Cuisinart, Home Depot
What we liked: The Cuisinart Deluxe Stainless Steel Can Opener was by far the prettiest of the bunch. It's also the quietest.
The stainless steel is a nice touch because it will presumably keep the machine rust-free for the long haul, but as Consumer Reports has previously mentioned, stainless steel doesn't necessarily guarantee that your appliance won't rust over time. 
What we didn't like: This is the most expensive of all the openers we tried, but we weren't impressed with its performance. It relies on a magnet, rather than a grip, to hold onto the can as it cuts, and we had a little difficulty making the cans attach at first.  
It cuts the top of the can, rather than around it, leaving dangerous edges. Now that I've seen how other can openers cut around the top of the can, leaving a safe, edge-free lid, I'm not sure why any modern can opener would do it differently.  
Because it cuts into the can, the blade—which is removable—needed to be cleaned between uses. While it may seem that the removable blade is convenient for cleaning, it took a little finagling to reattach. 
In the end, we thought this opener would be best for people who care more about how it looks than how it operates.
The Complicated Can Opener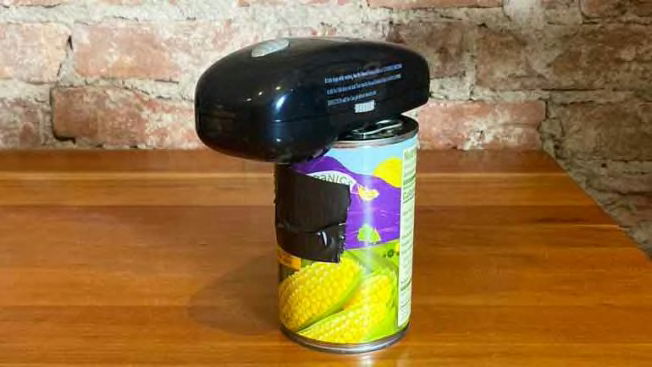 Price paid: $17.95
Where to buy: Amazon, Walmart

What we liked: It has a nice auto-stop function and it held on to the safe-cut top after cutting, so there was no counter mess. 
What we didn't like: Right away, the packaging on this Handy Can Opener turned me off. It comes encased in hard plastic—the kind you have to use scissors to get into—and I felt like I was going to slice my hand as I was pulling it out. 
Like the other handheld options, it requires batteries to operate, two AAs, and it doesn't come with them. On first use, it was pretty confusing. Ideally, it attaches to the can, you press the button on top and it cuts around the can, just like the others. But it stopped cutting the can about midway through.
The manufacturers clearly anticipated this failure because there are instructions on the can opener itself for what to do in this situation. There is a dial on the side of the can opener, and if it stops, the user should scroll the dial clockwise and then allow the opener to restart. As it sits on the can, however, the dial is horizontal, so the instructions to scroll clockwise are a little confusing. 
"I'm not sure what clockwise is on this plane," Anna said as she scrolled the dial backward and forward, to no effect.  
As she had her finger on the dial, it started a little and stopped, which seemed kind of dangerous. We tried to remove the can opener from the can, but it was clamped down pretty hard and I could not separate it. When I turned my back to attend to the chili, Anna managed to take care of the issue and it cut around the can without any more problems.
The second time we tried it, things went a little better, though we did have to use the dial again.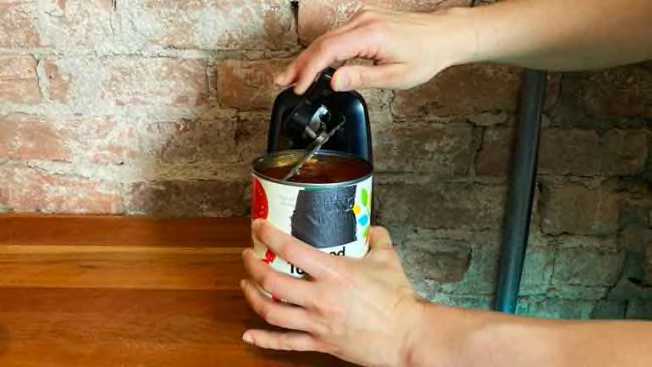 Price paid: $15.19
Where to buy: Walmart

What we liked: The Oster Can Opener is the least expensive on the list. That price may make it worth it to some. 
What we didn't like: We had some trouble attaching the cans to this opener, and while it cut quietly, it didn't cut safely. It left crimped, dangerous edges. It held on to the first can we tried, a heavy can of crushed tomatoes, but dropped the next. If Viv's hand hadn't been underneath to catch it, I might have had a mess of beans on my countertop. 
"My parents had this can opener," Anna said. "And the one time I used it, it dropped a can of tomato purée, which sloshed all over me and made a huge mess."
With that in mind, if you do decide to buy this can opener, be sure to hold a hand under the can while it's cutting—just in case.
This product evaluation is part of Consumer Reports' "Outside the Labs" reviews program, which is separate from our laboratory testing and ratings. Our "Outside the Labs" reviews are performed at home and in other native settings by individuals, including our journalists, with specialized subject matter experience or familiarity and are designed to offer another important perspective for consumers as they shop. While the products or services mentioned in this article may not currently be in CR's ratings, they might eventually be tested in our laboratories and rated according to an objective, scientific protocol.
Like all CR evaluations of products and services, our "Outside the Labs" reviews are independent and free from advertising. If you'd like to learn more about the criteria for our lab testing, please go to the Research & Testing page on our website.
When you shop through retailer links on our site, we may earn affiliate commissions. 100% of the fees we collect are used to support our nonprofit mission. Learn more.