When you shop through retailer links on our site, we may earn affiliate commissions. 100% of the fees we collect are used to support our nonprofit mission.
Learn more.
A full kitchen makeover might not be in the budget, but you can give your space a fresh look for a fraction of the cost with a new suite of small appliances. In recent months, several manufacturers, including some better known for large appliances, have unveiled suites of small appliances with coordinated designs. But do they work as well as they look? To answer that question, Consumer Reports tested suites from Wolf, Smeg, Oxo, KitchenAid, and Electrolux. While no brand aced every product category, some are better than others at marrying form and function. Here are the details.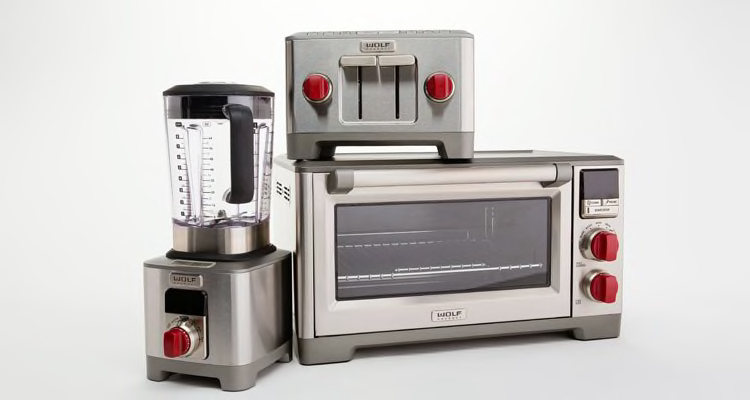 Wolf
For more than 80 years, Wolf cooking appliances have stood out for their commercial looks and pro-style performance. In 2015, the Los Angeles-based company launched Wolf Gourmet, a premium line of countertop appliances with the brand's iconic red knobs and industrial design. We were very impressed by the Wolf Gourmet 4-slice WGTR104S toaster, which shares the top spot in that category. At $400 the toaster isn't cheap, but it's less than the $5,000 you can spend on a Wolf range.
We also tested a Wolf Gourmet toaster oven and blender. Neither appliance cracked our recommended list, though the $500 Wolf Gourmet Countertop WGCO100S Oven performed very well overall, especially in our broiling and toasting tests; its so-so baking performance was the biggest disappointment. As for the Wolf Gourmet High Performance Blender WGBL100S, it also performed capably, if not exceptionally, with more than a dozen blenders scoring higher in our Ratings. For $600, you might expect more standout performance, though with its distinctive red control dial, there will be no mistaking the Wolf on the countertop.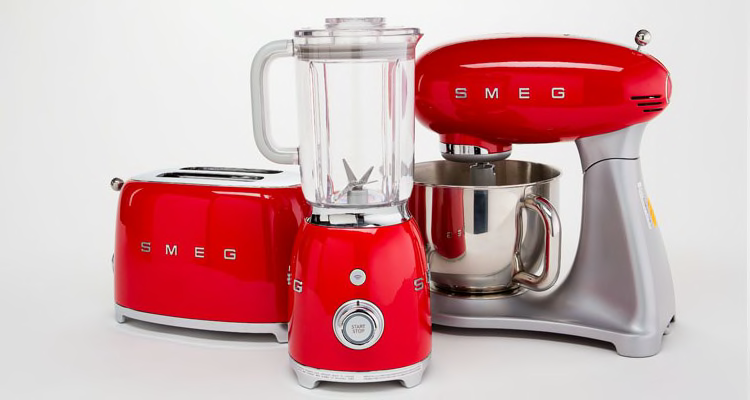 Smeg
You might be familiar with Smeg's colorful, retro-styled refrigerators, which the Italian manufacturer launched in the 1990s—though the look hearkens back to the middle of the century. Now you can get the same nostalgic design in a line of Smeg small appliances, including a blender, toaster, and stand mixer. Available in cream, chrome, black, red, pink, and pastel shades of blue and green, the appliances are the perfect accessories if you're going for a vintage look in the kitchen.
In terms of performance, the best of the bunch is the Smeg 5-quart SMF01RDUS stand mixer, $460, which combined superb mixing and whipping to nearly knock off our top-rated KitchenAid. Results weren't as good for the Smeg BLF01CREU blender, $250, whose icy drink/smoothie was just average in our tests. The $150 Smeg 2-slice TSF01 toaster was also middle-of-the-pack, though its stainless steel ball lever knob and backlit chrome control dial are certainly eye-catching.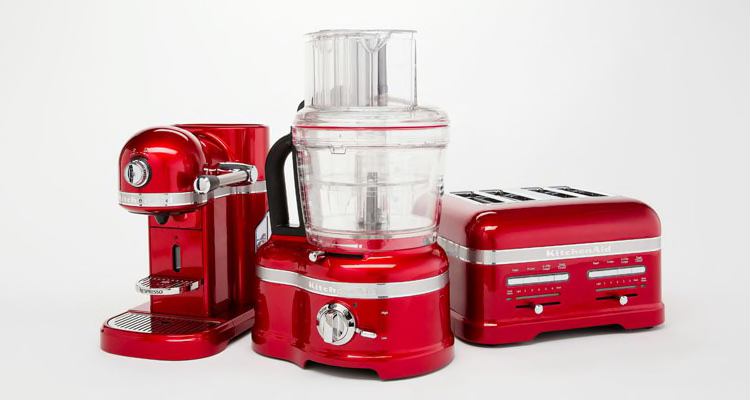 KitchenAid
This upscale Whirlpool brand has been making coordinated small appliance suites for as long as anyone. The look of its new Pro Line products is inspired by the iconic KitchenAid stand mixer, with its classic curves and candy red coloring. We included the food processor, toasters, and coffeemaker in this round of testing. The line also includes a stand mixer, immersion blender, and electric kettle.
The $300 KitchenAid Pro Line KMT2203CA 2-slice toaster and the $400 KitchenAid Pro Line KMT4203CA 4-slice toaster both delivered solid results, though neither makes our recommended list. The $600 KitchenAid 16-Cup Pro Line KFP1642 food processor is middle-of-the-pack, due to its so-so chopping and pureeing and subpar grating. Testing isn't complete on the KitchenAid Nespresso by KitchenAid KES0504, $450. Early results have been excellent in terms of brewing speed and temperature consistency, though less impressive at brewing up a range of flavor intensities.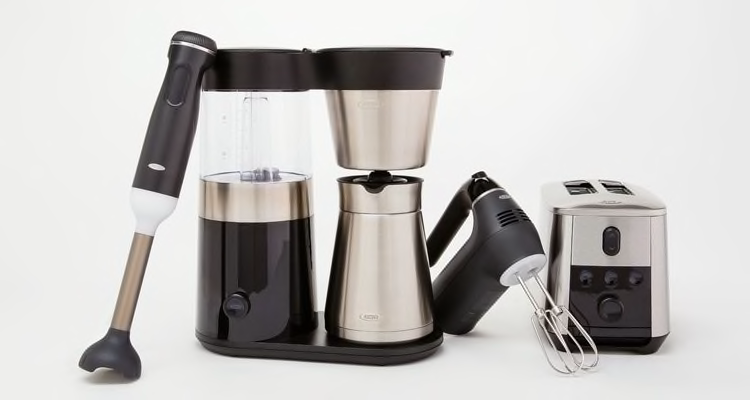 Oxo
This New York City-based company has built a name around simple, elegant, and easy-to-use housewares. Think kitchen gadgets with comfortable grips and salad spinners with pump-style designs. That same philosophy is evident in Oxo's venture into small electric appliances, including a coffeemaker, hand mixer, immersion blender, and toaster. The wares are unified by simple black-and-metal design suited to contemporary kitchens, and they're all fairly well-priced.
Our testers were most impressed by the $75 Oxo Bright Digital Hand Mixer. In addition to its very capable whipping and mixing, the hand mixer is one of the quietest in our tests, which you'll appreciate if you live in a small apartment or there's a baby sleeping in the next room. The Oxo Bright Digital Immersion Blender, $90, also delivered solid results, though it couldn't topple the top-rated Breville Control Grip BSB510XL.
The Oxo Barista Brain 9-cup 8710100 coffeemaker, $200, and the Oxo 2-slice Motorized Toaster, $100, round out the Oxo suite. Performance was a bit less impressive with these appliances. Given Oxo's tradition of sound ergonomic design, the so-so handling of the coffeemaker carafe was surprising. The toaster's motorized lift that lowers and raises bread with the push of a button is a nice convenience, but toasting performance itself was only slightly above average.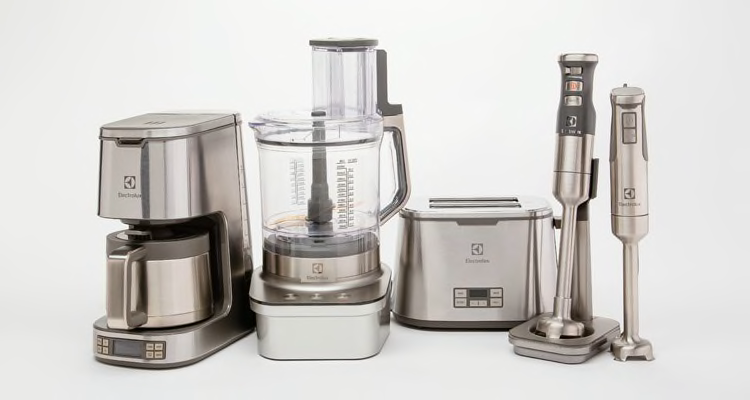 Electrolux
The Swedish manufacturer is out with two new lines of small appliances. The Masterpiece Collection is geared toward high-end consumers and features a food processor, countertop blender, and immersion blender. The mid-level, though still sleek Expressionist Collection includes a drip coffeemaker, toaster, countertop blender, immersion blender, and electric kettle.
Electrolux is pushing its commitment to innovation with both lines. For example, the container of the Electrolux Masterpiece PowerTilt ELFP15D9PS food processor, $500, has a tilted design that's supposed to harness the force of gravity for superior food-prep performance. It did a very good job overall in our tests, but so-so slicing and pureeing kept it off our recommended list. The Electrolux Masterpice ELHB10D9PS immersion blender, $230, also performed well, but there are better options that cost much less.
We were less impressed with the Expressionist line. Subpar carafe handling sank the $150 Electrolux Expressionist ELTC10D8PS 10-cup coffeemaker in our Ratings. The $120 Electrolux Expressionist ELHB08B8PS immersion blender was so-so at both yogurt blending and soup purees. And the $100 Electrolux Expressionist ELTT02D8PS 2-slice toaster didn't brown as evenly as the top toaster in our tests.