When you shop through retailer links on our site, we may earn affiliate commissions. 100% of the fees we collect are used to support our nonprofit mission.
Learn more.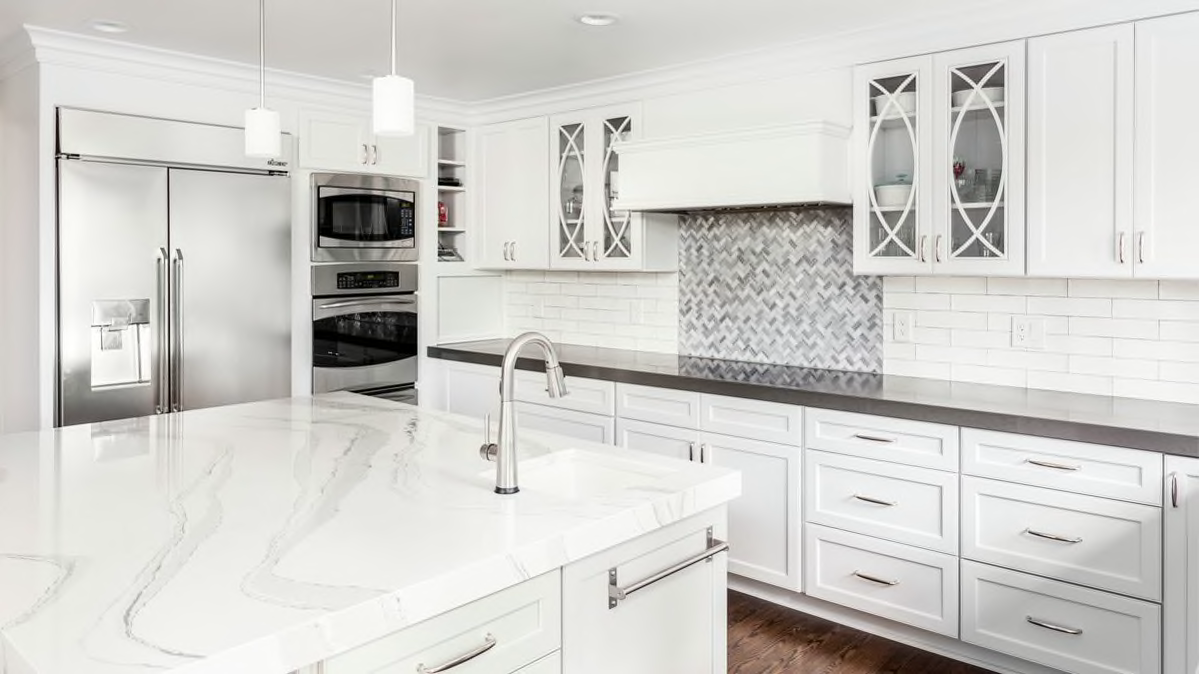 Whether you're redoing a kitchen, planning an eventual reno, or poised for change when the lottery goes your way, you can resolve your inner quartz vs. granite struggle here. (That's a quartz countertop in the photo above.)
Both are superior materials and perform equally well in many Consumer Reports tests.
They withstand attacks from two sharpened steak knives attached to a specially made slicing rig that hits the countertop at 25 slices a cycle. They persist unscathed after bearing a weighted 400° F saucepan full of heated shortening—no burn marks or surface distortions. When faced with 25 back-and-forth strokes of 100-grit sandpaper, neither show much wear. In our battery of tests for cutting, abrasion, and heat resistance, both earn ratings of Excellent.
Quartz and granite are also on equal footing when it comes to impact—neither is indestructible.
"They're made of rock, so if you're not careful—say you hit the edge too hard by dropping heavy weight on it—either material can chip," says Chris Regan, the project leader on CR's countertop testing.
So which one reigns supreme? Quartz vs. granite comes down to two things: stain resistance and looks.
Stain Resistance
"The results of our staining test carry the most weight in our countertop ratings," Regan says.
Quartz and granite both show resistance to stains from many foods and household products. To test, we pipe half-inch splotches of potential offenders onto each surface—hot vegetable oil, hot coffee, chocolate syrup, and grape juice, to name a few—and record effects after 20 hours.
With certain substances—including beet juice and food coloring—quartz fares better in this area, earning a rating in this CR test that's 2.3 points higher (out of 100) than granite's.
Appearance
The clean line most people prefer in countertops can be tricky to achieve with certain surfaces, especially when the material isn't uniform. Each slab of granite is unique, meaning it may not be as easy for installers to cut it just so and line up multiple slabs for a streamlined effect.
Because quartz is manufactured, not natural, the pieces are uniform. "You can count on where the seams will be," says Elle H-Millard, certified kitchen designer, and National Kitchen & Bath Association trends specialist. "Also, quartz offers an abundance of color choices and potential for marble veining," which appeals to many people.
Quartz and granite cost about the same (starting at about $10 a square foot at major home improvement retailers, the average install cost can be from $40 to $100 a square foot depending on your contractor and where you live), but in the quartz vs. granite popularity contest, quartz wins. When it comes time to sell your home, this could be a factor.
According to a National Kitchen & Bath Association survey, the vast majority of folks installing counters these days choose quartz. So quartz may appeal to house hunters. Granite is a distant second, according to the same industry survey. "Lots of people consider granite to be outdated," H-Millard says.
Winner?
Quartz. It's easier to trim to size and a fighter when it comes to color stains, it looks good, and it could make potential buyers happy—and it garners a slightly higher score overall in CR's tests. Rock on.
Curious about other countertop materials in addition to granite and quartz? Check out our countertop ratings, which cover 16 popular kitchen countertop surfaces, including butcher block, concrete, and tile.