When you shop through retailer links on our site, we may earn affiliate commissions. 100% of the fees we collect are used to support our nonprofit mission.
Learn more.
Slide-in and built-in appliances are hot in kitchen design—these models sleekly integrate into their surroundings. Consumer Reports just tested the Sharp SM-D3070AS built-in microwave drawer (shown above) and the Kenmore Pro 34913 slide-in gas cooktop (shown below), which join our growing list of tested slide-in ranges boasting stylish design. Here's what we found.
Sharp SM-D3070AS Microwave
The 30-inch-wide Sharp SM-D3070AS microwave drawer ($1,100) can be installed under a countertop with a cabinet below, including in an island or peninsula, removing it from sight lines. You can also place it below a wall oven. The stainless finish and the concealed control panel add to its sleek look, and the drawer glides in and out with a push of a button or a gentle tug.
Beyond form, there's function. This 1,000-watt microwave, which has a sensor to help determine when food is done, was mediocre at defrosting a pound of frozen ground beef and even worse at evenly heating a bowl of mashed potatoes. It wasn't that fast at heating, either. However, it is relatively quiet and easy to use.
By the numbers
There's no turntable, so usable capacity is 1.1 cubic feet, bigger than most of the over-the-range microwaves we tested, and it fits a 9x15-inch baking dish. Warranty is one year on parts and labor, but five years on the magnetron tube (which creates heat).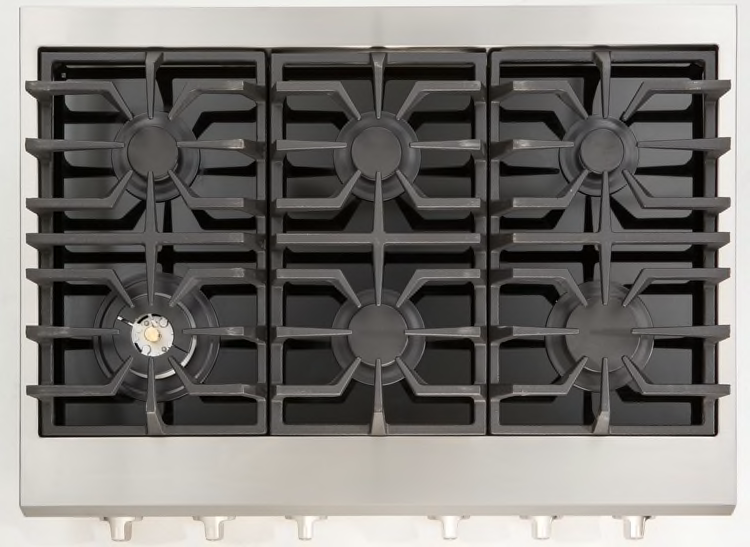 Kenmore Pro 34913 Cooktop
At 36 inches wide, the Kenmore Pro 34913 slide-in gas cooktop ($2,400) is the first slide-in cooktop we've tested. The frame and front are stainless, with beefy knobs up front. Continuous grates make it easy to slide a pot from one burner to another. There are six burners and a ceramic glass cooktop, which adds a modern touch. A griddle pan is part of the deal.
This Kenmore Pro model did deliver fast heat when we used the highest-powered burner, but unlike most gas cooktops we tested, it scored a poor in in our simmering tests. The temperature of the highest-powered burner, when set to low, was too high and couldn't simmer a pot of tomato sauce. Instead, it boiled the sauce.
By the numbers
There are six burners—three high-power, two medium-power, and one low-power. Warranty is one year for parts and labor. Note that this gas cooktop cannot be installed over an oven.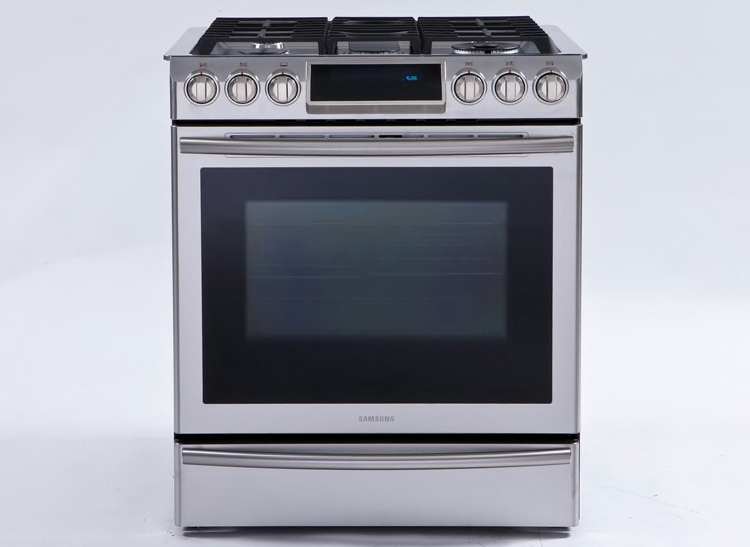 Samsung NX58H9500WS Range
Slide-in ranges create a built-in look, but easily slide in between surrounding cabinets. The knobs are up front and there's no back panel. Our tests found that the 30-inch wide Samsung NX58H9500WS gas slide-in range ($2,250) was the best of the gas single-oven slide-in ranges. It delivered fast cooktop heat, superb simmering, and impressive baking, broiling, and self-cleaning. The oven is large and has convection and a temperature probe. It's big on style, has a stainless finish, and a warming drawer.
Click the Features & Specs tab on our range Ratings to find out whether a model is a slide-in type. Many slide-ins are among the priciest ranges in our tests. We'll be testing more slide-in models soon.
By the numbers
There are five burners, including two high power, two medium power, and one low power. There are seven oven-rack positions. Warranty is one year for parts and labor.
More choices
See our microwave, range and cooktop Ratings for more choices. We test gas and electric ranges and cooktops, including smoothtops, coil tops, and induction models.
Any questions? Send them to kjaneway@consumer.org.